January 31, 2017
It's the last day of January and tonight, we'll be closing the month alongside one of my favourite bands, Green Day!
The Netherlands is like the capital of concerts and live music with big names. Hence, when we found out that Green Day would be here some months back, we just had to get the tickets. I really wanted to go.
If anything, this would be a case of me having no qualms going on my own if there would be no one else who would come with me.
Unfortunately, unlike in Bangkok, getting tickets here are not so easy. They tend to get sold out within hours of release and it took Silver Bullet a while before he could secure a pair for us at a reasonable price (bit never at the price you see on the tickets)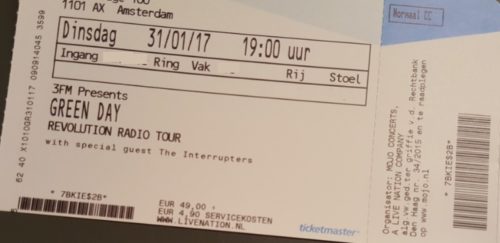 But the root of the matter is that, we got the tickets. Months back! And tonight, we.are.going. Actually, we are going to a Green Day Concert AGAIN, for the second time, albeit at a different location.
The first time was seven years ago, in Bangkok back in 2010. Seven years!
I still remember that concert fondly, of course! Besides, it was also Spud's first concert; she was barely 18 weeks old and was still in my stomach then. I was tame…no moshing, no jumping up and down; I had to.
I remember her wriggling A LOT while she was in there almost throughout the concert. Come to think if it, her music education did start fairly young. A month later, we dragged her to Muse who was playing in Singapore. Squirt had his share with Linkin Park and Dream Theatre when he was still in my tummy, too!
The concert started at 7 pm tonight in Amsterdam. I hear that there may still be people giving up their tickets at the last minute and if you happen to be there, come say hi!