September 10, 2018
5 months later, folks!
Thanks to my partner in crime, Gen from Eat, Play, Clove,here I am with our MMM#35 re-debuting back into the blogosphere. We went way back, Gen and I. At her suggestion, we agreed on "Roast Anything" as the theme for this month.
Nothing too complicated this time; my life is complicated enough (stories for many more blog posts in the time to come).
The theme also gave me a chance to resurrect one of my old recipes which I haven't done in a long, long time: Roast Chicken – juicy, succulent, flavourful and flesh dropping-off the bones.
This is one easy recipe to try. It takes only 15 minutes to prep, half an hour to marinate and then you leave it in the oven for a good 1 hour (thereabouts) to roast till its cooked. If you so prefer, make that special Chicken Rice with it.
Mind you, not just chicken and rice. I'm referring to the type of Chicken Rice we usually get in back in Asia – complete with chicken soup, rice cooked in chicken broth and accompanied by really, really good chilli sauce. It used to be my go-to food for lunch or dinner when I was still living in Singapore. There are always only a few good chicken rice go-to stalls as well. Not all chicken rice are made equal!
For now, let's stick to just the Roasted Chicken recipe. Make sure you have some spices handy: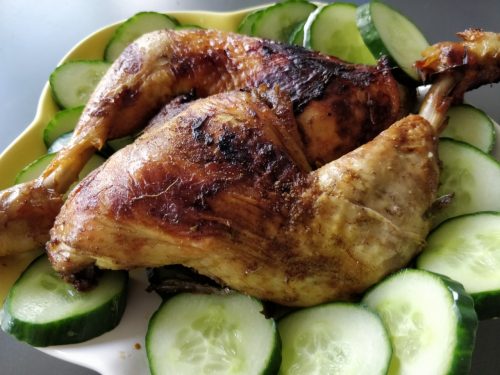 Easy & Quick Roasted Chicken
2015-07-13 11:30:49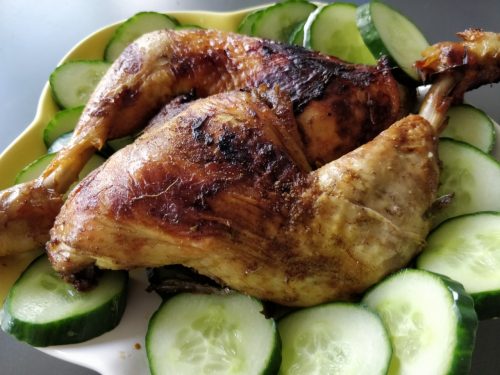 Serves 6
Succulent, flavourful and flesh-dropping-off-the bone type of recipe. You'll love this recipe for its quick and easy preparation.
Ingredients
8 pieces chicken legs
2 inch ginger, pounded
2 tbsp sweet soya (black) sauce
2 tbsp dark soy sauce
3 tbsp honey
1 tspn salt
1 tspn ground white paper
2 tspn ALL SPICE powder
2 tspn tumeric powder
1.5 tspn cumin powder
1 inch ginger sliced
Tumeric Leaves (optional)
Sides/Garnishes
Cucumber, sliced
Instructions
Pre-heat oven to 180 degrees Celsius
Combine pounded ginger, soy sauces, honey, salt, white pepper, All Spice powder, tumeric and cumin and rub it all over the chicken. Leave it to marinade for min. 15 minutes.
Prepare aluminum foil – put in the marinated chicken and spread the sliced ginger on top of the chicken. Lay the tumeric leaves over the chicken (if using)
Crimp the aluminum foil together end-to-end loosely. Put in the oven for 30-40minutes
After which, open up the aluminium foil a little bit and roast for 5-10 minutes till golden brown and the skin becomes crispier. (Leave it too long or the chicken will get dry)
Once the skin is brown enough, keep the aluminum foil loosely crimped together to keep it moist
Serve with salad or rice on the side.
Notes
An easy dish to make to satisfy even the pickiest pallete.
Adapted from Grubbs 'n Critters
Grubbs n Critters https://grubbsncritters.com/
There is nothing not to like about this chicken. For me, it's like food for the soul. The family loves it. What's great about this is I've got Gen to thank for cheering me on and nudging me to re-create a dish which I have otherwise neglect.
Let's pop over to check what's on her plate at Gen's #35 Monthly Mystery Munchies. I think I have an inkling just what it might be! 😉
==========================================
Monthly Mystery Munchies features every first Friday of the month in collaboration with Gen, Author of Eat, Play, Clove. (I had to postpone this fom last Friday because I have been quite a lot out of whack in the recent months) Stay tuned with next month's edition from the Grubbs 'n Critters' Kitchen!
Don't forget to follow us on Instagram: Gen here; Me here