March 2, 2018
When my pal from the other side of the world suggested beef and bacon for this month's theme, I said why yes! Of course, we can! I mean I just made it the week before the theme was revealed. It was just the perfect thing to do.
Only, I was bummed out that I did not take any photos as I did not think it was anything "theme-worthy". Then Gen suggested this and I thought what the hell! So beef and bacon it shall be.
Since we are pretty much a pork-free household, my natural instinct is to substitute the bacon with turkey bacon instead. I'm sure Gen doesn't mind with my choice of substitute and with that I decided on something super simple in the form of sliders.
Yep. Sliders. The burger-like sort of meal…mini sandwiches so to speak. The kind that can be served as snacks, as a prelude to dinner or dinner itself. I call it the B&B sliders.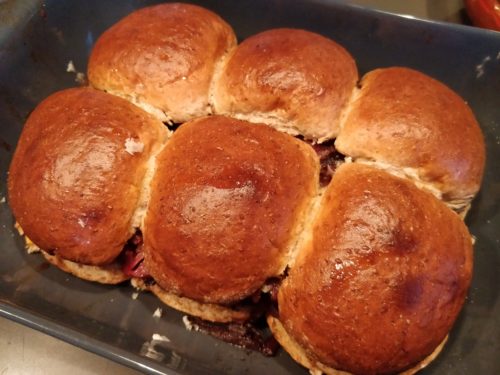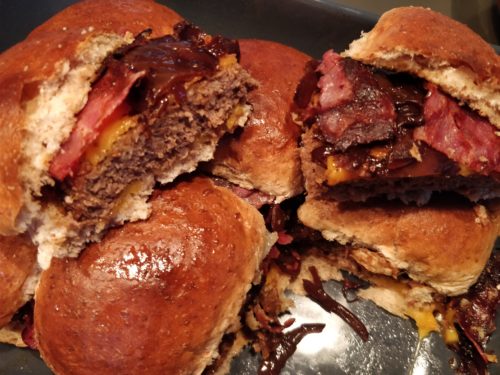 B and B. That's Beef and Bacon (turkey) for you.
The only extra ingredient I added into this slider was a generous serving of caramelised onions. Sweet, yummy and mojofied onions caramelised and sandwiched in between soft buns, deliciously seasoned beef, turkey bacon and cheddar cheese.
Ready to roll? Here's the recipe:
B&B Sliders with Caramelised Onions
2018-02-27 03:38:58
Serves 8
The Bs and Cs of mini sandwiches made with beef, (turkey) bacon and buns. Stuffed with cheddar and caramelised-onions.
Ingredients
1 large yellow onion, sliced
1 tbsp brown sugar
1 tbsp butter
500g-800g minced beef
2-3 tbsp taco seasoning
1 tbsp dried sage
2 tspn dried oregano
Salt and Pepper to taste
Turkry bacon
8 soft buns
Cheddar cheese
Instructions
Heat up pan and melt butter
Add in onions with sugar. Saute and let it caramelise for about 5 minutes. Set aside
Mix the minced beef with taco seasoning, oregano, sage, salt and pepper
Flatten the meat into a flat pan and shove it into the oven for about 10 minutes to brown.
Once browned, set aside.
Slice the buns into 2 halves. Assemble the bottom half into a baking tray.
Place the baked minced beef on top of it and layer the turkey bacon
Continue to grill till the bacon strips turn a little brown and let the juice seep through the meat
Remove the bacon and fry in the pan without oil. This makes the bacon crispy to be used as toppings
To complete the assembly, spread cheddar and caramelised onions on top of the meat
Cover with the other half of the bun
Grill the bun into the oven for another 5-10 minutes before serving
Grubbs n Critters https://grubbsncritters.com/
This takes no time at all. Perfect for when you don't have the time to serve elaborate meal for the family, but need something filling. Also perfect for when you have unexpected guests and you don't know what else you can make on a fly.
Need I say more? This has once again been a real pleasure to make. So satisfying to layer it all up, one at a time!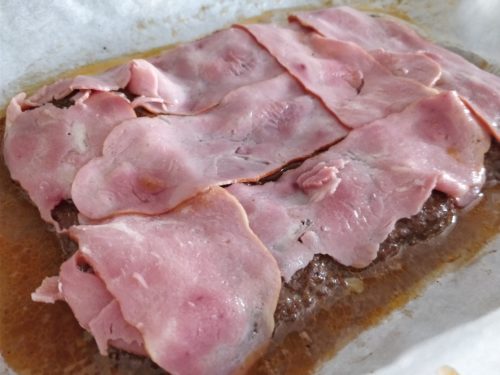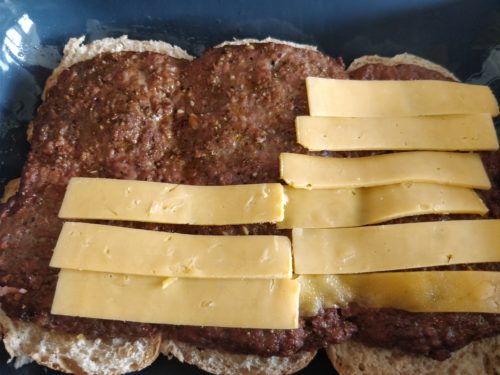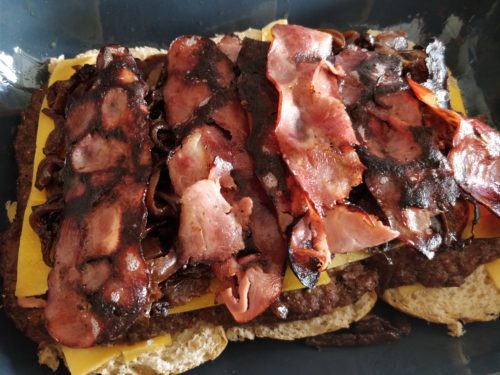 Just when I thought I'll be running out of ideas, Gen is there to give me a big nudge. Never mind the simple ingredients, MMM is brilliant, I tell you!
Now that that's done, click away and come with me to check out what our South African Cheftress is up to with her beef and bacon. She'll whet your appetite with her #33 Monthly Mystery Munchies for sure and offer you with additional idea as to what you can make for dinner for the weekend, too.
If you please, I'm bringing along my B&B Sliders to to #FiestaFriday so make sure you make it there for more bites, too.
==========================================
Monthly Mystery Munchies features every first Friday of the month in collaboration with Gen, Author of Eat, Play, Clove. Stay tuned with next month's edition from the Grubbs 'n Critters' Kitchen!