Gourmet, elite-ish and expensive might as well be the theme for this month's Monthly Mystery Munchies!
Because, when Gen suggested duck as a main, I have no clue that a few pieces of duck meat can get soooo expensive here in the Netherlands. Duck, as I've discovered, is considered a luxury. A few pieces of duck breasts, each weighing less than 200g set us back about €20 from our local slagerij (butcher).
That was pretty steep, no? If you are a vegetarian, look away now. Really. I mean, they used to look like this: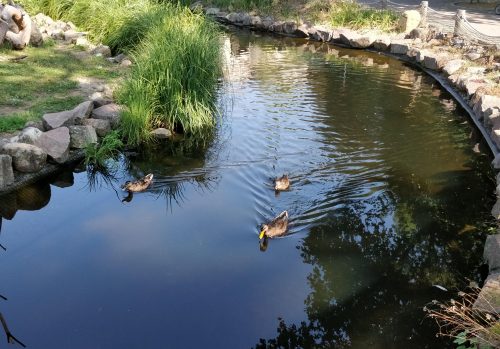 Then…BAM!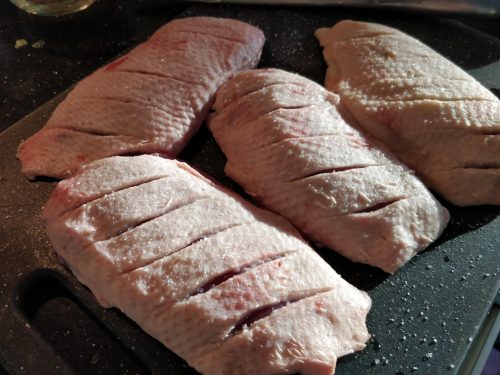 The real question is what do we do with duck meat? What do we eat it with? What's a good side dish?
We didn't have a frigging clue as, neither me nor Silver Bullet has ever attempted this before. We are both duck-meat virgin and frankly we both did not know where to start. If we screw up, it would be one hell of a very expensive screw-up!
The good news is: we didn't.
We both decided that perhaps this may go well with risotto (Silver Bullet's specialty). Silver Bullet thought he'd spice his risotto with asparagus and herb. With that as a base, we kept the duck relatively simple by searing it with salt and let it cook in its own fat. The meat is them topped with fried sage and served alongside a plate of yummy risotto.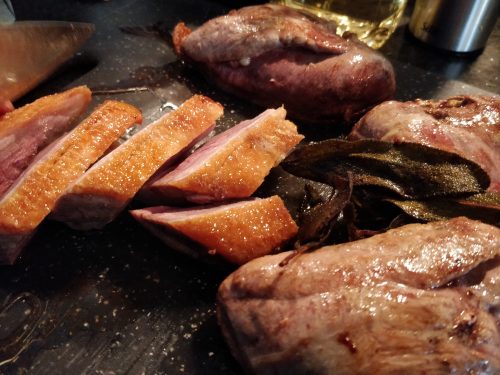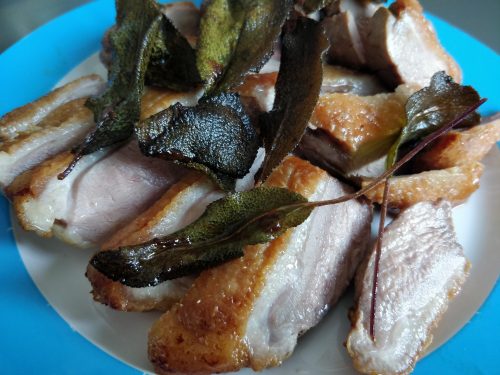 How do you like what you see?
Yes, it is a little pink. And that's because it's actually red meat. Cooking it is different from cooking chicken and/turkey and so under-cooking it to medium or medium rare is OK. The recommended internal temperature for safe consumption is at 134F (54 celsius) for medium-rare and 155F (68 celsius) which is closer to medium-done after resting.
Ready to roll?
Duck breast with asparagus and fresh herb Risotto
2018-10-02 04:29:45
Serves 4
Elegant comfort food that's classic, creamy and rich guaranteed to lift your spirits.Vegetarian friendly recipe. This one though is a tad "elitist" :p
For the duck
4 duck breasts, skin on.
Salt and pepper
or the risotto
1.1 litres chicken stock (or another stock of your preference).
2 shallots
2 cloves of garlic
3 to 4 sticks of celery
I cup Parmesan cheese
One bunch of green asparagus (I would prefer white asparagus but they're not in season...)
One bunch of fresh basil
One bunch of fresh, flat leaf parsley
A few sprigs of fresh thyme
2 tablespoons olive oil
4 tablespoons unsalted butter
400 g risotto rice
250ml of dry white wine or dry white vermouth
Instructions
Preheat your oven at 200 degrees (celsius).
Make sure your duck is at room temperature before you start cooking it. Score the skin of the duck breast with a sharp knife, slicing about 4 to 5 diagonal cuts into the skin and the fat (but NOT into the meat). This will help with the rendering of the fat and make the skin nice and crispy. Sprinkle with salt and pepper and put aside.
Heat up the stock (you can use basic stock cubes) and leave this on a low heat to keep it warm
Finely chop the shallots, garlic and celery. Finely grate the parmesan cheese.
In a separate pan, heat up the oil and butter. Fry the shallots, garlic and celery over a low heat for about 10 to 15 minutes until the shallots start to turn translucent and the celery is soft (make sure they don't color).
Increase the heat and add the rice. Keep stirring until the rice turns slightly translucent (1 or 2 minutes). At this point add the wine or vermouth to the pan. Keep stirring until the wine has been cooked into the rice.
Add your first ladle of stock and a good pinch of salt and pepper, then turn down the heat. Keep stirring until the stock is absorbed by the rice. Keep stirring and adding the stock one ladle at a time, allowing each ladleful to be absorbed before adding the next. You can't really walk away at this point, you have to keep stirring to ensure the rice is cooked slowly and evenly in the stock, allowing the starch to come out and create this creamy texture.
At the same time, once you have added the first ladle of stock to the rice, take your duck breast and put them skinside down in a COLD non-stick skillet or frying pan and put on a medium heat. Starting with a cold pan will help the fat to render more easily. Remember that a duck breast is cooked for about 75% on the skin side. As the pan gets hot you want a nice sizzle as the fat starts to melt and the skin starts to slowly cook. Keep an eye on it, don't fry it too fast otherwise the skin will not be crispy enough when the duck is already cooked. There is no need to add any oil. Just leave it to simmer while you turn your attention back to the risotto.
Keep adding ladles of stock one at a time and stirring it into the rice, until the rice is cooked al dente (it should still have a slight bite to it). This can take anywhere from 15 to about 30 minutes depending on the heat and the type of rice. If you run out of stock, add some boiling water. Make sure it's properly seasoned. Keep an eye on the duck.
Once the skin of the duck is nice and crisp, turn over the duck breasts and sear them on high heat for one or two minutes. Then transfer them to the pre-heated oven for an additional 6 to 8 minutes, skin-side down. If your skillet has a plastic handle, transfer the breasts (including the fat!) to an oven dish first. You want the duck to have a nice color on the outside, but it should still be a little pink on the inside. Once done, take out of the oven and leave to rest for at least 5 minutes before slicing into it! (keep whatever duck fat is left over. It can add lots of flavor to other dishes such as roast potatoes!).
Add the asparagus to a pan of boiling water and boil them for a few minutes until they have softened but still have a bit of a bite to it (about 5 minutes).
Meanwhile remove the risotto from the heat once it's cooked and add the remaining butter and parmesan cheese. Give it a good stir to allow the butter and cheese to melt into the rice. Now place a lid on the pan and leave for a few minutes to get the really creamy texture that makes a risotto so wonderful.
To serve, spoon a nice amount of risotto on a plate. Add about 3 to 4 asparagus on top. Slice the duck breast into 1 to 1.5 cm slices and lay these on top of the asparagus. Serve immediately while the risotto is still nice and hot.
Adapted from Artichoke and Goat Cheese Risotto
Grubbs n Critters https://grubbsncritters.com/
Now folks, please pop over to
Gen at Eat, Play, Clove
and salivate at what she has made. Oh sweet ducks!
==========================================
Monthly Mystery Munchies features every first Friday of the month in collaboration with Gen, Author of Eat, Play, Clove. Stay tuned with next month's edition from the Grubbs 'n Critters' Kitchen!