April 8, 2015
Today's Prompt: Write about the three most important songs in your life — what do they mean to you?
When it comes to music, I'm usually the one to go for lyrics. Of course the melody plays a part too, but if I have to choose, the lyrics would be the one that gets me hooked. Music has pretty much been a big part of my life – I can't remember a day going without music when I was growing up, with my ears plugged to my then walkman, followed by the disc player, then the mini-disc player and in the last decade an ipod.
Unfortunately, my exposure to music had been halted when I moved to Thailand. English radio stations are limited and even if there is, I don't like the mostly hip-hop songs the played on air.  The days of napster (remember that?) were so, so over by then and I can't remember where my source of music came after that.
I remember a quote from a while back – something to the effect of "every single song holds a fragment of your memory". So true.
To choose just 3 songs is a tough choice for me, simply because there are too many songs out there which have held some importance over the course of my life.  But, if I were to choose, here are my choices for the present moment:
1. Good Riddance (Time of your Life) by Green Day
I love the melody and lyrics to this song; and I like sound of the strumming guitar.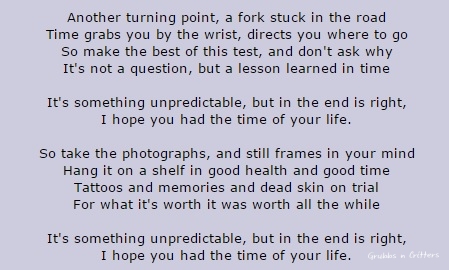 2. High by Lighthouse Family
This song brought me back to way, way back when I was in my tertiary days. For some reason, it always lifts me up in ways that could only speak to my heart when things got dull and stupid. Till today, it remains one of my lift-me-up songs which I sing in my head to help me through and get that spring back in my feet.
Damn! I want to list 5 more song choices, but this assignment says to only choose 3! *pout* But I'll just list it anyway and hopefully, by the end of listing all the 5, I can make up my mind on which song I want to elaborate on for my 3 choice – they are: Bad Day (Daniel Powter), Logical Song (Super Tramp), Changes (DNA – a local Singapore band from eons ago), Corduroy (Pearl Jam), Wild Wood (Paul Weller).
I still can;t make up my mind. I wonder if anyone who is reading this actually know these songs I mentioned above? They are all so old school and my music taste has always skewed to punk, alternative, rock and at one point in time, I was head-bangjng to hardcore music like Rage Against the Machine,  Sick of it All and Fudge Tunnel. I still have their CDs, but I think my eardrums would burst into flames if I have to listen to them now.
So back to my last song choice, I think I'll pick Paul Weller's Wild Wood. It's one of those songs that puts me in a very pensive mood; it's music we put on a car ride and it's a song I don't mind listening to over and over again. The melody is soothing I find and again, the lyrics while subtle conveys a really strong message tht penetrates right into your heart, your soul, your unconscious mind.  So I'm singing this song in my head as I'm writing this…and trying to remember the lyrics as I write:
High tide, mid afternoon

People fly by, in a traffic boom

Knowing, just where you are going

Getting to know just where you are going

Don't let them, get you down

Making you feel guilty about

Golden rain will bring you riches

All the good things you deserve now
I love the chorus the best  – " Climbing, forever trying…Find your way out, in the wild wild woods. NOw then, there's no justice. Only yourself you can trust in"
The lyrics may not be accurate and because the assignment did instruct that there should be no editing or formatting or back spacing or pausing and I have to keep my hand moving, I'm trying my best to comply. So pardon me if this post is a little shoddy. You can blame it on instructions from Worpress #Writing 101 assignment.
And oh! If you are curious about the song Changes  which was written by a Singaporean Artist from several decades ago, and one that is probably known by mostly, ifnot, only Singaporeans,  I actually wrote about it here. I refrained from choosing it in the end because it reminded me of a very dark phase of my life – and Im still paying the price for it.
Alloftheabove written in 25 minutes. And I thought I could not do it!
#BloggingU #Writing101