April 6, 2015
Here we go again: Another round of Blogging U course and assignments with Writing 101 for the next 20 days!
This is where I'm supposed to do free-writing in just 20 minutes. No time to think, no time to ponder, no time to even think if my sentence structure or story would make sense. But, in today's assignment, I'm supposed to loosen up. To unlock the mind. To write by the seat of my pants. (Quote-unquote Ritu!)
This should be some kind of poetry post or something, and making up random words that would somehow resemble a poetry. But at present, I am not inspired enough or in the right creative mind to be crafting poetry of random words.
At this point, my thought is trailing to the current number of followers I have: 72. It has been relatively slow-going and it's not a number to boast of after 4 months of putting myself out there. Comments-wise, I only have had a handful since. And I attributed this phenomena to 2 things based on the feedback I have had:
My blog does not have the automatic follow button which all other wordpress.com users have.
The comment box I have on my blog has been deemed too unfriendly and labourious to some.
I have sought help to make the above user-friendly and spent a lot of time scouring for solution. The thing is, there is really nothing else I can do about that simply because, even though I am technically on wordpress, my domain is hosted on a wordpress.org – which means that I do not have access to some of the fabulous features which wordpress.com users have the benefit of.
This goes the same to my like button which I have on every post. I have to actually find a separate plugin of a like button and this like is not even linked to readers who actually clicked like on my posts.That simply means, I have NO frigging idea who you are if you happen to click like on my posts and that I am not able to track from my stats which posts of mine has the most likes.
As annoying it is for some of you out there complaining on the above, believe you me, it is me who finds it more frustrating that I cannot make it any easier for you as much as I'd like to. Simply put: THIS IS BEYOND MY CONTROL.
Why am I being such a snob and just use a regular wordpress.com account to blog, you ask? Good question – I took on this route, not because I'm trying to be a snob, but because when I decided to migrate my blog from Blogger to WordPress, I went with the idea that I do not want to risk the disappearance of my content on a free site, if ever something happens to a free platform. I also wanted to be able to fully customise my blog, the way I want it and how I want it. And, on the advise of a very proficient web-consultant, that immediately pointed to paying for a self-hosted paid domain.
You see, I am also following several other self-hosted blogs and even before the issues above surfaced, I don't think that I gave too much thought if I have to fill up some information required if I really do like the content.
The only thing inconvenient about it is that sometimes, I am not able to catch up with follow-up comments if I don't request for comments follow-up to be emailed to me. So yeah…it can be a pain in the ass and I fully understand it, although it is not an excuse for my own lazyness if I choose not to.
So at this point, I AM very happy for the small number of followers I have had so far in contrast to other blogs and I am very thankful to those who took the time and effort to not only key in your email address to receive an update of my posts, but also navigate my supposedly extremely labourious commenting process. You HAVE NO IDEA how much I appreciate the interaction and  I am truly, truly, truly sooooo sorry I am not able to change things unless wordpress.com decides to do something about it or offer advice for a feasible alternative to work around this.
Meantime, if you do really like my blog for whatever reasons, my plea is: Please don't be a lazy ass – just pop your email in to follow and just key in a few essential details, which as far as I know, would give you an auto-fill form after the first time, (assuming if you don't clear your cache) should you be kind enough to leave a few comments.
I am not chasing numbers, but it would be nice to get to a 100! Why 100? I don't bloody know – just because 100 seems acceptable. And,  because you took the time to do the jack-alls of filling up your email addresses and details prior to commenting, I can only humbly assume that you are not bots – which makes you that much more valuable and special to me. 🙂
These few days over the weekend have been a little rough too as I have been working till the wee hours of the night to meet my deadlines for tomorrow. Honestly, I would rather be blogging! And I must have been stupidly crazy to embark on yet another Blogging U again, and wondering if I could really keep up this time.
I don't think I have ever typed as fast this before. My 20 minutes is up. That is all.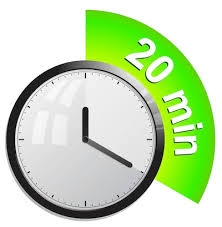 #Blogging U #Writing 101