March 3, 2016
Here's a cliché: Where did all that time go! It's already the 3rd day of March and I have completely missed the first 3 days of the month.
Too many things to do, so little hours in the day to do everything. I spent the last 3 days tapping away furiously on my keyboard with the occasional phone glued to my ears for almost 12 hours straight. Pure, hard tap, tap, tap, several letters at a time. Not blogging. OK. I did take several toilet breaks every now and then. Still. It was pure hard work. I haven't been home in time for the kids' bedtime.
Then, when I get home, I continued with the tapping. Writing up my resume and changing it a hundred times over. Till the wee hours of the night. Not blogging. The pandas are of no fight to the eyebags I have now. It's my new eye make-up.
Today was not any better at the office. Too many meetings. My inbox is bursting. So many emails unread. I hate seeing unread emails; they make me anxious and uneasy. Why do people send so many emails? My personal mailbox is showing 1000+ of unread emails. They are mostly blogs which I follow and I've been dying to read them. I read a few, mostly during my quick breaks or when I'm in the bathroom. I'll get to the rest unread ones soon enough.
Last week, we were informed that we were going for our annual company trip to Japan for 5 days. All paid for. It's a reward from the company for all the hard work we did last year. It was a nice gesture but I will not be joining. I find company trips a chore; especially on a group tour. And for someone with young kids, 5 days is A LOT to ask from a mother who already spends too much time in the office or travelling on business.
Somehow, some people don't really quite get that. That 5 days are too many days for a mother to be away from her family for a leisurely company trip with people whom I see for 10 hours a day. Everyday. If I am single, I would not give any thought of not going. But I'm not single. A reward for me now would be that they allow me to BE with my family and not take any more of my time away from them in the name of a reward.
Besides, Silver Bullet will be travelling. It's true.
Then there's this nagging thought…looming and brewing at the very far end of my head. Tiny bubble thoughts. They are gently whispering: 2 more months, Ann. Two.more.months. Or less. And it's happening.
Which brings me to our imminent move to the Netherlands. We now have a house. A home. Somewhere in the suburbs. My visa was approved yesterday. A visa for 90 days for me to get into the country and then I'll have to collect my residency permit. I still have not secured any job and it's bugging me. But the semi-good news is that my company is trying to arrange for me to work remotely from Holland for our Thai office.
It is not confirmed due to legalities and the procedures surrounding it. But there's a possibility. The management is trying to work it out.
Whether they work it out or not, our departure is inevitable. In 2 months we have to pack our lives into a suitcase. We don't have much but we still have to put up ads to sell our stuff. We can't possibly bring everything. The cats would have to come with us. So would the kids.That's a no-brainer.
Our Nanny of 6 years has been informed. She cried buckets when we broke the news. Shame we can't bring her along with us. We really are fond of her, so are the kids. She's been a gem. A true gem. I'll pack her into a suitcase if only I could.
Right at the back of my head, I'm picturing me, a housewife living in a suburb, riding a bicycle and all wrapped up in winter wear. Cleaning, ironing, vacuuming. No Nanny. No extra help. No gainful employment. Not something I find appealing. WTF.
2 more months and I know that at the back of my head that we have lots to do. Like bank accounts to close, phone lines to cut off, subscriptions to cancel, clean up all the crap in the house, trip to plan and plane tickets to buy. Amongst other things.
And blog. It's not a need. It's a want. Only because my head is running out of space. I want to write and I want to get back on writing for World of Moms again. This is pure yearning, agonising want.
This relocation still has not quite sunk in yet. Not just yet.
Recently we have been changing our bed sheets almost every day. One of the cats has been using our bed as their litter box to pee and to crap on.And I mean real, smelly cat shit on our bed! It's annoying. There's no telling which of the three had done the deed.
We have our suspicions, but we have not been able to catch them red-handed. So we had a conversation:
Me: Where is Andy? Who shit on the bed?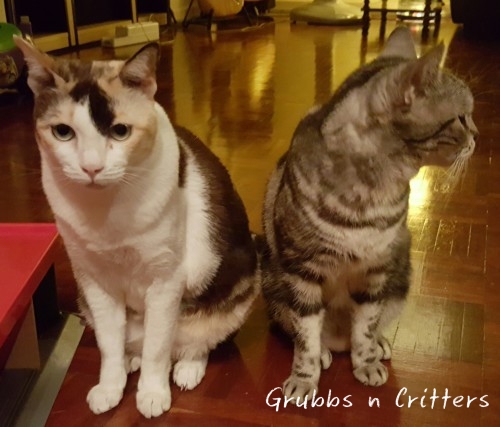 Me: Tell me the truth. So which one of you shit on our bed??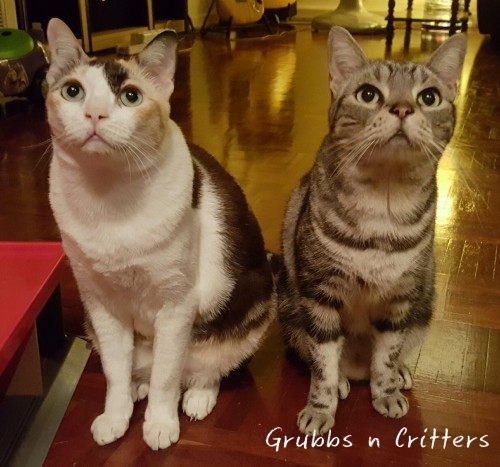 Me: Yes. There is shit on the bed. Why are you not using your litter box? What is up with you?!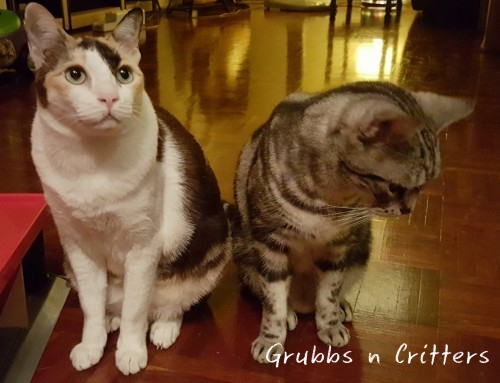 It was clear that we weren't getting through each other on this one. So much for reaction. Asking them to confess is like trying to pull a whisker!It boggles the mind why they do that and we have been scratching our heads trying to figure this one out.
This started a few months back but has gotten quite out of hand in the recent weeks. Just 2 days ago, Silver Bullet discovered that he has accidentally plonked himself on a pile of cat shit while putting Squirt to bed. It's a big riddle in our household: WHICH cat? WHY OH WHY for the love of god, shit on the bed?
This morning, I think we got our answer. Silver Bullet caught one of them doing the deed while I was still sleeping. The darn cat was shitting away near my feet while I was snoozing! Beat that!
Take a stab as to which of the two did it – Fudge (on the left) or Donut (on the right)?
As for the why I still haven't got a clue! I might just have to give that Catman, Jackson Galaxy a call. This cat has issues. The only thing we can do now is to make sure that all the bedroom doors are closed off to them. Darn cats!
Oh! The story of my life! Always exciting.