March 4, 2016
Spoken a challenge, Gen the Queen of Experimenteur has.
Shellfish the theme of our tenth monthly mystery challenge is.
One we have not done before, this is.
To do that, you will try
What I'm trying to say is that I so love, love shellfish. (And Starwars). Not every kind of shellfish, though, as I mostly pass those categorised as molluscs such as cockles, conch, oysters and mussels. It's a texture thing.
I am, however completely in love with crabs (but not horseshoe crabs), crayfish, prawns (oh yummy prawns!), scallops and squids.
Lobsters I used to love. Unfortunately, I haven't been able to enjoy any more lobsters since the discovery of my allergy to it only about 7 years ago. That took me by surprise as I never had any history of lobster allergies prior to that.
The thing was, I have been eating lobsters fine all along, albeit not a weekly or even a monthly affair. It took one supposedly fuss-free meal at an Italian restaurant in Bangkok once upon a dinner, and when I woke up the next day, my entire face swelled up, my eyes could not be pried open, my entire body broke out in hives and my breathing was somewhat difficult.
That was straight to emergency! My allergy was confirmed with a blood test. Of all things…lobsters and ONLY lobsters. And on the hindsight, thank heaven it is ONLY lobsters for there are other worst allergies.
Years later, it turns out that Spud shares the same lobster allergy as I do. We only knew because she had the same blood test done in her early stages of life when we were told that she was allergic to something. I still think it's kind of weird that allergies like that just developed when there was never a problem before. I wonder why that is.
Now that you know, it's easy to plot a revenge on me or kill me; just feed me lobsters. OK, maybe not enough to kill me, but enough to make me go raving mad from the inconvenience of having a puffa fish face.
So there! Just like that, lobster is off the menu but there are plenty other options to experiment with.
Succulent, fresh tiger prawns is my crustacean of choice and I thought that I'd challenge myself with one that is of restaurant-taste quality and style. The kind that makes me wants to wallop everything and then come back for more.
Nevermind that Silver Bullet does not eat prawns. This time, the shellfish theme allowed me to be…uhm…selfish.
A look at this month's creation…let's take:
Oven Grilled Gambas al Aljillo
2016-01-10 23:58:49
Serves 10
Home-made spicy, garlicky and peppery prawn dish that is full of flavour
Ingredients
500g-800g prawns, deveined
6 cloves garlic
Generous amount chilli olive oil
2 pieces dried red chillies, cut slant-wise
1-2 teaspoon ground black pepper
1 tbsp light brown sugar
1 tspn ground allspice
1 tbsp Worcestershire sauce
1 tspn grated lemon zest
2 tbsp freshly squeezed lemon juice
1 tspn dried sage
Half a tspn saffron
2-3 tspn of butter(optional)
A spring of coriander, chopped up for garnish
Salt to taste
Instructions
Cut dried red chilli slant-wise and soak in hot water for 5 minutes then drain
Rinse the prawns, drain all excess water and put them all in a bowl
Peel and press garlic and add into the prawns. Don't discard the remaining skin - just chopped them up and mix them together with the already pressed garlic
Throw in all the rest of the ingredients except coriander and butter. Don't forget the dried chilli.
Mix well and leave it overnight in the chiller
Heat the oven to 180 degree celsius
Spread the prawns and all of the seasoning in a baking or aluminium tray
Blob small amount of butter on top of the prawns and drizzle more of the olive oil if you prefer
Oven grill for about 8-10 minutes
if you are using butter, make sure you mix them all up again and spread them around as soon as you notice the butter starts to melt
The prawns should be ready in 8 minutes, otherwise leave it a little longer on lower oven temperature.
Garnish with coriander and serve!
Notes
It is not necessary to leave the prawns marinated overnight and you can leave it for an hour.However, I found that the taste just infused way, way better if left overnight. A great recipe to feed a crowd.
Grubbs n Critters https://grubbsncritters.com/
The one thing I love about this recipe is the generous use of chilli olive oil and the subtle taste of sage, saffron and Worcestershire. I've also been dying to use the chilli oil my in-laws brought me and this was a perfect excuse to use it.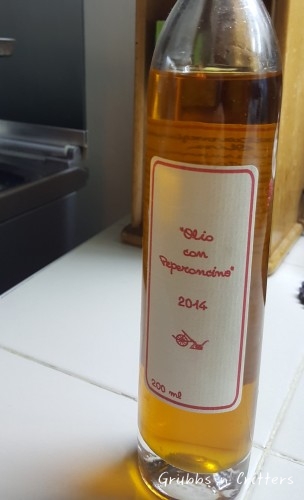 I'm a sucker for anything spicy and I love that the dried chilli pieces ramped up the taste just a tad further. I spare no regrets for the copious amount of fresh garlic used.
Did I get the restaurant quality taste as I set it out to be? Apparently, I did as attested by 5 other people who tried it and they got me blushing when they started to rave about it a week on after eating it.It makes me a very happy cook!
Let's pop over at Gen over at Eat, Play, Clove and see which shellfish has she decided to go with. I bet you Gen will easily ace this challenge and give you a mouth-watering dish that leaves you wanting more!
==========================================
Monthly Mystery Munchies features every first Friday of the month in collaboration with Gen, Author of Eat, Play, Clove. Next month will be my turn to choose a theme and we are set for it. Until then!