August 15, 2014
Spud celebrated her 4th birthday last week at home. Twice.
Trice , if we  include the little birthday surprise she had in Singapore. She should be so lucky!
The first one at home being on the actual day itself where we put up a simple decoration in our bid to surprise her and presented her with one of the best cupcakes in town – to which she commented, "That's not a birthday cake!" after her breakfast and before we left for work.
It was short and fuss-free celebration where she got to blow out the candles and promptly burnt her hair before I had a chance to caution her about her flailing hair while trying to blow them out! Luckily I managed to reach out in time and pat away the burning hair quite quickly. She freaked out, whined about the burnt smell, almost refusing to go anywhere near the flames and then decided to stand 1 meter away from the cakes as she attempted to blow her candles again.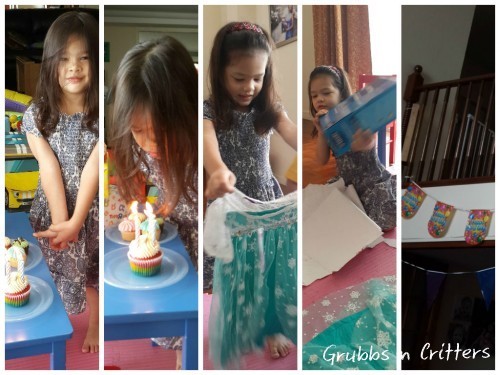 She wasted no time in opening her presents and was totally thrilled with her spoils consisting of a V-tech Laptop, a set of Play Mobil and 2 princess-like dresses. She was quite disappointed that she did not have any friends coming by to play with her that day and that her parents weren't going to be home on a weekday. I was pretty bummed too, especially when I was not able to get home early in the evening that day as I had to go for a last minute business dinner with my Global Big Boss who  happened to be in town that day. Of all days.
Luckily for Spud, she only had to wait for 2 more days for a birthday proper with her friends to celebrate her birthday with her. With Spud's birthday occurring on a term break, most of her friends were mostly out of town; which means that her birthday tend to be a smaller celebration when compared to her brother's. As it was, Spud was already a little disappointed knowing that 2 of her closest friends would not be able to come to her birthday party as they have left the country. I was actually even fearing the worst – that there would be no one to invite for her little fuss-free, birthday party, as they all may just not be around. I couldn't bear disappointing a small child.
Thankfully, 2 of her girlfriends from when they all were still in their Pilates-Mom wombs' then were able to make it to her party. These girls are only 5 days apart and apart from a few irregular play dates, we have been celebrating their birthdays for 4 years in a row now.  I managed to sieve through some pictures when these girls were still little babies and it is amazing to see how much they all have grown over the last four years.
They played really well together and one of the moms even had the foresight to bring along several fancy costumes so they girls could play dress-up while watching Frozen! I heaved a sigh of relieve when each girls seem to have preference for the different dresses and did not fight over the same costume. Phew!
It was really awesome to watch them play and now that they all can talk in proper sentences, they all yak away with one another like there was no tomorrow.
The highlight of Spud's day was being able to Skype with her best friend from school who has recently moved to Jordan. Apparently, his mom informed me several days earlier that her son wanted to skype with Spud to wish her a happy birthday and so wanted to arrange for a Skype call over the weekend. It was one of the most endearing thing I have heard! During the call, the boy even showed her the birthday card he made for Spud. How super cute is that!
But, 4-year olds, being 4 years old, both could not sit still during the call. The boy was fiddling around with the head set and Spud got herself busy with trying to find her drawings to show her best friend and so went off the camera view. The call lasted no more than 10 minutes with her best friend leaving the call when he felt that he had to go and hung up. Spud, meantime did not want to end the call and got very upset when she did not get to say bye and good night to her friend.
It was instant meltdown. She would have none of it and pleaded and pleaded and pleaded to get her friend back on Skype. She pretty much screamed the house down when we were not able to comply because her friend had already gone offline and her meltdown lasted for half an hour before we were able to calm her down.
It was one of the worst meltdown I have ever seen so far. I put it down to purely over-stimulation and her high consumption of sugar during the day.
In the end, she still has to go to bed at her designated bedtime.
It was a good day that unfortunately did not end as well as we had hoped for. Oh well!
** To which I say: "A princess does not talk so much, sits still all the time, does not bounce about like a monkey and don't throw temper tantrums! :p"