August 14, 2014
The work place has kept me pretty busy of late. I have been time-starved!
Not only do I have to keep up with the daily work-related matters, I also have to attend events for product launches (after office hours), go to obligatory business dinners and in the last week, while we were spared from doing any work for half of the day, we were kept off the streets with company-related activity instead to celebrate our 14th Anniversary of being in the business.
The global theme this year is "bold", and every office was required to create some sort of activity surrounding it. A week leading to the event, every employee in the company has to contribute an inspiring quote to be BOLD and fight back when we feel like we are up in shit's creek. Everyone's quote contribution was then pinned up and juxtaposed onto our a photo-shopped pictures which were used as decoratives at the event venue. Then, every team was required to select the most inspiring fight-back story to be shared during the event which was held at a Muay Thai Stadium.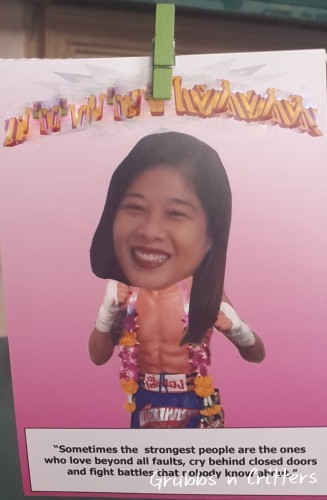 Now, having lived here for almost a decade by now, I have to admit that I have never step foot (or even feel the urge to because the entrance fee is ridiculously expensive!) in a Muy Thai Stadium; let alone watch a Muay Thai fight live.
Hence, it was my first experience to ever be in the stadium at Rachadamnoen and watched a professional Muay Thai fighter performed his elaborate Muay Thai dance ritual. The ritual dance was enchanting and, as much as it was elegant, I found that the accompanying music was too much for my ears to take.  I was, however, told by my colleagues that not only the dance essentially represents the paying of respect to his Muay Thai masters, it also doubles up as stretching exercises. Very creative! Who would have thought.
I was even more surprised when I discovered that at least 85% of my colleagues had not even seen a Muay Thai fight live or set foot in the stadium before. Apparently, that's a norm for fellow Bangkokians since most are from the middle-upper class of the society and that Muay Thai is a sports associated with those from upcountry or rural Thailand.
We had to adhere to several rules when we get to the stadium and most, if not ALL of the rules apply to women, such as:
Women are not allowed into the ring
Women are not allowed to touch the ring
Shorts and slippers are not allowed – one has to be properly attired
And they were pretty darn strict about that. Something I would not otherwise have known!
We didn't, however, watch any fights. Instead, we had the entire place to ourselves to carry on with our corporate event for several hours before we head out for dinner at a nearby Chinese Restaurant.  
My boldness came in the form of having to do some crazy dance in front of everyone meted out by my team as I shouldered the heavy responsibility of having to lead by example as well as being bold enough to stick around with a pounding headache for several hours and tolerated the NOISE we were being subjected to.
(There was a tourist couple who came into the stadium and I suspect, came with the intention of watching a Muay Thai Fight. They lingered around for quite a  while and eventually joined us as one of the audience – looking around as if to find information and waiting for something to happen. Everyone was staring at them, but no one bothered to inform them of the real deal.  I didn't have the heart to let them be and scare the bejesus out of them with what 100 adults are capable of when they start to behave like kids. and so, I decided to approach them and gently told them that this was a corporate event and that if they are expecting a fight to happen, they weren't going to see any! They left soon after.)
It could have been a fun evening. But at least I can now claim that I have finally stepped foot in a Muay Thai Stadium at Rachdamnoen and watched a Muay Thai fighter perform his impressive ritual dance live.