August 16, 2014
When Spud requested for a pink birthday cake for her birthday, she put a thought in my head to fulfill her wish.
I think I'm becoming my mom. With her, if you as much open up your mouth for a small request to make something for you, be warned: she would make it happen. She would, in whatever capacity she has, give her utmost to fulfill your request – even if she is already dead tired and dying from sheer exhaustion.
That was me two weeks ago. I could not get it out of my head that my daughter had requested for a pink birthday cake and I was determined to make it for her. So off I went to Mr. Google searching for a simple birthday cake recipe and made up my mind to make a layered pink and red velvet birthday cake when I stumbled upon this pretty looking thing called the Sky High Pink and Red Velvet Cake  by Sugar Hero.
I have never made a birthday cake from scratch before, especially one with frosting, and so was already skeptical if I would be able to make a deliciously light and fluffy birthday cake with that perfect frosting. Sugar Hero made it look so easy and even I thought that the recipe was very doable. If there was any chance I would screw it up, I imagined it would be the frosting!
Funnily enough, the frosting was PERFECT! It was the cake that sucked, And I have no idea where I have gone wrong. The cake didn't rise like it should and felt quite heavy. After it was finally sliced, I discovered that the cake was too dense and although the taste was there, the texture was nothing to be desired.
The cake was epic fail.  It was a disappointment. I am still bummed that the cake did not turn out well the first time round like it always should.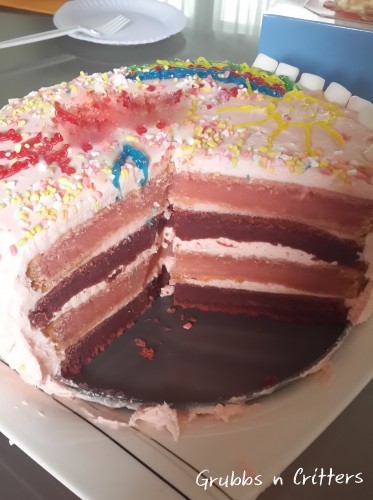 But whatever was lacking in the cake, the pretty and delicious frosting as well as giving Spud the opportunity to decorate the cake as to how she wanted it, more than made up for everything.  The cake itself may have sucked, yet nothing, and I mean NOTHING! beats the satisfaction of being able to do the decoration with Spud and bonding over it.
To see Spud being happy and bossing me around based on what she envisioned the decor to be was priceless! We had such an enjoyable time decorating the cake together and Spud was only too happy to do the rest of the decorations to her heart's content. She was really proud of her pink cake!
When the cake was finally sliced up, however, Spud did not hide her disappointment. To my surprise, she somehow was expecting to see a rainbow cake and was pretty bummed to see a layered pink and red instead. She did not even care to try it because "it is not rainbow, Mama!"
Talk about being grateful, eh!
The cake ended up in the bin soon after. There is still quite a bit of frosting left, and I'm thinking I just might attempt another cake recipe that would give me an excuse to frost yet another cake again.
Now that THAT seed of thought has been planted, it will now just be a matter of when. Oh! Bless me.