April 6, 2017
Or call it numerology. Or whatever you call it, don't you think that it gets a little freaky when you keep seeing the same number each time you look up at your clock every single day, every single time, at one particular moment?
A few weeks back, I came across Danny's post on recurring numbers over at Dream Big, Dream Often. It reminded me of a period when I had recurring numbers of mainly 22:22 or at times, though not as often, a variation of it with 02:22, 02:02, 20:20.
That occurrence happened years ago; right about the period after the kids were born.
Especially with 22:22, numbers I would never forget for that was the numbers I saw every time I looked up at the clock. It was always at that precise moment. That one point in time when I chose to know what the time was – either to go to bed, to feed the kids, to change their nappies or go to the kitchen to pick up something.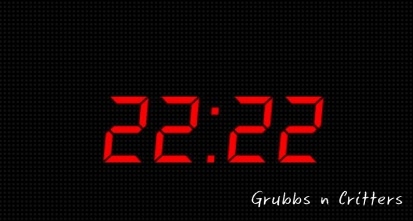 Although intrigued and sometimes felt a little weirded out, I never thought much about it or its significance. I took it as pure coincidence or that my internal clock has just synched up with time. According to Danny's post though:
If we keep seeing recurring numbers in our daily routines or in our dreams, you can think of it as a sign from the Universe that it is trying to catch your attention; perhaps, think of it as a signal from invisible forces working in nature that are trying hard to put your focus on more important matters in life.
Further down in his post for the meaning on the recurring numbers of 222 :
These numbers are a confirmation that your way of thinking, patterns, and all that you do in life are now aligned with your true purpose. It is the universe's way of telling that, whatever you are doing now, it is working and you should keep doing that.
Well, well! How interesting is that! Had anyone told me that 10 years ago, all that I did in life were aligned with my true purpose – that is to say that being a mother of 2 kids is my true purpose, I'd say I'll be damned. Heck. I would even laugh at your face.
But then again, I saw four 2s. Danny only mentioned three 2s. There's a difference there.
Maybe I should start researching about it. Get to the bottom of discovering my spirit guide and try to find out what it actually meant then; if it meant anything at all. Not that I would change anything; I wouldn't. Still. It's an interesting thought.
I don't see any numbers recurring anymore these days. At least not in the recent years. But if anything, I'd like to see 3s…because in more ways than one, I can do with a little help. I bet we all can do with a little help!
What about you? Any numbers stood out and keep recurring to you?
Read the original post by Ever noticed those recurring numbers? Here's what they mean by Danny at Dream Big.