April 4, 2017
From spending the day in Antwerp's Zoo and then the day after playing tourist in another city of Belgium in Brugge, we decided to take things easy before we start driving back home in the late afternoon.
We left our Air BnB slightly after 10.30 a.m: no coffee and no breakfast! We all were hungry as hell and luckily for the kids, they had some light croissants to tie them over till we get ourselves some real food.
Unfortunately, as it was a Sunday, many places were closed. We spent close to an hour walking back and forth about a drive away from our Air BnB just trying to find a place to get our coffee fix and a light breakfast. While walking about, we stumbled upon an establishment with a little bit of everything under one roof – from a butcher shop to a cheese shop, a bakery (only take-away), a chocolate shop, a brewery, a bar and a BBQ-Resto.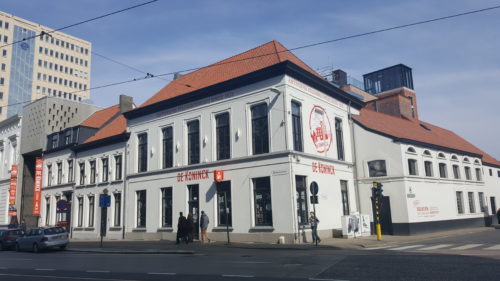 They had everything but coffee. Their BBQ place was only opened from noon onward. We decided that we'll wait it out.
And what a wait that was because it was absolutely worth it!
Had we moved on, we would not have discovered BS. That's short for Black Smoke, a fantastic BBQ restaurant serving a really good brunch/lunch selection. Located on the corner of Boomgaardstraat and the Haringrodestraat in Antwerp.
There was something about the decor which I found fascinating. The entire interior looks like the building is charred like a rundown burnt building; the atmosphere feels vintage and abandoned. It looks almost freaky, exuding a hostile and cold setting.
The resto came with an open kitchen, 2 chefs seriously barbecuing some serious meat! Add these images below to the description above and you'll wonder if you would be the one who'd end up being barbecued: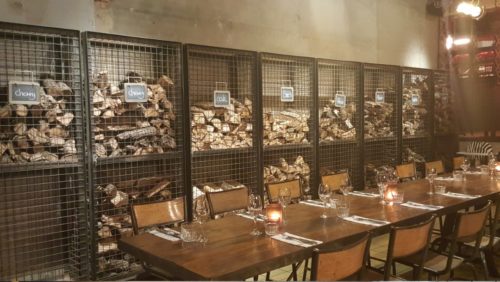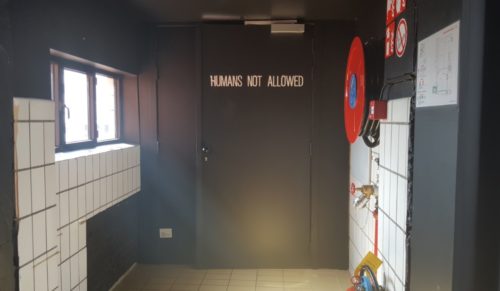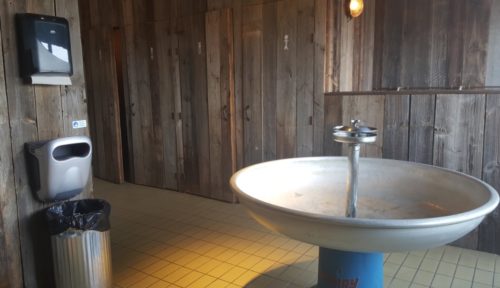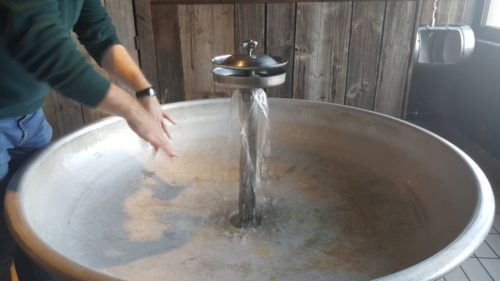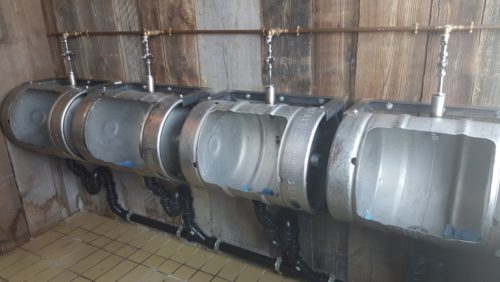 There is a certain charm about it which I can't quite put my finger on despite the seemingly cold decor. Once seated inside though, the place feels cosy. It helps that the staff are friendly to mitigate the otherwise almost impersonal atmosphere.
The best part about BS? I have to say we were not disappointed with the food. At all! In fact we were pleasantly surprised considering that both Silver Bullet and I are not big fans of barbie food. The food exceeded our expectations.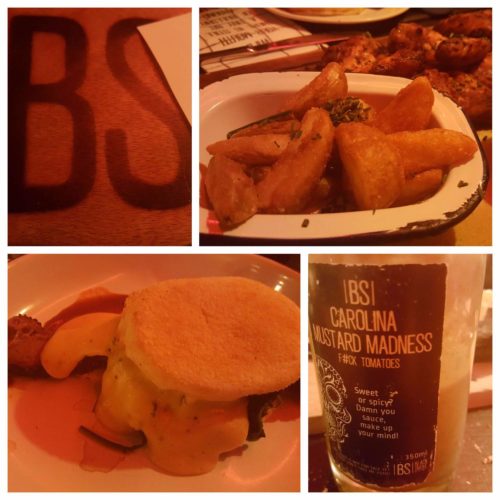 The Egg Benedict with Brisket was by far the best Egg Benedict I have ever had! Ooohh..how the yolk oozed and how the brisket just melted in your mouth. The spinach and spices that came with it were really good together!
The sauces while not spicy gave the dish a nice touch. The kids had kids'meal consisting of pancakes, some chickens and crispy, crunchy-but-soft-on-the inside wedges. I also love how the food is being accessorised with custom-styled BS's signature.
We did not order much but we left the restaurant with a full stomach and a big smile on our faces; the after taste of the Egg Benedict and Brisket still subtly lingered in our mouth for a while more after that.
It was by far the most satisfying meals we had whilst in Belgium, not to mention very reasonable prices. It's a place we'd go back to again. And if you are ever in Antwerp, there's no question that Black Smoke is one of the places to dine.
We ended our trip with another round of walk-about at the almost-closing Sunday market, a cafe stop for a cup of hot chocolate and coffee as well as a little bit of mucking about with the kids before hitting the road again for the 2-hour drive home.
It was a good weekend and we'll be looking forward for more!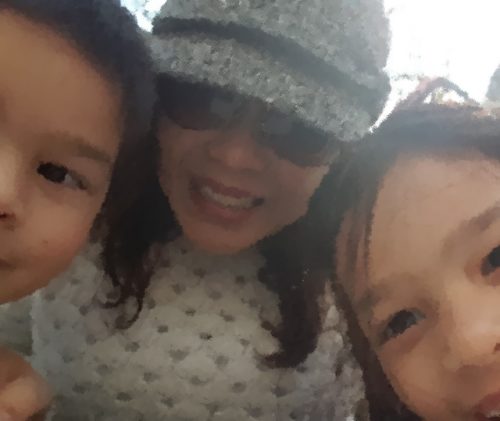 Read the previous 2 posts of our Belgium Trip here: