April 7, 2017
Wouldn't you believe it? 24!
Not Kiefer Sutherland 24 but twenty-four as in the 24th edition of our Monthly Mystery Munchies.That's 2 straight years of monthly cooking challenge between Gen, our talented Cheftress over at Eat, Play, Clove and myself.
Between the both of us and come rain or shine or arthritis, we have conjured up 48 new recipes every month based on an agreed theme without fail to date.It feels almost surreal!
On top of that, we take turns with the monthly challenge that comes with a twist:
* neither of us knows what the other person would be dishing up based on the theme chosen by the other person
* we post our recipes roughly at the same time. We still have not coincidentally made the same dish.
I'm saying…WOW. Just WOW. We have come very far and we are not about to stop. Happy Anniversary dear Gen! I think a separate post to list of all the dishes we made would be in order. Soon. Ish.
Before that though, let me share with you Gen's challenge for this month: Make a dish with colours. It has to be with red, green and yellow. It was THAT specific.
While broad, simple and technically easy to interpret, I did have a hard time deciding what to do. My first thought was dessert and that made me think of macarons. I made macarons before – it was not spectacular and it was a helluva lot of work! I'm not yet ready to go back there.
Of course I could also go with red, green and yellow capsicum. But that did not move my mojo. Instead I wanted to do something which has been on my mind for a while; a recipe I have never attempted before and adding the 3 colours would make it interesting.
Cue silly, excited grin. I'm making Swiss Roll!
Initially, I toyed with a simple stripey 3-coloured roll but somehow spurred to attempt something a little different that landed me with some ridiculous multi-coloured, giraffe-inspired design requiring quite a bit of effort.
With red velvet colouring as the base, I decided to add lime juice for the green and include peaches for the filling to give it a touch of yellow. Yeah. Call me crazy.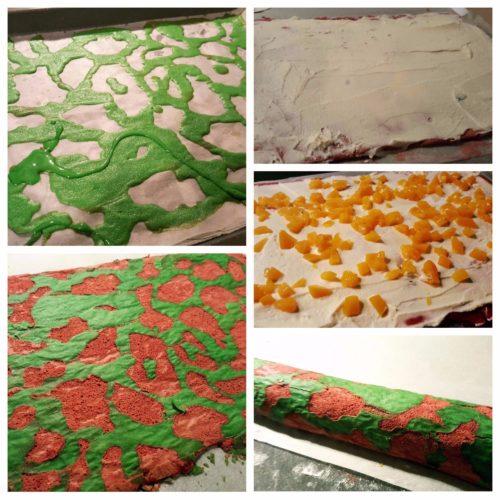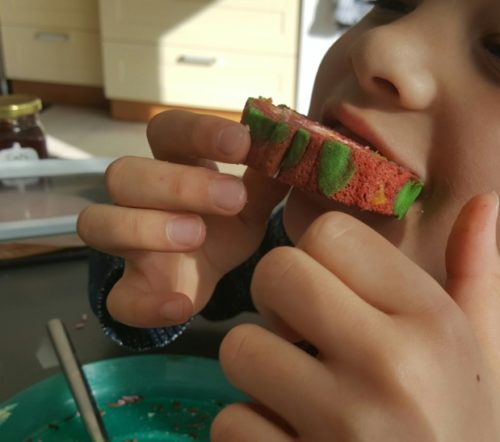 So I spent more than 2.5 hours on my feet and of course I face palmed myself while at it because I made myself do so much work. But I really enjoyed it. And even though the red did not turn out as red as I wanted to, I think it turned out well for the very first try.
My biggest satisfaction came from rolling without breaking the cake, then slicing it to see that it rolls rolled up nicely and then being able to attest how soft and light it is was.
Unfortunately my family did not think the peach bits was such a good idea. While I thought it enhanced the overall flavour, kids (both!) and Silver Bullet did not like the taste and/texture of the fruit bits.The kids picked the bits of peaches out like they were some nasty vegetables.
Bummer.
I thought that was the best part! Why wouldn't anyone like peaches?! I don't understand why they picked out the small bits. My family is weird. The roll is G-R-E-A-T with peaches!
There are loads of Giraffe-Inspired Swiss Roll recipes out there and this recipe was adapted from Everybody Eats Well in Flanders blog which I had randomly found while searching for a good Swiss Roll Recipe. That said…
Here we go with my tried, tested and modified Grubbecipe's style in response to Gen's colour challenge:
Giraffe-Print Inspired Swiss Roll
2017-04-04 05:26:43
Soft, spongy, colourful, creamy and fruity all Swiss-Rolled for your eating pleasure!
Print Batter
1 egg white
1 tsp caster sugar
1 tsp plain flour
2 tbsp egg yolk cake batter (see below)
Green colouring
2 tbsp lime juice
Egg Yolk Cake Batter
3 egg yolks
20g caster sugar
60 ml water
40ml sunflower oil
72g plain flour
1 tspn Vanilla extract
6g cocoa powder
Red colouring
Egg white Batter
3 eggs whites
50g sugar
1/4 tspn cream of tartar
Filling
150g mascarpone cheese
200g whipping cream
4 tbsp icing sugar
Peaches, diced
Instructions
Line a shallow rectangular tray with wax paper and grease with baking spray. Set aside
You need 4 eggs altogether. First separate 3 egg yolks from the whites and set aside. Then separate the one yolk from white and set aside (you only use the white, the other yellow is extra)
Heat up the oven at 170 degree celcius
For egg yolk cake batter
Beat the 3 egg yolks in the cake mixer.
As it mixes, add sugar, vanilla extract, water and oil. Mix well.
Add in sifted flour and beat till creamy. Do not add the cocoa powder yet.
Set aside 2 tbsp of the batter for the print batter
For the Print batter
Whisk 1 egg white. When it gets foamy, add in sugar and green colouring.
Whisk till you get a stiff peak
Add in 2 tbsp of egg yolk batter set aside earlier, followed by the lime juice and 1 tspn plain flour. Mix well.
It should not be too runny. If it is, add another tbsp of flour.
Transfer the batter into a piping bag (I use a ziplock bag and cut off one of the corners when ready to use) and put it in the freezer for 5-8 minutes.I do this to prevent it from being too runny when piped but not too long in the freezer such that it freezes.
Pipe out the design. then randomly drew a giraffe-like lines all over with non-uniform holes in between.
Bake at 170 degree Celsius for about 1 minute and remove from the oven
For the egg white batter
Whisk the 3 egg whites with cream of tartar till foamy
Then add in sugar and whisk till you get stiff peaks
Go back to the egg yolk batter. Now you can mix the cocoa powder. Mix well. The add the red colouring.
Roughly apportioning the egg white batter in 3 ways, scoop the first portion into the egg yolk batter and lightly fold it in. Continue to fold gently and lightly for the remaining 2 portions. Do not over-mix or it will deflate the cake
Pour the already mixed egg yolk and egg white batter for the cake into the tray prepared earlier. Even out the surface and lightly bang the tray on a hard surface a few times to remove trapped bubbles
Bake for about 14 minutes and remove when done.
For the filling
Whisk mascarpone cheese and icing sugar till creamy
Add in the whipping cream and whisk till the mixture looks firm and silky. This would only less than 1 minute so be careful not to over mix or it get lumpy. Set aside.
Putting it all together
Quickly invert the cake onto a cooling rack. With the design facing up, remove the was paper gently for the design to remain intact
Prepare a fresh sheet of wax paper on a cutting board and put it on top of the flat cake to flip it to the other side (the design will now face down)
With a spatula, generously spread the cream filling all over the cake. Top with the diced peaches
Using the wax paper, gently roll up the cake starting from the longer side
Secure the edges and let it chill in the fridge before serving
Notes
For better design, print the design you want and trace the lines on the baking paper. The paper must be well-greased or risk sticking paper to the cake upon baking.
This cake is not too sweet and if you prefer a sweeter Swiss Roll, add 5-10g more sugar to the filling or other flavours to the batter itself.
Adapted from Everybody Eats Well in Flanders
Grubbs n Critters https://grubbsncritters.com/
The roll was devoured within 2 days with no crumbs left. So I stood by my verdict that it turned out OK for a virgin attempt and getting the shades of colours for the challenge right. That said, I'm certainly game to give this another tinker; especially since I still have some leftover cream left. Cue excited, evil laugh.
Now that that's done, click away and come with me to check out what our South African Cheftress is up to with her Yellow, Red and Green thing for our 2 year MMMAnniversary. I bet you it's going to be oh-so-droolicious-good!
If you please, I'm bringing along my giraffe-in-a-roll to #FiestaFriday so make sure you make it there for more bites!
———————————————————————————
Monthly Mystery Munchies features every first Friday of the month in collaboration with Gen, Author of Eat, Play, Clove. Next month's theme has been agreed with yet another challenge so stay tuned with more exciting recipes to dish out. Until then! Here's to more #MMM to come.