November 9, 2015
Ever tried using kiwi when cooking fish? (Say what?!) Me neither!
Sounds unusual, isn't it? But that's exactly what I have done in response to our Monthly Mystery Challenge with Gen's , author of Eat, Play, Clove suggestion to use one or more ingredients that aren't commonly used in fish. This was one of the toughest challenge yet and apart from using icing sugar, perhaps several drops of vanilla essence, WHAT ingredients are not usually used with fish? Would 7-up or Sprite work? How about Coca-Cola? I had to think very hard on this one, and naturally, I cannot wait to see what Gen comes up with and enlighten me on the elusive ingredients.
So, not only did I use kiwis, I chose to choose golden kiwis. The main difference? I find that the golden kiwis tend to be a little sweeter and much more pleasant to my taste-buds. And why kiwi, you ask? Only because I thought that perhaps it could be a good substitute to lemons. Google helped too and I've been more than just inspired to know that there are indeed recipes using kiwis and fish, although mostly in the form of a salsa.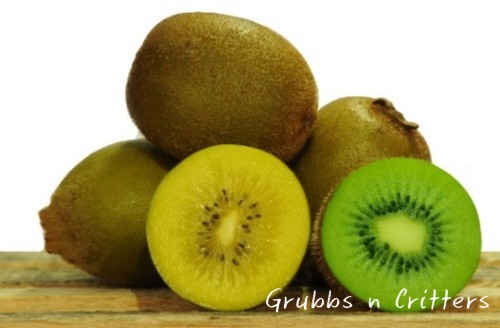 Gen definitely pushed me out of my comfort zone this time as not only the challenge itself was quite a toughie, I have another hurdle: Silver Bullet does not eat fish or any seafood! Which means, I have to cook a smaller portion of it as it would only be me and the kids eating fish plus an additional dish so Silver Bullet could eat too.
But cook fish I must! I settled for a simple cream sauce dish and came up with my own grubbecipes with the utmost confidence that Silver Bullet will not eat it. I was wrong – apparently he liked it! And for something I had tried the first time with the anticipation of screwing it up, I managed to surprise myself, too! I even made something else on the side using tofu skin (something to share for next week!).
And you know what, though? I may have been all stressed out and over-whelmed with work, but being able to dish out something can be oh-so-satisfying. It is my ultimate de-stress therapy. Also, I have only Gen to thank for this wonderful mind-boggling ingredient(s), because had she not come up with such ridiculous-sounding challenge, I would have never, ever thought of using kiwi in my fish, too!
Gen, my friends, is an absolute genius! This is definitely a recipe to keep. Try it! (Just don't give me grief about using dory fish as it was one of the more decent ones I could find around here!)
Creamy Golden Kiwi Sauce Dory Fish
2015-11-05 01:12:01
Serves 4
Creamy, cheesy, buttery, peppery, kiwi-ish easy-to-make broiled fish.
Fish Seasoning Marinade
2 white fish fillets (I used dory)
1 tspn tumeric powder
1 tspn butter
1 tbsp dried sage
Salt & Pepper
Cream Sauce
2 golden kiwis, skinned
1 clove garlic
1 tspn mustard sauce
2 tbsp butter
3 tbsp lemon juice
Half an onion, chopped
1 cup parmesan cheese, grated
Some leftover cheddar cheese (optional)
2 tbsp dried sage
1 tspn dried dill (optional)
Salt & Pepper to taste
Instructions
Rub butter, tumeric powder, dried sage with a sprinkle of salt and pepper all over the fish and broil it in the oven till they get brown and a little flaky
While the fish is in the over, blend all the rest of the ingredients together. Set aside
Get a deep oven dish ready and smear butter all over the empty dish
When the fish is ready, remove from the oven and place them in the pan.
Pour the sauce over the fish and put the dish back into the over.
Let it cook for another 10-15 minutes
Serve!
Notes
Really super-easy. This should work with any type of fish. Feel free to add more pepper to make it more peppery (which was what I did!)
Adapted from Living Well Spending Less
Grubbs n Critters https://grubbsncritters.com/
Seasoned, golden broiled fish right out of the oven before saucing over:
Dory covered in creamy, kiwi sauce ready to be served!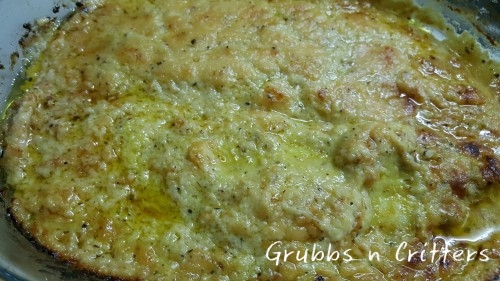 ——————————————————-
Monthly Mystery Munchies features every first Friday of the month in collaboration with Gen, Author of Eat, Play, Clove. Next month will be my turn to come up with a theme…or something. Until then!
#FoodieFriDIYs #HomeMatters #SmallVictory #ThursdayFavouriteThings #HowWeRollThurs