November 10, 2015
If you have not check out Gen's take on our Monthly Mystery Munchies this month in using ingredient(s) that is (are) not usually used with fish, you really, really have to check out a rather weird, but creative take on her fish dish creation using:
dark chocolate
cocoa powder (!)
orange
and soy-sauce
Gen has, single-handedly stumped me with her challenge, and more than that, she amazes me with the kind of food magic she has created in her kitchen. We both had used a fruit in our dish, but Gen went all out with her weird choices of ingredients. She completely pushed the boundaries and concocted a dish that is worthy of all the praises in the world; just like any great chefs would!
It's not only been a crazy month, and trust Gen to come up with something a little out of the ordinary crazy, too. Funny thing is, for the both of us, it worked. Pretty darn well, too. Tell me this doesn't look ah-mayy-zzzzing! Almost tandoori like.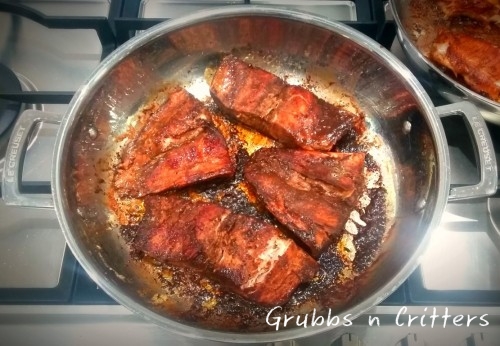 In her words:
I was so looking forward to having dinner and dessert in one dish. I initially only used dark chocolate, but it was time to up my game. Enter cocoa powder. Now we're talking! Or rather, not talking, because my mouth was pretty full. I also decided to use cayenne pepper because I love a bite. Right, now that the orange, dark chocolate, cayenne and soy were to my liking, it was time to pair it with fish. But what fish? So many options.
Gen went with 2 types of fish: Cape Yellowtail and hake. She shares that Yellowtail is a 'fishier' fish whereas hake is more mild. I also like how she used a different technique with her cooking this time with reduction, which apparently may be used with both chicken and steak, but there's something about using it with fresh fish that has a je nes se qua. Translation: An intangible quality that makes something distinctive or attractive (I had to look that up!)
Oh! This has been a difficult challenge, but maddeningly awesome! And once again, Gen rises up to the occasion. Head over to Gen's Fish with Orange and Dark Chocolate Soy Sauce Reduction recipe if you haven't already. Remember, if you do try the recipes, make sure you pop by either of us to let us know what you think and how it turned out for you. We'd love to get your feedback!
This has been really fun and I'm thinking next month is going to be hard for me to up the ante on ingredients. Thoughts/ideas on themes or ingredients, anyone?