January 2, 2016
Last month, both Gen and I proved that there's variety to be made with the old, plain boring white rice with our rice recipes. Yesterday, on the first day of the month on a new year as we all welcomed 2016, we proved, once again that the boring green salad can be exciting and different.
Gen, once again, aced the challenge with her Butternut Salad with Mustard Vinaigrette. Look at how her salad is bursting with all the bright colours and looking so packed with Vitamin C. Here's the thing about it: There's hardly any greens in it, too.
Topped with feta cheese, this salad dish just screams MUST EAT!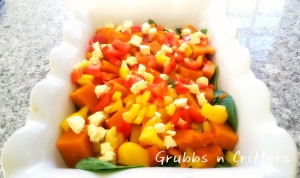 Using Butternut Squash is something I would have never thought of. It's just not something top of mind, and besides, in Thailand, those things are mostly imported which equates to being very expensive. But, boring it is not and definitely a very playful, not to mention healthy, take on making your salad more interesting.
Quoting Gen:
Before you start yawning from boredom, we decided that it would be a good idea to do something healthy, but not the traditional lettuce, tomatoes, cucumber. Because that would bore that crap out of me. This salad is so tasty. The sweetness of the butternut and peppers is balanced by the baby spinach leaves, and the feta cheese finishes it off perfectly. Natch, I made a vinaigrette. I do love mustard, so I did healthy salad dressing version, no cream or butter, just mustard, lemon juice, garlic, and olive oil. All super healthy. I feel thinner already. I decided not to add meat to this salad, but you can throw in some shredded chicken or cubed beef – totally up to you.
So, if you have been eating way too much of greasy stuff, here's your chance to make amends for something healthier. Thank you, Gen for such a wonderful idea. This challenge has definitely changed my perception that salad = boring.
Do pop over to Gen's for her Butternut Salad recipe if you haven't already and make sure you leave her some comments!
And, in case you missed my post yesterday, I urge you to try my 5-Layer salad creation that had resulted from this challenge. It may not be all that healthy with the use of mayonnaise, but taste and presentation wise, I hope it will amaze you as it did me.