January 1, 2016
Salads are healthy. And healthy is good. But salads also have a very bad rep of being utterly boring because, well…let's face it, they CAN be boring.
It's also one of the reasons why I don't make them that often and even if I do, I don't feel like they are worth a post. I mean, throw a bunch of greens, add some balsamic vinegar or a dollop of thousand islands and what nots and TA-DAAA, you've got yourself a salad.
Thousands, if not millions of other sites (229 million search results in 0.59 seconds to be exact when you google "salad") feature the greens; I'm thinking posting one of my salad recipes ain't going to create the tiniest ripple in the ocean. Right?
Here's the thing though: I've regretfully wronged the sacred salads. Gen, my buddy over at Eat, Play, Clove once again got me out of my comfort zone with a salad challenge for this month, with her motivation that most people will be going on a post Christmas/New Year health kick under the following conditions:
Make it fun/interesting
Make a salad with a difference
Not just the "usual salad"
What's a "not the usual salad?" They all look pretty ordinary to me!
Salad = Fun?
Hardly. Granted, salads sound easy enough, but her challenge did make me go hmmmmm….and left me scratching my head for a couple of days.
A pretty tall order for someone like me who just don't experiment enough with salads. BUT! making it with a difference? Boring as it may sound, I was actually inspired!
Then I remembered my mother-in-law's layered Mexican salad she once made when we were in Holland. That got me thinking as to how many layers can one stack a salad without serving them IN a bowl?
Apparently I managed 5.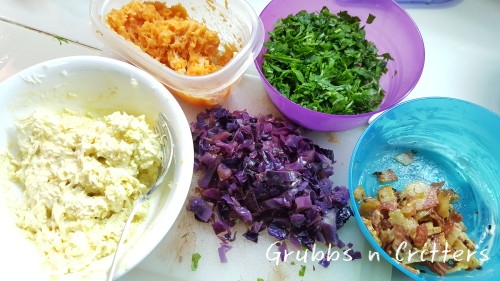 Only because I had used only 5 main types of ingredients. I guess I could have layered more if I wanted to…but let's not push it.
So, without further ado, here's my first salad recipe for the very first day of 2016.
It's my latest creation to (somewhat) healthy start of the year creation. I don't think I would have ever thought of making salad as something that could be fun and that I could create one with a difference if Gen has not given the nudge.
Or at least I hope this qualifies as one "with a difference". What say you, Gen?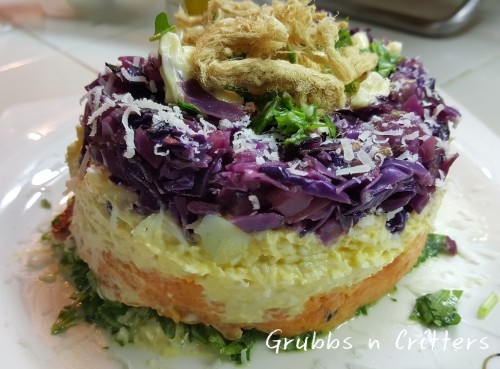 5-Layer Salad
2015-12-24 00:36:42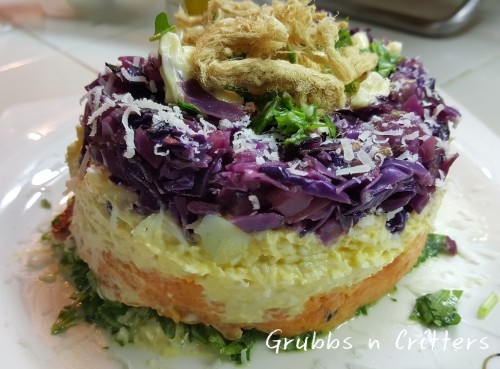 Serves 4
A colourful, (somewhat) healthy and seriously hearty salad with a difference!
Ingredients
3 boiled eggs
2 boiled carrots
4-5 leaves of red cabbage, boiled. Drain off the water
A bunch of rocket salad
Turkey bacon, diced
Some mayonnaise
Some grated Parmesan cheese
Some salt and pepper
1 tbsp balsamic vinegar
A clove of garlic
Shredded beef floss for topping (optional)
Instructions
Grate boiled eggs and mix 2 tbsp of mayonnaise. Season with salt and pepper and mix well. Set aside.
Grate carrots separately. Set aside
Separately slice the red cabbages and rocket salad thinly.Then add about 1-2 tspn of balsamic vinegar to each of them. Set aside
In a hot pan, lightly fry the diced turkey bacon with pressed garlic till they are cooked. Set aside.
Layering
In a circular plastic bowl, press the red cabbage as tightly as you can at the bottom. Sprinkle some parmesan cheese on top.
Layer the red cabbage with the egg mayonnaise on top of it. Press them together.
Cover the egg mayonnaise with the diced cooked turkey bacon on top.
Layer the carrots in. Press tight.Add a little mayonnaise on top
Lastly, layer it with the red cabbage and continue to press them so they stick together one on top of the other
When they are all tightly pressed, turn over the bowl onto a serving plate and slowly run a knife on inside to release the layered mixture from the bowl
Top it up with sprinkles of leftover rockets or coriander (optional), swirl on some mayonnaise, grate some Parmesan cheese over it and garnish with some beef floss on top
Serve cold.
Notes
The turkey bacon gives the salad a nice crunch. You can choose to layer the salad in any way you want or choose to remove any meat from it.
Grubbs n Critters https://grubbsncritters.com/
If you want to see what Gen is up to with her salad creation, hop over to her site now and
check out her recipe
. Make sure you leave some comments!
With salads, you'd be super-charged for the merriest and the healthiest New Year!
==========================================
Monthly Mystery Munchies features every first Friday of the month in collaboration with Gen, Author of Eat, Play, Clove. Next month will be my turn to choose a theme. I haven't got anything may have something up my sleeves yet. Until then!