August 14, 2017
What do you know! Tomorrow will be mid-month already. So far, I have only conquered the last 2 weeks with:
14 hours workday week(s)
trying to stay stoically neutral in the face of challenges at work without losing my mind
refraining myself to choke someone by slapping him so hard that all his teeth and his eyeballs would be vacuumed into his windpipe
a beautiful no-kids weekend away in France for lovely wedding
a haphazardly made birthday cake for my daughter baked on the night we came back from France
another haphazard family celebration for her birthday on her birthday and,
a pathetic number of blog post, with only 5 so far since the beginning of August. My worst in months!
This month has been too quick! Yet, at the same time a little too slow for this week to end AND waiting for that paycheck to arrive at the end of the month.
2.more.weeks. Then it's September. And then what?
I'll tell you the whats: Kids will be back in school, our paychecks will be wiped out again and hopefully I'll be able to keep up with my blogging. Apart from that, I haven't got a clue of what will happen. I just ope that the month will be kinder and that I'll be able to find a new job.
Until then, let me share a few fascinating pictures from France. They come with a little story of enlightenment!
1.We almost could not find our hotel room!
This was hilarious! Luckily the key that was attached to "Pachwork" could open to the door that said "Pacthwork"! Yayyy! Our guess work turned out to be top notch.
(We discovered several spelling and grammatical errors at this lovely French hotel we stayed in for the first night before we moved to another hotel at the wedding venue where we had to be)
—————————-
2. Fancy some fishy friends while you sleep?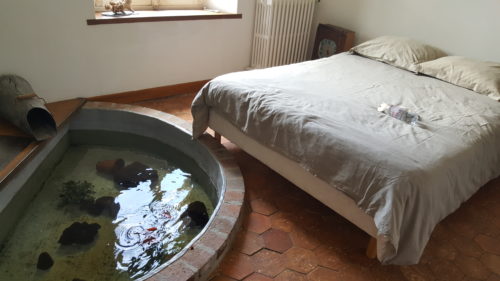 No kidding! There, IN one of the bedrooms of the property where we were put up for the 2nd night at the wedding venue, was a built-in pond filled with fishes. Unique, though somewhat bizarre! We did not get this particular room (we had a very nice one down the hallway) and according to another couple who slept in here, the fishes were busy all night long – talking and doing acrobatics. 😉
—————————-
3. The Gate for Famous People
Somewhere in Chatenay-sur-Seinea located in the East of Paris, there stood a large, large gate from once a famous castle which I don't know the name of. According to the story, the owner of the property bought the gate (and only the gate!) because they wanted to preserve it. Largely because at one point in history, a lot of famous people walked through and past it.
As weird as the story is, I think it's a pretty cool sight. The view was just stunning!
—————————-
It's going to be one hell of a crazy period again this week as I try to race against time to get all things that need to be done, DONE. That includes catching up on the blogs that I follow which I have unintentionally ignored in the recent weeks as well as writing a few blog posts.
Time permitting, more on our little weekend trip to picturesque France in the post(s) to come. Stay tuned!