August 18, 2017
Three of my favourite words: Nasi, Goreng, Sambal.
Literally translated as Rice, Fried…well, there really is no direct translation for the word Sambal. But if I have to describe what it is, I'd say it is mostly only chilli-based sauce, spicy, sometimes sourish-sweet and often used as a condiment to food. Almost exclusively Asian food.
Traditionally, it is made using pestle and mortar which would result in its coarse texture. But really who has time to pestle and mortar things these days when all you need is a blender! Especially so when you have to use quite a boatload of chillies (usually dried) to make a small pot of sambal.
The thing with sambal is its versatility. You can make it plain or you can use it as a dip when you eat it with Nasi Lemak. You can also add stuff like eggs, fish or medley of seafood to it. It's the sauce that counts. And then there's the left-overs – too much to be thrown away and too little to add any more stuff to it.
That's when you make Fried Rice. Hot, fiery, red fried rice filled with goodness of sambal and poison.Even the rice is left-over.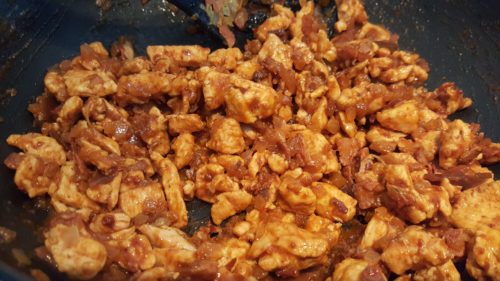 That's not just the normal, ordinary fried rice is, it? (which by the way, can also be pretty damn awesome), but fry it up nice with dollops of home-made chilli paste. You know it's good when you can't stop at the second helping!
How do we make it? Here we go, peops! Light your stomach on fire!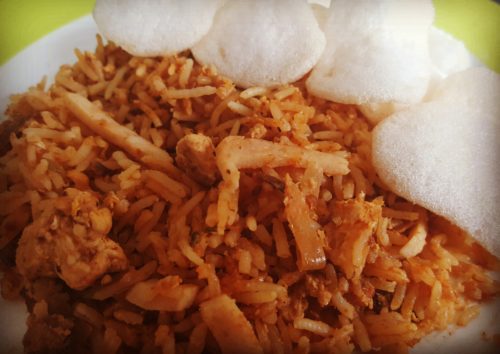 Nasi Goreng Sambal (Sambal Fried Rice)
2017-07-15 03:52:04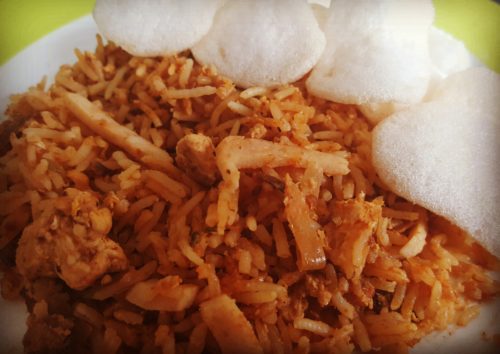 Serves 4
Red, fiery and delish fried rice made with home-made chilli paste
Plain Sambal (Make Ahead)
20-30 pieces of dried chilllies (add more only if you are sure it's not a killer chilli!)
2 inches fresh tumeric
1 medium sized shallot (thinly sliced)
1 small can tomato puree
1 inch tamarind pulp
1/4 lemon
1 tspn dark brown sugar
Salt to taste
Others
3-4 cups boiled rice
chicken breasts, cubed
2 eggs
Plain Sambal
Cut dried chillies and soaked with boiling water for about 10 mins then drain
Blend chillies, together with turmeric
Heat up oil and once hot enough, put in the sliced shallots till fragrant
Add in the blended ingredients and fry over low fire till the colour gets a little bit darker. Add sugar and tomato puree. Stir well and continue stirring every very once in a while.
Separately, put in the tamarind pulp in hot water and squeeze the juice
Stir and fry over low heat for 20-25 minutes
Add salt to taste.
Simmer for another 30 minutes. Make sure the bottom is not burnt. If it gets too dry, add some water
Fried rice
Heat up oil
Fry the chicken breast and chicken delis
Add the (leftover) chilli sauce. Mix well and cook for about 10 minutes
Add boiled rice and mix till all the rice are covered
Beat the eggs and pour the eggs all over the rice. Mix well
Cook for another 5-10 minutes.
Turn of the heat and serve with keropoks!
Notes
The time indicated above assumes that the sambal has already been made! Feel free to add other ingredients such as tofu or vegetables into your fried rice dish.
Grubbs n Critters https://grubbsncritters.com/