August 11, 2017
This is really one of the simplest recipes I've ever made with only 3 main ingredients:
roast beef
boiled eggs
cream cheese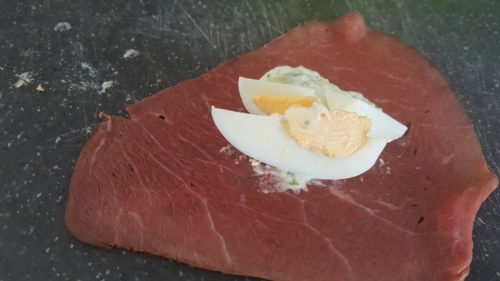 Nothing like being inspired by my mom-in-law's simple treats when she hosts us
Using only store-bought thinly-sliced roast beef from the supermarket, there really is not much cooking involved. All you have to do is boil some eggs, season the cream cheese with salt and pepper, then fold ém away!
Yes, really. That's IT. Easy enough.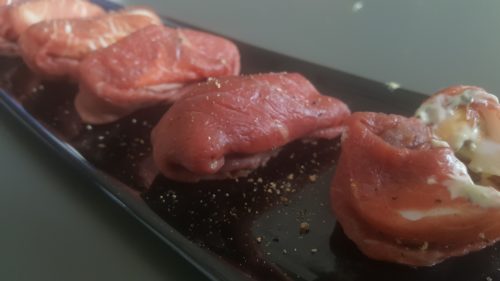 MIL Roasted Beef Roll
2017-07-11 04:21:37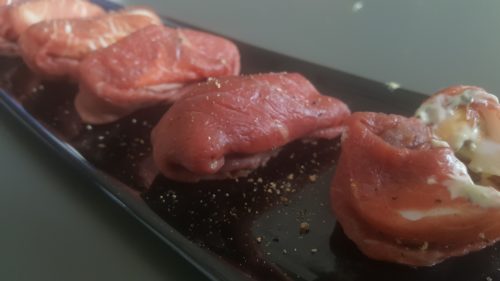 Serves 4
A simple, classy beef wrapped egg salad-like appetizer suitable to be served just before dinner!
Ingredients
2 boiled eggs
10-12 pieces of thinly sliced roast beef
3-4 tbsp cream cheese seasoned with salt and pepper
Instructions
Peel boiled eggs and use an egg cutter to wedge it
Assemble a piece of roast beef on a flat surface
Put a piece of wedged eggs in the beef
Scoop about 1 tspn of cream cheese over it
Fold over
Set aside
Repeat till all of the ingredients are used up
Notes
Get creative with the cream cheese by substituting it with mayo or mustard sauce
Grubbs n Critters https://grubbsncritters.com/