August 7, 2017
Dear Spud,
This was you 7 years ago sometime today after almost 42 weeks in my womb and an arduous journey out of it:
Your Papa made sure he took some nice shots of you while you were sleeping next to my hospital bed, hours just after you were born. You looked like the most peaceful baby ever made. I swear that I could still smell that baby smell you once had. Even at that age of several hours old, we already sense that spunk in you.
Our life has never been boring since. To date, there has not been a single dull day. You have that streak of rebellion in you; one that I recognise so well. One that, if you are not careful, could land you into lots of trouble one day. That spunk in you has now grown stronger, louder and bolder.
In the last year, I have observed the subtle changes in your behaviour. You are less erratic and more even tempered. While you are much easier to reason with, you can also be pretty harsh on yourself when you don't need to be. Sometimes I wonder what goes on in that mind of yours.
These days, you have been more vocal with what you like and what you don't like. Recently you surprised me with "please no more pinks and no more princesses, Frozen and girly dolls", because as you said it yourself, you just don't like that them anymore.
Whhhaaaaa…t? Really!
I have to say, after 7 years of all things pink and girly, THAT is music to my ears. I support your decision whole-heartedly! Perhaps the early indoctrination to all things pink and girly (courtesy of others to feed your love for pink and princesses) has finally off!
Phew.
Moving on.
I know these past few months has been a little hard on you. You complained that you hardly ever see Papa or me because you feel that we work too much. You lamented that we work too far away and that you hardly ever see us.
You felt sad that we had to leave you at the daycare. You felt abandoned and told everyone at the daycare about it. So much so that the teachers felt they should let us know about it when you had your crying bouts for several days on end. The teachers seemed genuinely concerned that we may have neglected you altogether.
We thought it was pretty endearing. Though, at the same time, quite amusing considering that during the weekends you would whine whenever we want to take you and your brother out. And when we stayed home, you would decide to play outside for hours and adamantly refused to stay indoor with us.
Hmmmm…What gives?
I guess I'll never know what goes on in the mind of a 7 year old.
Still, I know the weeks have been a little rough. Just a few days ago, we had to leave you and your brother for a weekend away in France. Considering it would the weekend leading to your birthday, we truly wished that we could have taken you along. But that was not possible. We had to adhere to the no-kids protocols. Plus it was an event which we would never want to miss.
Despite that, we made sure that we took the day off to be able to spend time with you on your birthday today. I know you said you did not want a cake, and even though I was knackered from the travelling, there was just no way I could bring myself to not bake you a cake for your birthday.
You asked for orange cake and this was probably one of the worst looking cake I have ever made. Only because I forgot to mix in the crucial ingredient earlier into the process.
Blame it on the time constraints.
Oh well! I'll probably just have to try again later. I'm sure you'd want to help. Next time, you'll be the one baking. For the entire family! You are already reading like a pro and in no time, you'll be able to follow recipes to a T and modify them accordingly.
Which brings me to your love for food. Did I ever tell you how proud I am of you and your relentless sense of adventure for grubs? You have no idea how happy I am to see you eat vegetables ever so heartily as well as being open to try new food when we nudged you to. It truly is amazing! I hope you stay that way. Because. Food.
There'll be more exciting things to come in the next few weeks, I promise. We'll wind down a little, chill a little and hang out a lot. Until then, let's continue to talk a lot, eat a lot and laugh a lot with plenty more years of love, bonding and laughter all around.
To the kindness, adorable 1st-born I know, happy, happy birthday my (sometimes grumpy) little Miss Sunshine!
May all the spunk in you stays on for the greater good of all human kind. One step at a time. Stronger. Louder. Bolder. Amassed with all the compassion the world can get!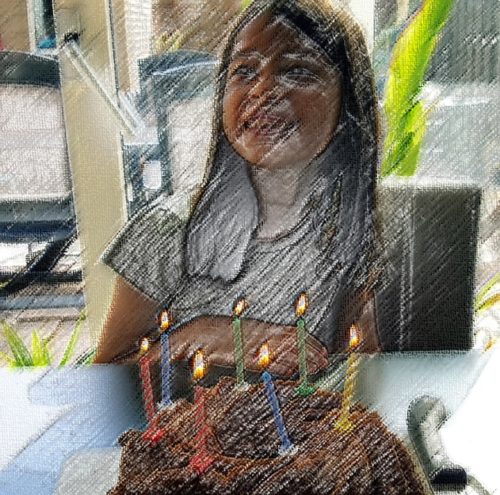 With much love,
Mama