May 29, 2015
It's do-over dish this week with just a slight variation to my original Grubbecipes creation of Chicken, Leek and Potato pie, which was of course, consciously modified.
This time I have decided to add a little punch with the flavour by using pesto and copious amount of Dijon mustard. There's something about pesto. I just love it!
With ready-made filo dough ready, this took me no more than 30 minutes to prep, cook and assemble into something pie-like before putting it in the oven for 45 minutes. The only glitch I had this time was that I left it in the oven for too long. Reason: My oven timer broke, I got busy with the kids and completely forgot about my pie!
Almost burnt it!
Any professional food blogger would be ashamed for putting a picture of an almost burnt food up in a blog post. I guess I have no shame in that. For one, I am NOT a professional food blogger for I am just a mother trying to feed her family who happens to find a lot of passion in cooking and experimenting. Also, this is completely authentic and home-made; mishaps happens.
So let me present you with my almost burnt Chicken Pesto, Potato and Leek Pie: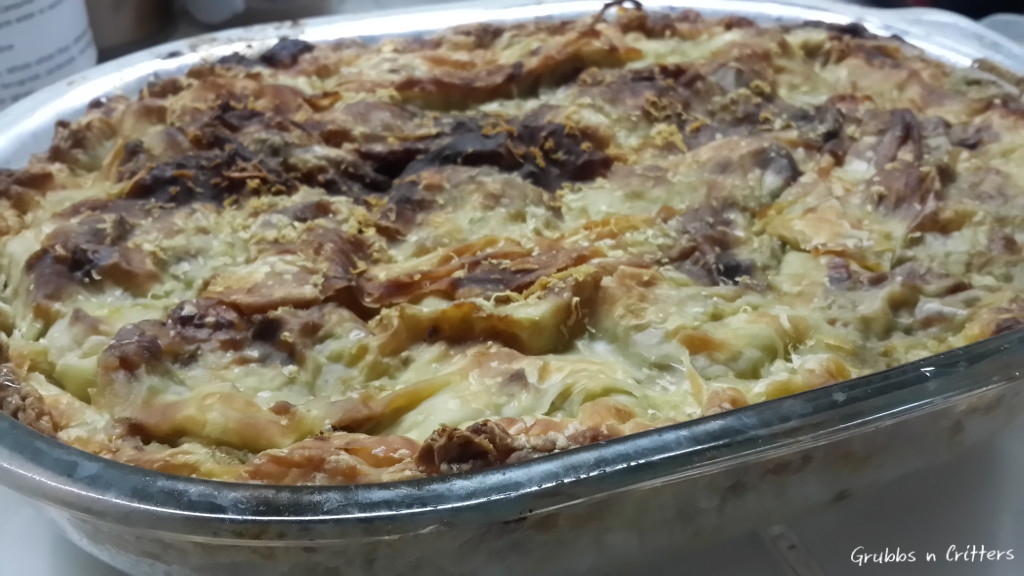 Chicken Pesto, Potato & Leek Pie
2015-07-13 12:16:33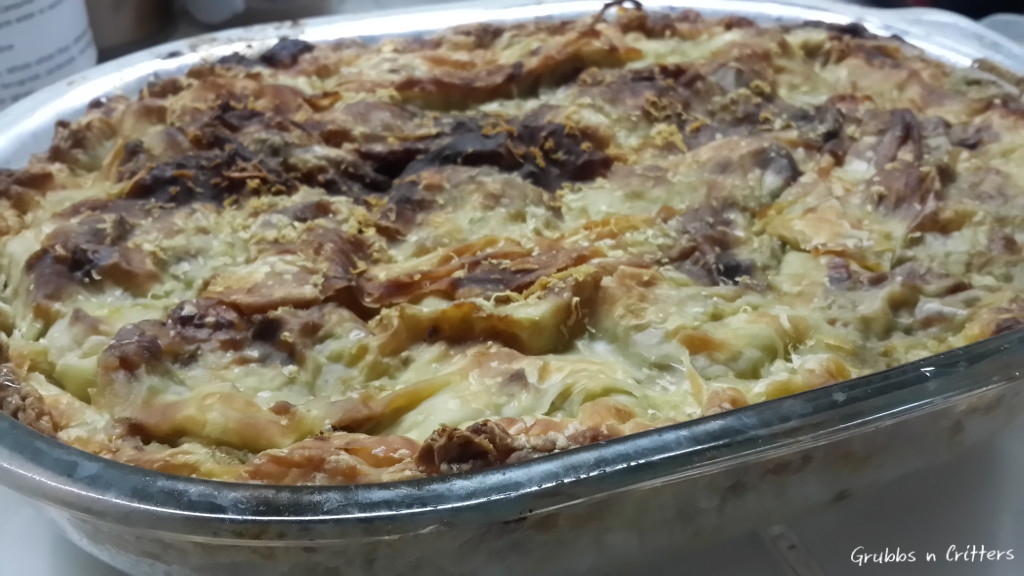 Ingredients
3-4 potatoes, cubed
5 tbsp butter
2 skinless, boneless chicken breasts
3-4 slices of smoked turkey (or beef pastrami), cubed – optional
1 can rocket pesto
2 leeks, sliced
1 yellow onion, cubed
2 tbsp multi-purpose flour
1.5 cups low-fat milk
half cup evaporated milk
4-5 tbsp Dijon mustard
1 tbsp mustard seed powder
5-6 pieces of fresh sage leaves, torn up small
225g filo dough
Salt and pepper
Instructions
Preheat oven to 180 degree Celsius. Cook the potato cubes in boiling water for 5 minutes. Drain and set aside
Melt 5 tablespoons of butter in a skillet. Caramelise the onions, then cook the chicken cubes for 5 minutes until they are browned all over.
Add leek , cubed smoked turkey slices and cook, stirring for 3 minutes. Then add in the pesto sauce and mix well, making sure that the meat is well-covered in pesto
Add in the flour and stir constantly for 1 minute. Gradually add in the milk and bring to a boil
Add mustard, sage and potato cubes, reduce heat and simmer or 10 minutes. Season to taste with salt and pepper
Meanwhile, line a deep pie dish with half the sheets of filo dough. Spoon the filling into the dish and cover with one sheet of dough. Brush the dough with a little of the melted butter and lay another sheet on top. Brush this sheet with more melted butter.
Cut the remaining filo dough into strips and fold them on top of the pie to create a ruffle effect. Brush the strips with the remaining melted butter and cook in the pre-heated oven for 45 minutes or until golden brown
Serve hot.
Grubbs n Critters https://grubbsncritters.com/
Beneath that though, I assure that it's scrumptious, moist and creamy. The pesto adds on to the overall flavour and the mustard gave it that little bit more "zing" to the taste. This is another hit for the family. Burnt or not, it's the taste that matters, isn't it?