June 1, 2015
Dear Squirt,
Just because you turned 3 today doesn't give you a free pass to:
want to have your way all the time
hit your sister when you don't get your way
stick out your tongue at me after a scolding
suck the toothpaste from the tube when you are supposed to be putting the toothpaste ON your toothbrush
play lego games on my phone all the time
head-butt me when I walk in the door (It's endearing, but it also hurts!)
flash me your most charming smile when you know I'm upset with your behaviour (I know what you think. I will not cave in!)
throw away things just because  you don't like them
keep food in your mouth like hamsters for 15 minutes at breakfast, lunch and dinner. Chew dammit!
whine for half an hour when we don't accommodate to your demands
insisting that your sister's toys are yours
eat chocolates, jellos and/or marshmallows for as much as you want
You are however, very welcome to do the following:
come snuggle up with me in the morning when you wake up while I'm still sleeping
give me kisses and hugs all the time
ask to be tickled, hugged and kissed
play with the REAL legos
pick the food off my plate
sit on my lap for as long as you want
cuddle up with me on the couch whenever you want
OD on cheeses
Sounds good? I think so too.
Turning 3 is huge! You are no longer a baby and will soon pass the toddler's stage. That means, you are not so little anymore! I know that you have been very vocal about your dislike and annoyance when you are referred to as the baby;  like it or not, you ARE the baby in the family and that will continue for the rest of your life.
Yesterday at your birthday party, I had to laugh so hard when the following conversation took place with Eli's Mom:
Eli's Mom: Hey baby, happy birthday!

You (said in gusto and an annoyed pout): I'm NOT a baby. Don't call me baby!

Eli's Mom (smiling and grinning): Oh? Well, in my country we call everyone baby. I call my Eli baby and my husband is also a big baby. And that's what we do. We like you and we love you and we call you baby

You (eye brows furrowed, almost hissing): I'm NOT a baby….
Ah! Little man. You are OUR baby – the last one of the brood, and sometimes, I almost wish that you hadn't grow up so quickly and stay this way for a little longer. You have always, always been a happy cheerful baby and as we browsed through your pictures, we have only seen smiles and grins in most of them.
Apart from the hellish reflux days which you had in your early months (and one that I still remember so well!), you have always been pretty easy to handle otherwise. You have done well with naps  and sleep so far. You are always so cudddly,  very affectionate and has no trouble playing on your own. Sometimes, I'm not even sure if you realise there are other friends around you because you are so engrossed with what you are doing.
Your personality, like your father, very easy-going and trusting! (Careful that you don't get conned and manipulated in ways that could hurt you) . It is having a baby like you that makes any mothers want to have another baby again!
Your obsession with cars, wheels and anything that moves is beyond me! You gravitate to them like flies to shit and I haven't got a clue where that obsession comes from as neither your Papa or me is into cars, nor did we introduce them to you. I guess it's a boys' thing.
These days, the sight of Minis drives you crazy and you are always pointing to one when we see them on the streets! Funny how there are so many  Mini Coopers in Bangkok these days! Too many!
Your speech developed a little later if compared to your sister, but you now do have a better grasp of communicating your needs as your language skills continue to improve. This also means that you will be asking us more what and why questions repetitively; not that you haven't already! Like your sister, you are constantly either talking our ears off and bouncing off the walls like there is no tomorrow.
I am seeing that your sense of identity has grown stronger by the day. You have, with all your might, been testing our patience just to see how far you can push. But you know what, boy? We have been through this before with your sister. We are  pretty well-seasoned to your tricks by now and we are no rookies when it comes to parenting you. Your sister made sure of that.
I wrote your sister's first letter when she turned 3. It was unintentional but something I needed to do then. That did it because,  since then, I decided that I will write a letter to her on every year for her birthday. And, now that you have also turned 3, I figured it's only fair that I do the same for you for every single birthday you will be having.
There seems to be a love for music in your blood and I love it! You are always curious of the songs we played and I realise that you will only ask for the title of the songs when you like them. Ever since you learn how to talk, you are also always singing when talking. Somehow, you manage to turn every single sentence that you are saying into a song with a melody you knew! You'd go on and on and on and keep that up for many minutes at a time. That always tickles me.
Have you decided if you are a lefty or a "righty"? Because to date, you seem very comfortable with using both your right and left hand, although there seems to be a preference for left. It's great to be ambidextrous though; not many people can do that! And no, you really don't have to decide.
I bet you don't realise that you can be quite fearless. Your teachers confirmed so and we have seen it ourselves. At your age, you have no problems climbing up to the highest rung of the playground just to slide down from the highest slides. Just a couple of weeks ago, you gave Papa and me a heart-attack when you decided to break from my hands and rann down a ramp at full speed when we were waiting for the car right outside the hospital. The problem was, that ramp connects to the road, and had a car happened to drive by, you'd be history.
The worse thing about that was, there was nothing either of us could have done to stop you because you were too quick to break away from me and you were a good 2 meters away before I could run after you. You should have seen the look on your Papa's face. I still shudder when I think about that. Please don't do that again. You cried a hell lot after that, but I'd rather you be the one crying rather than us.
You really have to stop with that thumb-sucking, though. Enough is enough.
The last 3 years have been a great ride, dear little Squirt. I hope you will keep your smiles bright, your laughter contagious and your affections bountiful. Like my wish for your sister, I want you to have the most fulfilling childhood you could ever have: play till you collapse, sing till your voice goes hoarse, dance like there is no tomorrow, get and give hugs and kisses like your life depends on them, be curious and ask LOTS of questions. Most importantly, respect yourself and never ever let the pressures of society define who you are while keeping our family values alive.
You are learning, and as long as we have blood running through our veins and our hearts are still beating, we will learn and we will soar.
Bed-time is NOT negotiable.
Happy, happy 3rd birthday, my little baby, Squirt. You'll have the best years ahead of you!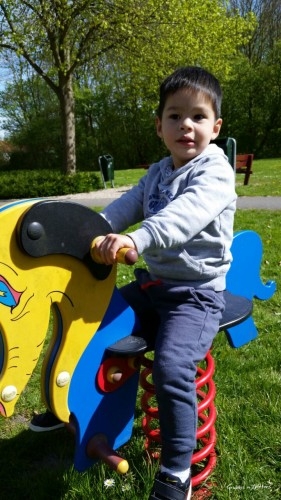 Love,
Mama