April 26, 2015
Today's Prompt: Think about an event you've attended and loved. Imagine you're told it will be cancelled forever or taken over by an evil corporate force. How does that make you feel?
It was the biggest 2-day rock festival in Southeast Asia, held in Bangkok for the first time ever back in 2006. It was jointly organised by 100 Piper and its partners, in association with a local radio station and Coca Cola Thailand to experience the World Class Rock Festival one could ever imagined.
I was there! Along with Silver Bullet and several other friends who flew in specifically for the festival, we spent 2 solid evenings rocking out to renowned big names in the music world such as Placebo, Snow Patrol, Fran Ferdinandz, Stereophonics and Oasis LIVE!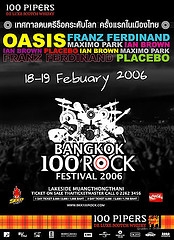 We made sure we got the 2-day pass with the most expensive tickets to get as close to the stage as possible. And what an amazing festival that was! I still recall the festival with so much fondness and even though Oasis behaved like a total dick (which was to be expected given their reputation) where they were fashionably late and Liam literally gave the middle finger to the audience and showing no interest in his performance  whatsoever, ( I walked out halfway through his act), it was still a load of fun.
It was supposed to be an annual event and given its success, they had planned for another big gig for 2008. We bought the tickets in advance and we were so looking forward to that. Unfortunately, the political turmoil in Thailand at that time resulted in the festival being cancelled for that year. Bummer! We got our tickets refunded.
There was an attempt to somewhat revive it,  and 100 Piper had organised something of a smaller scale later that year. It was not advertised extensively and was held at a different venue. Tickets were limited and I could not have gotten the tickets if not for a corporate contact I had.
I don't remember much of that really. It wasn't as exciting as the one they did 2 years ago, and the only band which I remembered that gave a good performance was by Stereophonics.
That was the last I heard of it.
Like a flash, the 100 Rock Festival came with a big bang and then disappeared into thin air. Almost 10 years on, we haven't heard of another attempt to revive the World Class Rock Festival in Bangkok. The unstable political climate in Thailand probably had a lot to do with it. I can also imagine that bringing such big acts could have easily cost the organisers tons of money, and in the long run, deemed unsustainable.
To say that I was disappointed was an understatement. I have always been a fan of concerts, and quite the chronic concert goer. I feel alive being in the moment when watching a band live, singing my hearts out to the music I knew and liked.
The Annual 100 Rock Festival was cancelled forever. I felt such void in my heart and it really was such a shame to have such great thing going completely canned.
Who was to blame? Was it the lack of funds? Was there nobody interested to bring good music back? Was it too complicated and too complex to organise again? Were the artistes being assholes? Was it really the political climate or was that just the convenient excuse? Would no one else be interested to bring back awesome music culture back?
Oh! What a shame. Whatever it was,  it was good while it lasted. Another festival like that in Bangkok would definitely have been fun to go to.