April 11, 2015
Today's Prompt: Write about a loss: something (or someone) that was part of your life, and isn't any more.
This is a tough assignment for me – I had to dig really, really deep inside my head to think of something since the prompt came in. And, because work had kept me busy till the wee hours of the night this week,I had hoped that something would turn up in my head when I finally get the chance to sit down and write about it.
I thought of several things and came up with nothing; at least nothing significantly interesting enough that would potentially make this post the first in a three-post series. But woe be me if I didn't try to make this work, so off to my photo archives I went in my bid to get some inspiration to continue writing this post. After all, pictures tell some interesting stories, don't they?
As I was scrolling through my folders, I stopped at a picture of an orange furball, and suddenly I was flooded by memories.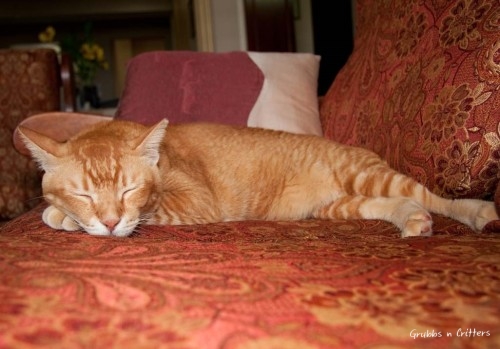 His name was Ah-Max. He was ugly, filthy, greasy and possessed one of the loudest meows I have ever heard when a bunch of ex-colleagues and me found him as a stray near our office back in 2002. He was also one of the cutest, and as you can see from the picture above, had grew up and became the most handsome cats in my neighbourhood. With a huge personality to boot.
He had balls, this cat. He bore many battle scars from cat-fights and only him and him alone had been the cause of many expensive emergency visits to the vets several times every other month!
I can't help but smile when I look at the pictures I have of him as I reflect on what a hell of a cat he had been – making friends with humans all around, but was quite the little terror to other cats. He had been a big part of my life and he's got some stories to tell! Well, at least I do now on his behalf.
Stay tuned!
#BoggingU #Writing101