August 7, 2014
[Warning: A very lengthy post]
Dear Spud,
A few weeks ago, you told me that you no longer like the number 3 and that your new favourite number is 4… "because I don't want to be 3 year's old anymore, Mama!"  You whined away about not wanting to be 3 any longer than you should and that you need to be 4 years old. You then got yourself visibly upset when I gently told you, with a smile on my face, that you are not yet quite four and that you'd just have to wait for a few more weeks before you will officially celebrate your 4th birthday.
You pouted away like it was a death sentence; and I was completely bemused by your remarks and reaction to the whole age thing. It had seemed like a very big deal to you.
Well, guess what, my little baby girl: you are officially four years old today. I remember despite you being upset that evening, your face lit up once again when I told you that we'll be having a little party for you and your friends when you turn four. You then simultaneously told me that you want your cake to be pink and something strawberry. At that point it did occur to me to try bake you a cake – but we'll have to see about that!
I thought it was quite hilarious that when I asked you if you wanted a book or a toy for your birthday, you replied with "I think I want clothes".  Hmmmmm…that wasn't even one of my option, I thought! Indeed, you really have a mind of your own these days.
But you know what? You sort of have that wish about getting a pink cake granted last week in Singapore when your Nyai gave you an early birthday surprise. When we told you to close your eyes while your  Nyai and Aunt prepared your cake, you duly complied. And the expression you had plastered all over your face when you opened your eyes was priceless! You were completely stunned, not to mention confused;  You had understood that it wasn't your birthday, yet couldn't quite wrap it around your head why you were getting a birthday surprise. I thought it was quite funny how you reacted to the whole surprise thing and definitely something I would still-frame in my head for a long, long time. It was really thoughtful and kind of your Nyai to put together a nice little party for you. You are really one lucky girl!
We missed those nightly natters every time we travel, and now that we are back to our usual routine, I always look forward to chat with you when I come home from work. As I realise, those nightly natters we have been having in the last 2 years have proven to be crucial in cementing our bond as well. While there are nights when you took away the very last of my energy, there have also been nights when you have been absolutely hilarious and I couldn't get enough of you. Our chats have also provided me with some fascinating insights about you; I discovered what a sensitive and intuitive child you are, as you seem to react to my energy (or the lack of it) or my innate emotions when I least expected it.
It feels like you just seem to know when things aren't right and you showed me by the way you express yourself to me or ask me questions which I don't have an answer for. You make me feel like a million dollars when you, the child, would sometimes come close to me as I lay in your bed together next to you, give me a kiss, a hug and then tell me as a matter of factly, "it's OK Mama. I love you."
Sometimes I wonder if we don't give you enough credit that you actually know more than we think you do. There really is something special about you and despite the trial and tribulations we have been through, I am so proud and honoured to be your mother.
Your willfulness, rambunctiousness and spiritedness are all something we have come to expect from you. But, you have manage to compensate that with a very high dose of kindness, compassion and with determination that would put some human race to shame. You have also acquired so much more self-confidence and a stronger sense of independence to a degree which I haven't quite seen just 6 months ago.
These days, that very confidence and independence have purported your sheer defiance and that has inevitable taken you to places which you seldom have to go as often before – a little time-out corner as a consequence of your actions. You really seem determine to push your boundaries as much as you can as you try to convince us that you are the boss. But, you know what my child – you are not. We are. We can handle your cries. Our house, our rules. Deal with it. 🙂
You talk a lot too, these day. And by a lot, I mean A LOT! You talk about everything and nothing and I can tell that you are trying to make sense of the world around you. You ask a lot of whys, always wanting to know the reasons behind them and get upset if we cannot give you a satisfactory answer. I reckon I would have to point out Mr. Google to you sooner than I think!
One of the things which continue to amaze me is your sharp memory. Not only are you able to remember details which we tend to overlook, you would also be able to absorb new information without much effort. I find it amazing that you are able to remember the entire story of the book after we read to you for no more than 3 days and then you would be able to memorise almost every word page by page!
You have been excited about turning 4 and you have every right to be . Especially so since this marks the period when you are starting to form your earliest memory of childhood as you go into adulthood in your later life.  And regardless how imperfect your parents are, it is my every wish that you will remember your childhood as one that is happy and fulfilling.
It is my hope that no matter how hard or cruel this world may be to you, you will be able to look past the bad and rise above it with your head held up high. I wish that you make life-long friends who are genuinely sincere about you and in due course, learn to stay away from those who manipulate you and mess with your free-will. Girls can be a very nasty bunch and I pray that you will never bully or be bullied.
Always be honest – and although you are already starting with your little lies which I know is an expected developmental stage at your age, we will certainly keep that in check. Never lie, cheat or steal. Never pursue things that are not yours. Ever. Understand that you can't always have want you want  (and that includes snatching your brother's toys when he is not looking too!) Stand up for yourself when the need arises and most of all, live your live with integrity. I know that's a lot to ask for from a 4 year old, but heck! I'm your mother. 🙂
This will be yet another exciting year and like the previous years, I don't still quite know what to expect. Every day is a learning curve and the only thing I can promise is that I'll try my darnest to be the best parent I can – a mother you can be proud to have (minus the screaming – I'm working on that!).
I want you to live life  as I envision that you will milk your childhood for what it's worth – play till you can't play no more, sing till you lose your voice, dance like there is no tomorrow, talk like that's the only thing you know and give as much kisses and hugs as if your life depends on them.
You  STILL go to bed no later than 7 pm. That's just non-negotiable.
Happy, happy birthday dearest Spud. Another year has gone by. I have just been amazed at how much you have grown and I am certainly looking forward to more exciting times ahead.
With much love,
Your crazy mom.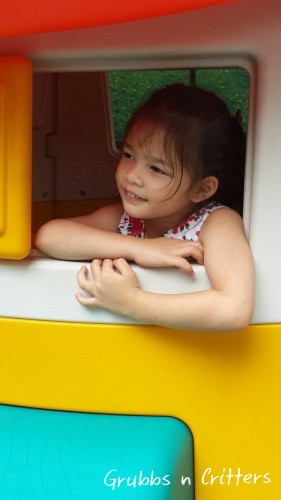 Related post:
Spud Turns 3