August 5, 2014
Our Eid celebration this year was a little belated, arriving in Singapore only 2 days after the official Eid Day as both Silver Bullet and I do not have sufficient vacation days left for the year for us to be gone for the entire week. Hence, the trip back home was once again short. Nevertheless, what counts was that the kids managed to spend some quality time with their maternal grandparents; and for us, some needed family time as well as  finally a chance to sleep in till 9.30 a.m as we were able to whisk the kids away to my mom at 6.30 a.m in the bloody morning! (thank you, Mom!)
Like the previous years, we squeezed in a mandatory trip to the zoo on one of our days there.If I thought that a weekday at the zoo will be less crowded, I was wrong. Just queuing up for the tickets took at least half an hour, and once we got inside the zoo itself, it was impossible to get away from crowds! Despite that, we managed to spend a good 3/4 of the day at the zoo and getting the kids acquainted to animals. They had a blast behaving like wild monkeys.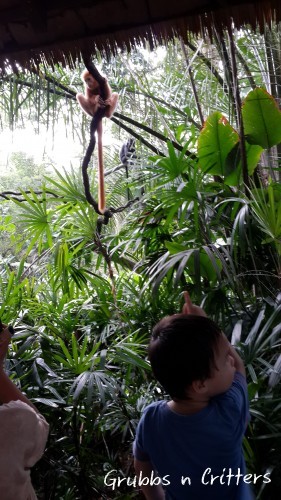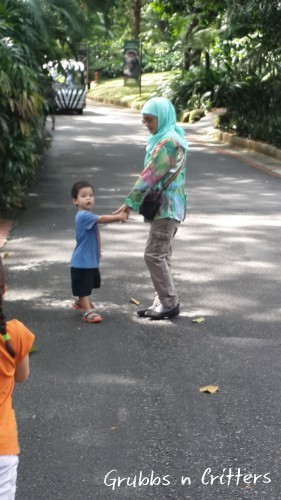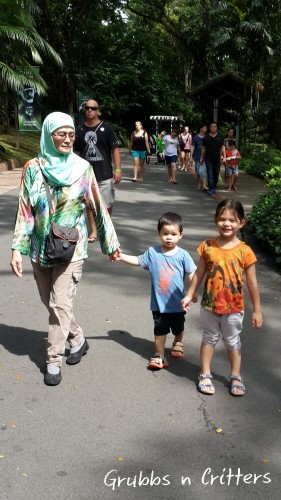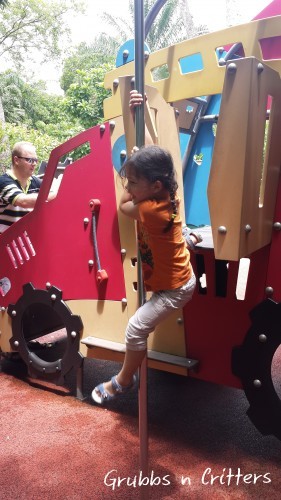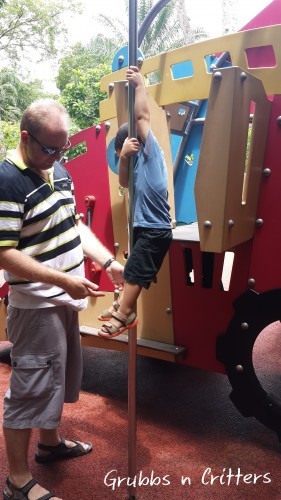 The rest of the time in Singapore went by so fast, and even though we did not plan for very much this time round, we still felt rushed with things we needed and wanted to do, receiving visitors, doing our rounds of visiting and running the needful errands.
The flight to and from Singapore, while a little hectic  and a big disappointment for all of us because the in-flight entertainment services did not work on BOTH WAYS to keep the kids occupied (and only happened in the rows of seats we were being assigned to, thus making our experience with Singapore Airlines a super sucky one!), turned out to be pretty mild.
Sure I got frustrated and annoyed, especially since they both kept me busy ALL.THE.TIME either cleaning up after them, picking up their toys or pillows or blankets that fell to the floor or preventing them from kicking the seats of the passengers in front of them or getting out of their respective seats throughout the flight; but all in all, being exhausted aside, the flight was quite a manageable one. I even managed to devise a fool-proof way of preventing Squirt's cars from falling to the floor all too often – I used the blanket as a "catcher" by sticking the ends to the stowed table behind the seats and spread the rest of the blanket on Squirt's lap. That kept him occupied for a good 45 minutes or so; at least 20 minutes rolling his cars ON the blanket and then the next half an hour putting his head underneath the blanket as he rolled his car about. Kept him quiet. Worked for me!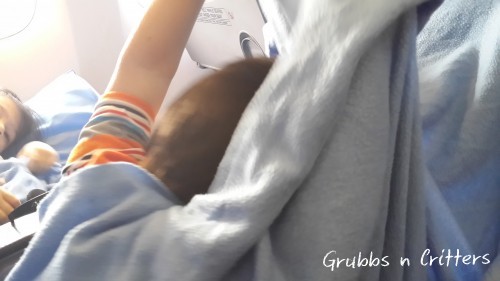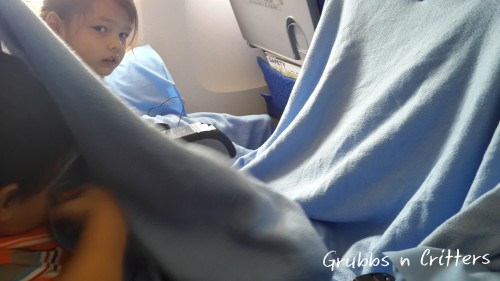 Travelling with the kids seems to get easier too. While temper tantrums are a norm (mainly from Spud), they are actually getting a little less frequent and they are quite pleasant to be with. It doesn't mean they are less tiring though! They both, cannot for the life of me, keep still – they jump, run and climb about like monkeys being let loose without a care in the world and they both rile each other up at every single chance they got. They seem so laden with enormous amount of energy. Even after a whole day of running, climbing, jumping and going from places to places, nothing seems to tire them out. In fact,  we spent close to almost 1.5 hours every night trying to get them to stay IN bed and sleep at bedtime. By the end of the day, we were completely spent;  with hardly any energy left to do a proper night out.
This time round, save for a few short catch-ups with a few friends – one being an impromptu breakfast meet-up with very old friend of mine from a decade ago who has since moved to Sydney and then Paris, and then finding out that we actually were in the same country at the same time (a very rare occurrence, if ever!), Hari Raya back in Singapore has been a rather quiet family affair.
We like it that way.
It was a short trip, but what counts was that we had spent time with people that truly matters. To everyone near and far, and whether or not you celebrate Eid, here is us wishing each and everyone of you a blessed year. May your life be surrounded by kindness and your hearts be filled with happiness always.