March 19, 2015
Wondering what to do with less than 48 hours in Singapore when you have restless, energetic, young toddlers in tow and you are wrecking your brains to keep them busy as going shopping is out of the question?
Here's 3 of our must-go kid-friendly places with our 2 little imps.  2 of them have been our latest discovery from our trip back home last week:
1. Good old Jurong Bird Park
Enjoy the up-close and personal interaction with the park's friendliest birds in the world's largest Lori Flight Aviary and get enthralled with the birds of prey! Spud's been obsessed with Snowy Owls of late and she's so fascinated by them that she HAD to go see the Snowy Owls several times before leaving the park.
Doable in half a day. Buggy (or otherwise known as Radio Flyer) is available for rent if your little tots get tired of walking. (Sorry, you parents don't get to rest here)
2. Far East Organisation Children's Garden
Explore the 1-hectare garden that combines both nature and adventure at the Gardens by the Bay. Let the kids go wild and get wet with the interactive water tunnels. Tons of fun, with plenty of places to run around and tire them out!
Both Spud and Squirt had a blast.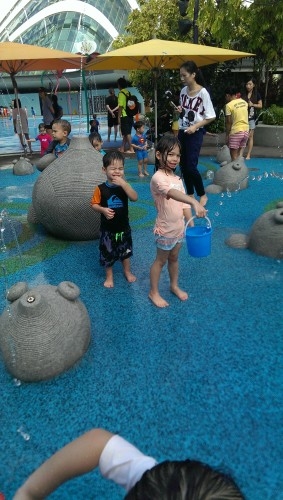 Bounce about in an indoor trampoline park and play dodgeball if you can get the kids to understand the rules of the game. Let them climb up the 17-m lateral rock wall or simply let them go trampolining, bouncing their hearts out. Guaranteed to tire the parents out within 15 minutes.
Yes. I said the parents. You cannot just be sitting on the sidelines as you would not want to miss all the trampolining fun. The kids lasted forever bouncing from wall to wall.
The best time to go with little kids is in the morning as I was told that the place would be opened exclusively to them from 10 am to 12 pm (weekdays) and 9 am to 12 pm (weekends).
My verdict: The kids slept really well at night. Well worth the time!