March 18, 2015
A unique enclave located in the heart of Singapore's Central Business District, Far East Square is a delightful, vibrant place filled with an eclectic mix of restaurants, cafes, pubs and shops within an alfresco environment.
Within it are also cool, cosy and nicely decorated offices and my then-Singapore office is located a mere 5 minutes walk away on the other side of the road. It was a place we occasionally go to for lunches, and, in my younger days,  it also happened to be my after-work playground.
This place,as far as I remember, is always, always crowded. It also brought back a lot of fond memories where inane office-related conversations happened, personal stories were being shared in a one-on-one conversation and friendships were forged over food and drinks into the wee hours of the night; with pretty much no care in the world, except for having the ultimate responsibility of being back in the office the next day.
Those were the days. They were fun times.
It has been ages, and I do mean close to almost-a-decade-AGES since I last stepped foot in Far East Square. And if there is one thing I still remember till today is the Japanese noodle restaurant called Beppu Menkan. It was one of the best Japanese noodles around in my opinion, and my all-time favourite was the Chicken Karage Ramen.
One of the cool feature of the menu in this restaurant is that you can choose the spicyness of the soup ranging from a scale of 1 chilli, which I do think is quite hot enough (and I do have some good tolerance to chillies!) to the maximum 7 (insane!).  I remembered going gung-ho with 3 on my very first visit – I could barely take more than 4-5 spoonful of noodles!
From then on, I just went with 1, and the occasional 2 chillies when I feel a little crazy.  I learnt my lesson with anything more than 2, and for some weird reason, the chillies can be quite addictive!
We had a tame night after we shipped the kids off to my parents and decided to go for those ramen for dinner, hoping that the restaurant would still be there because we remembered how good the noodles were. Without remembering its exact location, we stumbled upon it again, but at a new location across the street at China Square Central instead of Far East Square. They apparently moved more than 7 years ago!
This place was a little less crowded, but the noodles were still as good as I remembered it. Mission accomplished!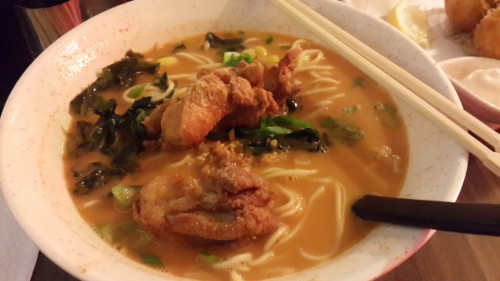 We then took a brief stroll around China Square Central and Far East Square as we attempted to navigate our way to the nearest MRT station before meeting up with a friend.
The entire place is still buzzing with energy, crowded and full of life  – just the way I remembered it. Yet…it feels different; perhaps it was because I was just passing through rather than being the active participant like I used to years ago.
I still see some of the familiar places which I used to hang out, but I thought that the noise was a little bit too much for me. The crowd, overwhelming. It was, nevertheless, some sights to behold, pegged by memories flooding in and pivoted by a bowl of hot, spicy ramen.
Somehow, in between gawking at people and taking in the sights and sound while trying to find the nearest train station, I feel like a tourist in my own country!
Needless to say, this makes for another befitting post for Tiny Expat's Show Your World Blog Event with the following main guidelines:
tell us about an interesting place – it can be somewhere in your home country or a destination that you visited
instead of just giving us facts about this location, use your words to show it to us as well – the way it looks, sounds, smells, conveying its atmosphere