December 20, 2014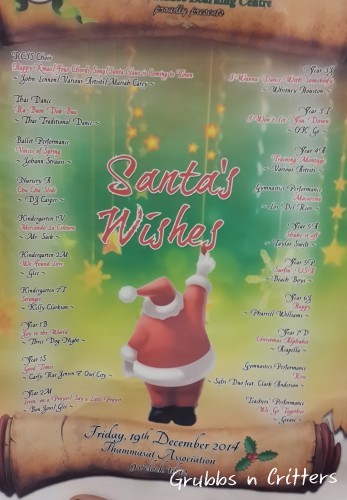 The arrival of school's Christmas Recital only means one thing: School's out for the year to mark the end of yet another school term.
That means, the kids will be idling around at home for 2 long weeks with only their Nanny to entertain them while we are at work. And like every other school vacation,  they would be so bored out of their heads by the end of the week that it is almost guaranteed that they would drive us crazy over the long weekends.
But hey! That's what toddlers do. And whether school's out or not, I have actually begun to look forward to their school's recital, especially so this year as Squirt joins in the cohorts of performance for the very first time. Hence, despite having to expense for their costumes as well as the tickets to attend the show,  with 2 kids performing this year, I have come to appreciate the amusement of what these kids provide to the audience when they get on the stage.
While Spud has been practicing her performance several times a day over a few weeks, dancing to Kelly Clarksons "Stronger", we have absolutely no idea what Squirt would have to do. Unlike his sister, he did not sing and dance like his sister did, and when we asked him about it, he hardly acknowledged it. I wondered if it was because he could not articulate it yet or that he just could not be bothered with it.
When I heard the song he had to dance to, I can now understand why Squirt was not able to mimic it outside his rehearsals – it was a hard song to follow; a song by DJ Casper called "Cha Cha Slide" (huh?! Obviously not a song from my era), and it has the sort of music which doesn't quite stick to your head.  But the little dude rocked it! His hair was gelled up and he was decked out in some funky rapper-styled clothes. He was smiling, he was jumping and he was doing his finger "rapping" when he was not trying to figure out what he was trying to do. Quite a sight!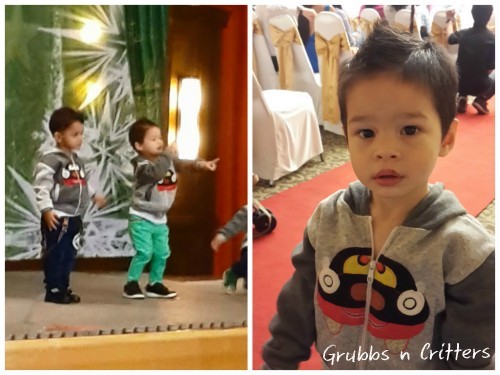 Spud performed twice, performing the "Macarena" with her gymnastic group in her second performance. She's getting better at this performance shit and was eager to look around for us the moment she got on. After that, she really did seem to be enjoying herself on stage, looking around her to look for cues every once in a while.
Like the previous years, we have enjoyed the show and for the first time in 3 years, we took the Nanny with us to amuse her with the kids' performance. It has been a wonderful morning. Although… I hate to remind her that the next 2 weeks for her is going to be some hard work having the kids home ALL DAY.
Related Post(s):