August 29, 2015
The kids have been home for too long now since the school had been closed for summer vacation about 8 weeks back. Even after shipping them to summer school for almost 4 weeks, there were still 3 leftover weeks where they had to be cooped up at home. Their routines are disrupted, and they get restless. Being restless is not good for us.
This week marks the beginning of normalcy again after several weeks of idling around (kids, not us!). They are back in school, they start their new term, in a new class with a new teacher. It's a new beginning and another adventure!
Only, I wasn't quite expecting a new kind of "adventure" for the kids so soon, especially so for Spud who is now in Year 1. At only 5 years old, these kids are now required to take weekly tests in spelling, English, Maths, Science and Thai. Here's an excerpt of the letter from her new homeroom teacher: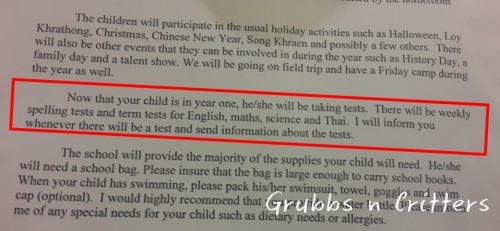 Crazy isn'it? 5 years old and they already have to do tests. Weekly too. And then followed by a big test sometime later. I sigh my biggest sigh when I read the letter…feeling powerless to fight the school's academic push. Tests: Are they really necessary at this age? Does it really matter if they cannot read a 10 letter word or multiply by the 100s before they turn 6? Are we already telling them at such a young age playtime is over and that their lives from here on will be judged by the scores they get for their tests and then bucket them into the "good student" pile and the "bad /stupid" student pile?
As a parent, I feel so sorry for the kids. Already, a few parents of her classmates have shared with us that their kids now don't want to go to school and are quite afraid of all the tests their teachers have mentioned to them. Spud, for now, has not said anything much about that. She seems pretty nonchalant when I asked her about it.
Me? I'm not so happy about all this homework and test crap for those below 12 years old. What good are these tests really? At this age, they are still learning, and let them learn at their own pace – no tests required. Also, as working parents, when do we have time to drill them after school for all these tests? We don't get home early enough, and by the time we are home, it's time for bed. The last thing we want is to stretch their bedtime for them to do their homework, drill them to pass their tests and not have sufficient sleep for a full day at school.
Do I then just leave her on her own to figure it out herself? Or do I then delegate this passing of test crap to our Nanny whose primarily role is to watch the kids when we are away at work? How do they expect her to do her Thai test? We don't speak Thai at home – do we then need to send her to extra Thai class? Do they think we have money that grow on trees? How should we be splitting our already time-starved day? How much more exhaustion can we take?
Another list of things-to-do; another stress I don't need.Brilliant. I guess, at this point in time, I feel as nonchalant as Spud is. In fact, I'm not even bothered if she isn't going to do well for her tests. I'm thinking she'll probably learn to figure it out herself rather than me fussing to her about it.
And as a working parent who already doesn't have enough hours in a day, I'm screaming I DO NOT NEED THIS FRIGGIN' CRAP AND I DON'T CARE IF YOU LABEL ME AS A BAD PARENT BECAUSE I CANNOT SPEND THE TIME WITH MY CHILD TO DRILL HER AFTER HER BEDTIME TO PASS ALL THOSE CRAPPY TESTS!
Because in life, there are other things to worry about. And one of them is not about that score you get on your test papers just to show the world what a bloody genius you are. Besides, these kids are only 5 years old. Chill.