March 21, 2016
5 days ago, we had to scramble to get tickets out of Bangkok as Thailand's new immigration rules for over-staying would come into effect on 20th of March.
This announcement was made in November last year: foreign travellers who overstay for more than 90 days will be banned from re-entering the country for one year.
It also stated that the rule does not apply to:
An alien who departs the country before the age of 18
An alien who departs the country before this rule is enforced.
We never thought this ruling would have an impact on us or our kids. Both Silver Bullet and I have a valid work permit and visa to stay in the country for employment purposes. Our kids, who naturally have been pegged to us, have been on the 90-day tourist's visas since they were born.
Now before you accuse us of being irresponsible for not getting the kids their visas, it was not because we did not want them to get them one. But because whenever we inquired for the need for them, we were advised that it would not be necessary, as the law clearly stated that kids don't have a need for it because of their age.
In the last 6 years, there had been no problem.Each time we leave the country and of course, the kids did overstay, they were being signed off as our work permits and visas cleared them of any implications on their status.
We never pursued this matter further, although we have had every intention to get them a valid visa earlier this year. You know, just in case shit hits the fan as Thailand changes its law as and when they want to.
Well. Shit has (almost!) hit the fan. It did not occur to us that this new strict ruling also applies to kids below 18 even though their official website stated so.
We had to make an emergency exit out of the kingdom three days ago to beat the 20th of March deadline or there was a chance that our kids:
would be fined for overstaying (and the fine would be massive!) or
get blacklisted
The funniest thing about this ruling is that it is so vague. It does seem that the interpretation of the law to either be fined for overstaying or charged with being blacklisted would likely be left to the discretion of the immigration officer attending to the case.
As of 5 days ago as we wait for the law to come into effect on Sunday 20th March, the Phuket Immigration was "mulling whether or not they will include children under 14 in the blacklist ban on re-entry on all "aliens" who overstay in the country".
Mulling. Mulling?! And 14 now instead of 18 years old. It boggles the mind.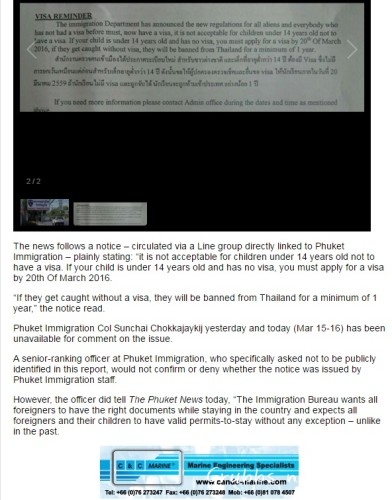 And for the very first time in 10+ years, under the advice of those people who told us this was not necessary before, we had to do a visa run.
Not for us, but for the sakes of our kids; 2 months short before we permanently move out of Thailand for good. All because Thailand decided to change their laws with a flick of a switch.
We only realised the severity of this new law on the day after Silver Bullet ran into one of our neighbours who happened to bring up the subject.
So we ran. To Singapore.
We are both quite pissed but we had to run.
Within 24 hours upon discovering the potential disaster that could have been inflicted on our kids, he managed to get us on a last minute, albeit a very expensive, earliest available flight out to Singapore, get all the necessary documentations for the kids' visas to be done in Thai Embassy IN Singapore, yanked the kids out of school and us out of our respective offices pronto.
At least, we weren't the only ones; many kids have been affected and I have never seen the airport filled with that many parents and kids at one go last week when we left.
And we have been in Singapore since; dragging the kids to the embassy to apply for their visas and then wait for a couple of days only to drag them again to the same place to get their legit visas stamped on their passports.
Mind you, this isn't a holiday.
This has been some crisis travel and has been pretty stressful for us. I still have to make time for work and my head has been so full that I could barely think.
We'd be insane if we were to allow our kids be fined and/or blacklisted just because we did not know any better had Silver Bullet not run into our neighbours whom we don't usually run into that often.
Our only consolation for all this madness is that we did not have to pay for our hotel stay. I also managed to get my hair done and ran into friends at my hairdresser's whom I haven't seen in ages.
Impromptu and stressful as this could get, we get a little family time, I get to see my parents 1x more than we originally planned before we permanently migrate and the kids get to spend some precious time with maternal grandparents.
In all this insanity, the kids have been so full of life. There has been much love, laughter and joy. The stress and anger we felt last week had since dissipated.
It all seemed random, yet the puzzles of life seem to fall into place. I guess this is where I can say that perhaps, things do happen for a reason.
That has been our crazy week and Singapore has been too expensive to stay for longer.
See you back in Bangkok in a couple of days! I have missed reading your blogs.