March 24, 2016
Almost a week out of Bangkok and guess what? I haven't missed Bangkok a bit, especially the heat and traffic which jolted us back to reality when we arrived yesterday. Bleaahhh.
Not to say that the weather in Singapore was all cool and dandy. On the contrary! The heat was unbearable: soaring at the high 30s, and feeling like the high 40s (in degree celsius). Bleaaahhhhh!
The humidity was horrendous; 10 minutes out of the shade and we'd be drowning in perspiration. The only consolation was that Singapore was breezier and having clean air all around surrounded by trees and greeneries helped. We could have stayed indoors of course, but with visas to be made, errands to run and having 2 monkeys running around, growing roots at my parents' place all day was not an option.
One of our favourite places to go in Singapore besides the Singapore Zoological Gardens is the Jurong Bird Park. It remains high on our list of 3 Must-Go Kid Friendly Places if you only have 48 hours in Singapore.
Yeah, we had more than 48 hours, but like I said the heat was unbearable to stay outdoor for too long…
Spud and Squirt love the Bird Park. They are into the Birds of Prey these days and are completely fascinated by the raptorial birds. I can't blame them as I am equally mesmerised by them and their majestic presence. We spent half a day over last weekend gawking at birds and then let the kids loose at the Bird Park's water play area while my Mom ran after watched over them as I hid under the shade to minimise the risk of me getting grumpy and debilitated from a migraine attack.
The Vultures, Braminy Kites and the Bald Eagle were spectacular. The kids could not get their eyes off those birds and the expressions they both had on their faces each time the birds came out to do their thing were priceless.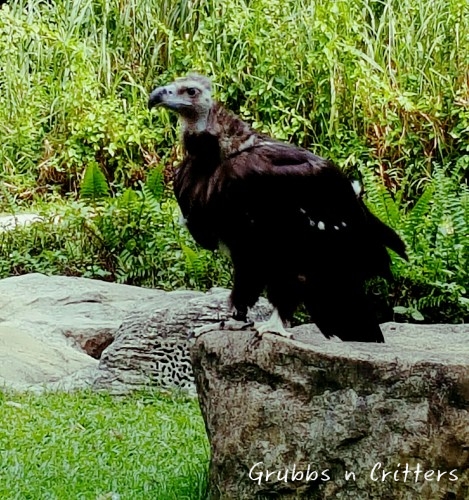 Just look at those creatures! Now you see what I mean? All up close and personal!
The one difference we noticed this time though was that there were very few Loris in the world's largest Lori Flight Aviary. Usually, there would be plenty flying around and they all would ravenously feed on the specially prepared solution which visitors can purchase from the entrance. This time, very few Loris were seen and those that came near us had refused to feed altogether. I find that a little concerning.
With the bursting population in Singapore and the constant influx of tourists, I'm not surprised. The birds may have been over-fed. Perhaps the Jurong Bird Park should stop selling the feeding solution altogether to discourage the thousands of visitors per day from feeding them unnecessarily.
Then, we have the monkeys! They were fed with more than just peanuts. Ice-creams and chocolates seem to be their favourite snacks.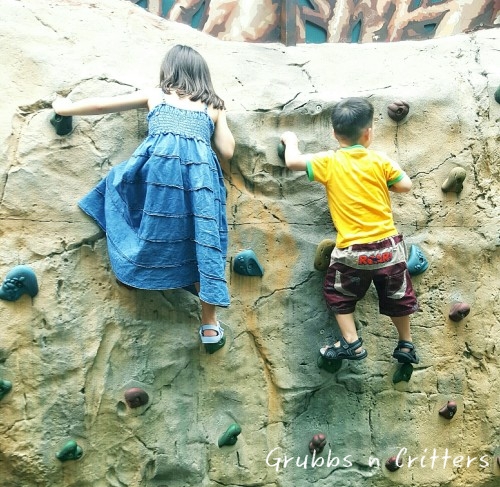 In other news from Singapore last week: The IRAS (Inland Revenue Authority of Singapore) has officially mandated that all bloggers in Singapore will now have to pay income tax. That means, all monetary and non-monetary payments or benefits-in-kind (such as sponsored trips, meals, product features) are taxable if:
They are provided in return for services rendered or to be rendered by a blogger
They are provided to the bloggers' family and friends
Being a Blogger seems to be recognised as a profession now, which is absofreakinlutely great. I get that income is taxable, and in any reputable, clean organisation, declaration of non-monetary items is compulsory to combat corruption. However, for individual bloggers to declare non-monetary benefits as taxable income for anything related to social media activities? Wow! That's news to me.
Would they be liable to be charged with corruption later if they don't? Here's an excerpt from the taxman. Click to expand to read the text in the blue box: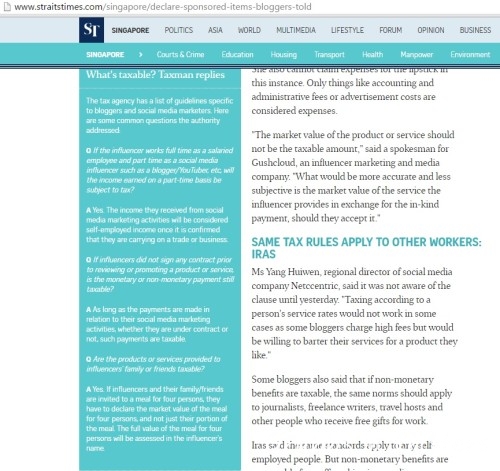 Obviously, this is not something I think about until I saw this news last week while we were there.
Out of curiosity, is this widely practised in other countries too? What's your take?