July 20, 2016
Every single household in The Netherlands has a part to play in waste management. There would be at least 3 different types of bins in each household because sorting out rubbish is one serious business here.
These are the three visible bins we have in our backyard:
Green – Used for only organic or biodegradable waste such as vegetables, fruits, leftover food etc
Orange – Used for only plastic and aluminium
Black – For everything else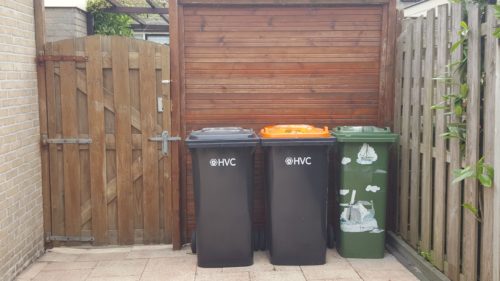 We also have a separate makeshift bins for cartons/papers and a crate in which we separate out glass bottles. Those are stored in the shed.
There is a curbside collection system. When the time comes to empty the bins out, we would have to drag the bins to the curbside the night before or first thing in the morning prior to their arrival. It's a great system.
For the much bigger trash, we would be required to get to the communal dumpster to dump them. It's almost like a weekend hobby where cars are headed there to pile on the rubbish they have accumulated. In there, the trash would be sorted out in various different categories even more and everyone is expected to dump them where they should belong.
We have a lot of bins. Everyone does this.
I'm all for recycling and would happily do my part to care for the environment. In fact, I don't mind the sorting at all and the kids have been trained to also sort out their trash accordingly. It's a pretty good habit to instill in kids.
What I do have a problem with is the schedule as to when the bins get emptied out: Green Bin once every 2 weeks and the other 2 bins once a month. In the meantime, these rubbish bins would sit in our backyard.
Give it 3-4 days and the green bin would be harvesting maggots, worms and emit the foulest smell of rotten food you can ever imagine. It's a torture to go anywhere near the bin to throw more organic stuff, especially after 1 week, let alone longer.
The dump-everything-else-bin would be just as bad. The size of the bin ensures that you can stuff a full-grown man in there as well which means that's a shitload of rubbish in there! The flies would be circling and hover about the bins quite quickly.
Tough luck if you forget or if you missed the collection time! You'd have to wait for the next cycle.
This has been a far cry from what we used to do in Bangkok where all the trash goes into the same bin AND we were able to clear out the trash from our homes every day at the end of the day. We then dump them into the rubbish chute and how the trash gets dump thereafter is forgotten.
Out of sight, out of mind.
Not so much here. The rubbish is right in our faces and noses; day in, day out until the time comes to get cleared out. Sorting out the trash and bringing the trash out is everyone's responsibility. There's a risk of your trash being rejected if they are not sorted out properly and no one is going to be doing the shit for you.
The idea around it is simple: Manage your waste. The more rubbish you accumulate, the harder it is for you, the smellier your home would be.
This is all fuelled by the country's policy to avoid creating a lot of waste. It is done in a very environmentally friendly way such that raw materials can be recovered from it, using it to generate energy through the incineration of residual waste and then only dump the leftovers.
As a result, less than 5% of all the Dutch waste ends up in landfills; a very impressive rate! It is no wonder that the Netherlands has been recognised as being one of the best countries in the world for waste management.
I wish more countries would adopt this system and minimise the use landfills. It's an education process and it's great that we can now do more on our part for the environment as this was not possible before in Bangkok (even in Singapore!).
I just wish we do not have to wait for 2 weeks or a month for the bins to get emptied out because, with kids and 3 cats, it is impossible to not throw any more rubbish than necessary. But this is Holland. Jammer, maar helaas**!
**Translated from Dutch to English as "Too bad, but unfortunate!"