July 22, 2016
For those wondering the meaning of the title of this post today, let me enlighten you:
Roti = Bread
Telur = Egg
Roti and Telur are Malay words and in Malay-English translation, we would say it by flipping the words around: "Bread Egg" to Egg Bread. Or Eggy Bread. Because if said as "Bread Egg", it would not make any sense.
This is the Asian version of French Toast. Or rather, more specifically, this is my Mom's version of French Toast which I grew up with. And today, it happens to be her birthday as she turns to the grand age of 64 years young.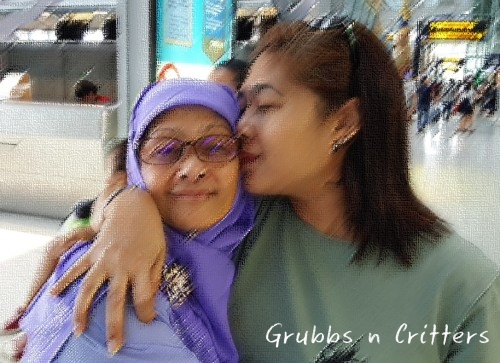 She's this tiny little lady( (I got that from her) and as small as she is, she's still healthy, fit, full of energy and very restless. She can't sit still. It bugs her to do that (I got that restlessness from her as well). And when it comes to cooking, she's the queen! (not quite me yet)
From complex to simple left-over meals, she has done it all. And mind you, still doing it.
She has fed us well all these years with mostly home-cooked meal. Our home was like a 24-hour restaurant: Tell mom what we want to eat, and she'll whip it up the next day or several days later; even if it's back-breaking for her. When it comes to food, she'll never deny us of our cravings. In fact, she fuelled it and I know that secretly, she enjoys it.
Roti Telur is just one of those she used to make quite a bit using left-over white bread.It's comfort food. It's a nice, little piece of familiarity of home as my mom used to make this for us when we were kids. As I later discovered, it was one of her repertoires when she couldn't figure out what to cook anymore.
I have that same conundrum too these days and like my mom, I have resorted to asking the kids what they would want to eat. (Now I know why she asked us what we want to eat almost every day!)
This is a simple and filling breakfast or lunch alternative to our rice staple where slices of white bread are soaked in beaten eggs before they are (sometimes deep) fried and then draining off the excess oil before consumption.
I love how those pieces of bread sizzle in the frying pan!
These roti telurs taste best, believe it or not when dipped in chilli sauce. It is the only way to enjoy them although if you prefer to just devour them as they are, that is OK too.
These days, I'm making them for my own kids. They have been asking for more and that is always, always a good sign. Random requests like that make my heart swell! In time, I'll introduce chilli sauce to them with Roti Telur when they can handle a little fire in their food. A must in my opinion.
They must have thought that dipping fried bread in chilli sauce is kind of weird, but hey! I"m kind of weird. Plus, my Asian roots reign: food just doesn't taste as good without chillis! Weird or not, they have to learn. They just have to embrace the weirdness, because it would be the weird in them that would make them interesting beings.
Let's do the weird as we massacred the traditional French Toast fare as we toast to my Mom's birthday today:
Roti Telor (Eggy Bread)
2016-06-10 06:17:59
Serves 6
Comfort food from childhood
Ingredients
6 pieces of white bread, cut into 4 triangles
3-4 eggs
2 tbsp skimmed or evaporated milk (optional)
A pinch of salt
Oil for frying
Instructions
Cut each piece of white bread into 4 squares of triangles
Beat the eggs. Add the pinch of salt and milk. Mix well
Heat oil in the frying pan
Separately, soak individual pieces of bread into the beaten eggs. Make sure the bread soaks up the eggs well
Fry them up till golden brown (but not too brown!)
Repeat till either eggs or bread are used up
Pat off the oil on each fried bread with paper towels so they won't be too oily
Serve with chilli sauce
Notes
The use of milk is optional, but I find that using it makes the bread a little fluffier. Goes down well when dipped with chilli sauce.
Grubbs n Critters https://grubbsncritters.com/
No fancy French style here, no sugar rush and nothing too over the top. It's simple, it's basic and it's pure.
It's food for the soul that would stand the test of time for many, many more years to come. It is the kind of food that makes memories so personal, sentimental and present. And like me, I want my kids to always have the best memories of home-cooked meals.
For now, the little critters are safe from the eat-Roti-Telur-with-Chilli-Sauce-Ordeal as it has been mighty difficult to find a darn good chilli sauce in Holland. I am, however, missing my chilli sauce fix and there is only one brand of chilli sauce I swear by. Unless I don't have a choice, then there's nothing else.
Can someone please FedEx me a couple of chilli sauce bottles? Make sure it's this one because this is the one chilli sauce which I really like. It's one to die for.