March 17, 2015
Let me tell you a story from my little work trip back to Singapore last week.
Barely recovered from my jet-lag post Budapest just 2 days prior and having to work till almost 2 a.m. before the morning flight the day after, I have been beyond exhausted.  I was (at the suggestion of my boss who felt guilty that I had to travel a lot) also going on this work trip with both my rambunctious little imps in tow.
It was something which I have never done or ever want to consider before for obvious (or not-so-obvious reasons), but I thought I'd give it a go at my boss's insistence to bring my family along.
In a way, I was comforted by the fact that Silver Bullet and I would have the opportunity to get some alone time together as we have this rare opportunity of leaving the kids with my parents  for at least a night without feeling guilty. I was looking forward to sleeping-in on the weekend and the last thing I wanted was drama.
Just what.the.hell.was.I.thinking!
We left for the airport half an hour later than we intended to and despite the usual morning mayhem, I was barely awake. When we got to the check-in counter, we were told that Spud's passport was valid for less than 6 months and, with a poker face, told us that she could not travel.
Whaaa……t? If I was sleepy before, I was wide awake now!
She appeared adamant that she was not going to issue Spud the boarding pass. Both me and Silver Bullet looked at each other blankly as we stood there thinking how in the world could we have missed that.
I told the lady that it's not like we could tell Spud she was not going with us and leave her at the airport! Besides, it was only a week past the 6 months' expiration. She insisted that even though it was only a week, it was still less than the 6 months required for the passport to be valid for travel. Urgggh!
Luckily for us, Spud's other passport was still within the 6 months validity period to leave the country and  proceeded to issue the boarding pass. But, we had another problem – this passport of hers was no good for when we leave Singapore as  we were due to travel a day after the 6 months' validity.
A DAY.
ONE. frigging'.fuckin'.day.Urrgghhhh!
When we asked her what's our option, she told us to check with the airline-whom-I-shall-not-name and the airline-whom-I-shall-not-name told us to contact the Thai Embassy. When we finally got Thai Embassy on the line, we were told to request for extension of the passport or they will not let her into the country.
Urgghhhh. To say I was not stressed out was an understatement. I think my blood pressure shot through the roof there and then!
With the kids running crazy as we waited to board the plane, I sat back, in sheer exhaustion, looking at them beyond exasperation, thinking "what the hell was I thinking bringing kids for this trip?!"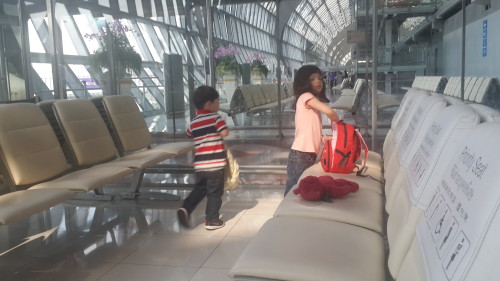 Silver Bullet spent a good hour in the taxi from Changi Airport to the hotel calling the airlines and embassies to get some clarity. After what seemed hours of listening to the music on the phone, I finally got through the Singapore Immigration when we arrived at the hotel.
Now here comes a little complication:  I was told that they no longer give out extensions and that I would have to renew her passport which would take at least a week. A week! We don't have a friggin' week!
To apply for that, I would also have to produce Spud's original birth certificate in hard copy…of which I replied, I have the soft copy in my laptop but did not have the original with me because I left it in our Bangkok home as we no longer live in Singapore. Who in their right mind would bring along their children's birth certs everywhere they go?!
She then told me, rather sympathetically, that it wasn't possible to make a new one without Spud's birth cert. Although they may consider issuing one under an emergency requirement, they also told me that her father, who obviously is not Singaporean would not be able to apply or collect it. It has to be me, in person.
I had a major WTF moment. (Yes, she was just doing her job and I'm stressing out because I have to be cooped up for a 2-day summit)
I then asked her if I could just get over to ICA (Immigration & Checkpoints Authority of Singapore). She told me I could try,  again reminded me that it wasn't possible without the birth cert.
Feeling annoyed, I told her I should just try. She then informed me that if I insist, I had to be at the building before 4.30 pm sharp or I'll have to come again the next day. She tried to convince me, yet again that it could be a futile effort without the dreaded original birth cert.
It was already 3.45 p.m. There was no way I could go the next day and with such rush,  I herded – actually ORDERED, everyone out of the room as swiftly to get to ICA. I was determined to get it sorted!
We got there 5 mins after 4 and still had to queue for a number which lasted a life-time. After waiting, declaring (that the birth cert is in Thai and that we left it in Thailand), getting approval for renewal, authorising for Silver Bullet to collect the passport on my behalf, and telling the kids for the millionth time that they needed to stop singing their made-up "I'm a bumble bee" song while they whizzed past chairs after chairs as they sway their butts to the world and rolling on the floor,  we finally got out of the place at 6 pm; with a slip of paper for Spud's brand new passport to be collected the day after.
To the officers behind the counter at ICA on that day, I have to say that I am impressed with what they managed to pull and helped us with the really quick renewal of Spud's passport. We heaved a huge sigh of relief. I was glad that I did not let the lady over the phone convinced me that it would be a futile effort.
Silver Bullet spent 2 full days entertaining the kids while I was held "hostage"  in the conference room. Poor guy – he was quite spent from it all.
We also decided for the kids to stay us for two nights before shipping them to my parents who have been looking forward to have the little imps with them. For us, we looked forward to spend the night and the whole of Saturday without kids and the thought of being able to sleep in could not have been more appealing.
We slept in alright, only to be woken up by a phone call at about 10.45 a.m. from my brother who told us that my mom fell down while she was with the kids and could not get up. We rumbled quickly out of bed and made our way to the hospital's A&E unit, my heart going a hundred miles per hour. My 2nd heart attack that week.
We arrived at the hospital to the  sight of this – my mom, in a wheelchair, surrounded lovingly by her 3 grand kids with nothing but smiles (and mischief!)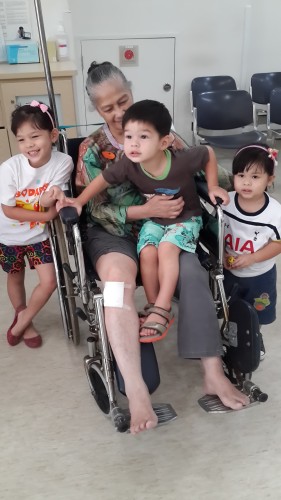 It turned out that my mom had injured her knee, her elbow and her back. She had tripped, almost somersaulted while carrying Squirt when she took both Squirt and Spud to the bathroom at the playground. Fortunately, the injury was nothing serious. And, because she is over 60 years of age, it is natural that any fall must be taken seriously. She refused to go in a cast which would allow her to rest her knee. We joked that my mom would be sprinting the second she left the hospital.
Thankfully, no more drama ensued thereafter. We got home, let my mom rest and whisked the kids away to release all their pent up energy, depleting more of ours.
It may not have been the most ideal work-trip and the most relaxing weekend with the family, but I'm glad that it all turned out OK in the end. And for the first time in more than 4 years, we slept in till 11 a.m on a Saturday.
Besides, it gives me something to blog about. I just had to recuperate from all the excitement first.
———————————————————————————————————————————
Update: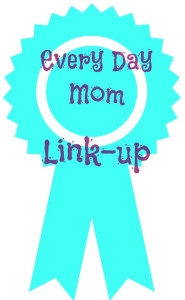 I thought I'd update this post with Every Day Mom Link-Up party hosted by Diapers and Tutus to share the above story. If you want to join and share your adventures as a parent, click on the link, grab the badge and link it to your post. The rules:
1. Use the inlinz form to submit your post
2. Read and comment on at least two of the blog posts and follow them if you like what you see
3. Follow your host if you would like to participate weekly
4. Have fun! This is a party after all 😉