January 11, 2016
If you are living in Bangkok and are into all natural, organic ingredients to create your own cosmetics and skincare products, you will be amazed by this new niche boutique called Novessence.
This one-of-a-kind cosmetic and skincare boutique is founded by a long-time Bangkok French expat and is located in Thonglor 13 along Sukhumvit Road Soi 55. It is barely 2 months old and already gaining popularity amongst health conscious women in Thailand.
The founder, Emilie Usai, is a trained professional in DIY natural cosmetics & aromatherapy. She also happens to be a long-time Mommy friend of mine from our first-borns and has spent almost, if not more than a decade living in Bangkok, Thailand.
The eventual opening of Novessence had stemmed from her deep passion for organic product, using only high quality natural and organic ingredients made in France in its full range. From creams to scrubs, to masks, soaps, serums, lotions, balms and make-up, she has it all covered.
What I find most interesting about her concept is that you can custom-make your own cosmetics with the use of basic essentials:

What makes it more unique is the fact that you can choose from a large range of premium natural & organic ingredients (essential oils, vegetable oils, oralwaters, plant extracts, natural active ingredients, natural coloring and fragrances, natural neutral bases), customise it to your specific needs for anti-aging, hydrating, lightening or more and, and, and…personalise your preferences in terms of fragrance, colour and texture.
All of the above are made possible as not only does Emilie has a tailor-made lab to host DIY cosmetic workshops tucked at the back of her shop, she also personally gives free skin consultations on Wednesday afternoon and Friday morning.
We have had the privilege to pop by her modest boutique a few weeks back when we got to know about her little treasure and this beautiful, humble mother of two left me in awe. Her boutique feels warm and friendly with products impeccably displayed.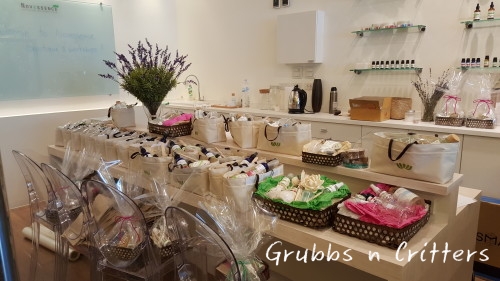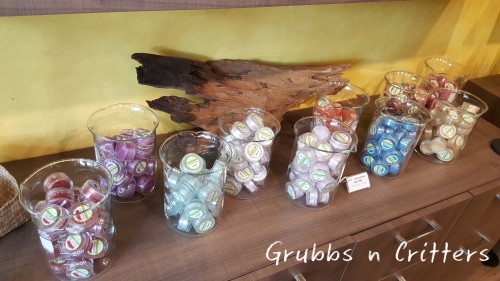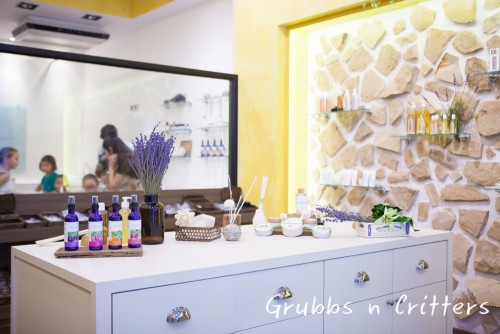 As I discovered, she does workshops and caters a special sessions for kids where they can mix and match their own shower gels. What better way to keep your kids occupied! The deals for these workshops are pretty sweet where everyone gets to bring back their own creation:
950 THB per session (VIP members get 10 percent off)
Duration: 1 hour
650 THB per session
Duration: 45 mins
Private workshops will also be available, so do inquire in. I'm thinking that this is a great idea for kids' birthday party celebration, don't you think!
Her website is currently under construction, but she does have a Novessence Facebook Page up and running. Do visit her page and get more details on costs and other incredible stuff she's got to offer. And, if you have 3 minutes to spare, watch the video below for a glimpse of how this DIY cosmetics and skincare concept works:
It has been a while since I last saw her and since our kids played together as well. My heart swelled a thousand times over for her; feeling ever so proud for a friend's successful venture in Bangkok. It was truly inspiring to meet her again after such a long time.
What struck me most as I stood in her boutique and chatting with her was her tenacity (and patience) to pursue her dreams. I truly admire her courage and her hard, relentless pursuit in making her dream a reality. Her success story is very empowering and I feel so very honoured to know her personally.
Congratulations, Emile! Very well done indeed and wishing you every success in every step of the way. We'll be back for more tête-à-tête!