September 4, 2015
Let's go Greek this month with our Monthly Mystery Munchies event in collaboration with Gen, Author of Eat, Play Clove. Gen has chosen Greek as the theme, which really, when it comes to making Greek food, this is Greek to me. Pun intended.
Nope. Never tried making Greek cuisine before. We usually do delivery order for that when we have an urge for it. True to this challenge, there's always a first time for everything and when I started looking for recipes, almost every single recipe I came across had the words "Phyllo" and "Feta" in it.
I absolutely love, love, love phyllo. That crispy, crunchy texture after you pop your dish made with phyllo into the oven, can be oh-so-good. I wouldn't mind picking on just the crispy phyllo! My only problem was, phyllo can be pretty hard to find in Bangkok. When found, like Feta cheese, they are usually pretty expensive.
You know the good thing about having this challenge though? We get to indulge every once in a while on ingredients that are considered exotic (i.e. anything imported) in Bangkok. That, and on a monthly basis, we've got some awesome new food to try that would not normally be in our repertoire – something Silver Bullet would not mind at all.
I've been hazarding a guess that Gen would likely come-up with something phyllo… Until then, here's my take on Gen's Greek Challenge: A Kreatopita creation – zesty feta-cheese, meat pie and using a variety of spiced ingredients, all stuffed into sheets and sheets of phyllos!
Obviously, this would not be complete if I don't give it the Grubbs'n Critters' twist that I would always do. This time, I did that by combining a few variation of recipes I found and ensuring that this Kreatopita will be bursting with flavours.
From layering the phyllo to filling the meat in, and topping it up with feta and making the waves to finish it up…there was soooo much satisfaction working on a dish like this. Also, this dish is FLAKY. And we love it!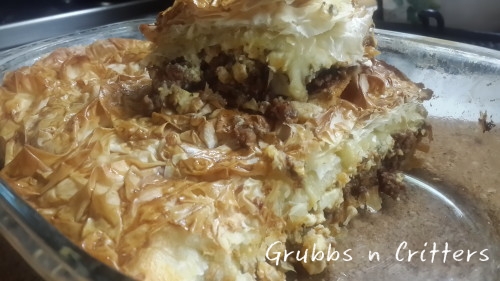 Kreatopita
2015-08-24 00:09:41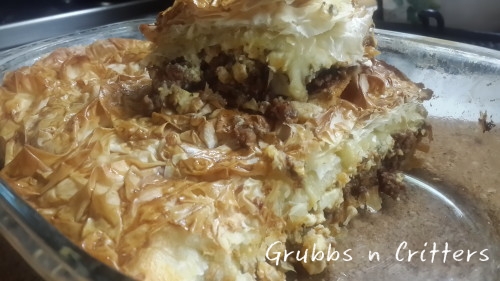 Serves 4
Zesty feta-cheese, meat pie and using a variety of spiced ingredients stuffed in sheets of phyllo!
Ingredients
2 large onions, chopped
4 cloves garlic, pressed
500g minced beef
1 can peeled tomatoes, rinse-off the excess liquid
1 pinch chilli powder
1 tspn powdered all spice
1 tspn ground cinnamon
1 tspn dried mixed herb (I used a combo of dill, sage, rosemary)
1.5 cups beef stock (I used 1 cube of beef stock and 1.5 cups of home-made "stock" which was used to boil beef for hours and drained out)
Phyllo Pastry
Salt and Black Pepper to taste
Softened Butter
Toppings
220g crumbled feta (I used 110g regular feta, and 110g feta seasoned with tomato and basil)
1 egg
1 lemon
2 tbsp oregano
2 garlic, pressed
Instructions
Caramelise chopped onions till they become translucent
Add in garlic and stir fry for a few minutes
Add in meat. Let it cook then add in allspice, cinnamon, mixed herb and stir well
Add in the tomatoes. Mix well then add in the stock
Leave the mixture to boil till it gets a little dry. Set aside to cool
Toppings
Mix feta, lemon zest, egg, garlic, oregano.
Set aside to be used for topping
Assembly
Preheat oven to 180°C
Brush a deep baking dish with melted butter all around
Unroll the phyllo sheets and lay them flat. Make sure you keep it under a damp cloth
Cut the sheets to match the size of your tray, Place the first layer and then brush the softened butter all over. Then lay another phyllo sheet over it. Repeat 6 more times (phyllo, butter, phyllo)
After the 8th layer, pour in the cooled meat into the baking dish. Smooth evenly
Sprinkle the feta evenly over the meat mixture
Layer another phyllo sheet, brush with butter and another layer for 5-6 more times
With the last layer, crumple the sheet such that it resembles waves over the surface (My favourite part!)
Crack another egg, beat it and use it as a glaze over the last phyllo waved-up phyllo sheet (optional)
Bake for about 25-30 minutes, or until the pastry is crisp and golden brown.
Serve hot!
Notes
Lamb is traditionally used for this dish, but I have substituted it with beef instead. The original recipe calls for 1-1.5 cups of white wine which can be added right after you add in the stock.
Remember that phyllo can be tricky to work with and laying them on a damp cloth and keeping them covered while you work the layer will prevent the sheets from hardening and drying out.
Adapted from LemonandOlives, Greekfood, Metro.co.uk with Genevieve Taylor
Grubbs n Critters https://grubbsncritters.com/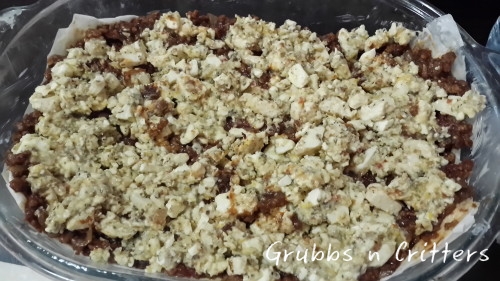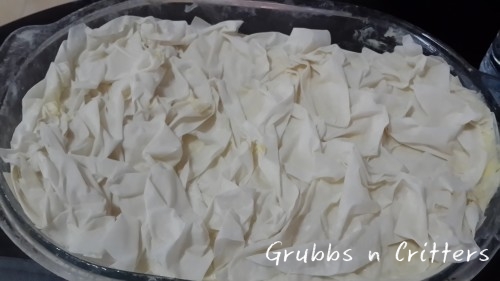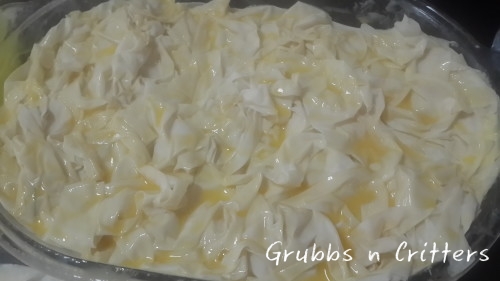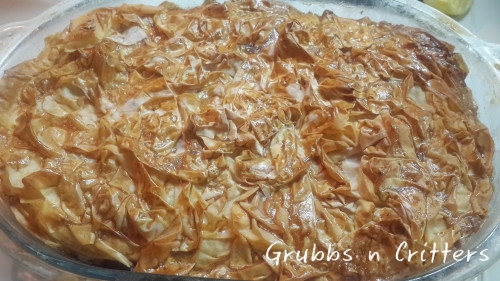 This has been another great challenge; every month now, I'm going out of my comfort zone and away from the things I know.It's been amazing! Thanks, Gen for such a great theme! Till next month.
——————————————————————
Monthly Mystery Munchies features every first Friday of the month in collaboration with Gen, Author of Eat, Play, Clove. Next month will be my turn to suggest a theme and I have a few weeks to come up with something. Until then! 🙂
#FoodieFriDIYs #HomeMatters #Howwerollthur #ThursdayBlogHop #MonthlyMysteryMunchies