November 4, 2016
The last 18 Monthly Mystery Munchies saw both Gen and I attempting mostly meat dishes, some exotic themes, several takes on unique ingredients, a handful of sweets and perhaps one or two dishes with salads and greens but never quite dedicated to only vegetables.
The time is nigh for an only veg theme to make its inaugural appearance; salads excluded.
To all vegetarians out there, rejoice! "Only Veggies Will Do!" is the central theme for this month as we committed ourselves to a healthier mystery munchies. As part of the challenge, we also have to keep the following in mind:
As part of the challenge, we also have to keep the following in mind:
use a minimum of 3 different vegetables and 1 (non-meat) protein
make it a side dish
it cannot be a salad
Not too mind-boggling and with Holland being quite the country for fresh greens, getting my hands on the various vegetables has not been a problem. My biggest problem was ironically making a decision of which 3 to choose from the plethora of choices!
With S.I.M.P.L.E. as my modus operandi, I thought I'd fall back on one of my favourite veggies: Bean Sprouts. Or commonly known as taugeh in my native Malay language (and also in Dutch). Funny how I used not to like them when I was little!
Beansprouts make for a very nutritious stir fry and I find that there's also just something about bean sprouts that I really like. It's the cleaning I don't like. By cleaning, I mean taking off the roots, one by one. It's that one task I hate doing as it really is a pain in the ass to do.
Yet I'm super anal about that – all thanks to the early training from my mom. But I digress.
Back to the challenge, I decided on tofu as my protein of choice. The rest of the veggies came with a medley of onions, garlic, taugeh and a handful of bakchoy. Very vegetarian-friendly.
Technique wise was nothing complicated. I'm just doing the good, ole stir fry with a bunch of taugehs that have been meticulously cleaned out for good measure. So here goes, peops! Let's let loose and sing a little ♪♬ Shout hallelujah, come on get healthy, get ready for veggie day…♪♬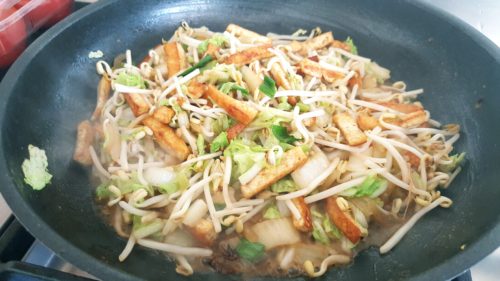 Fried Tofu with Beansprouts and Bakchoy
2016-07-15 17:19:19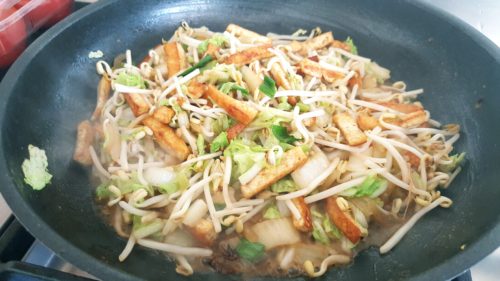 Serves 2
An easy, healthy dish to accompany your main meal.
Ingredients
1 garlic, pressed
1 onion, sliced thinly
Half a tofu, cut in elongated cubes
200g-300g bean sprouts
A handful of bakchoy leaves, sliced
1 tspn Worcestershire sauce
1 tspn seasoning (I used Aromat)
1-2 sprigs of spring onions
A handful of parsely
Olive oil for frying
Salt to taste
Instructions
Clean and rinse the bean sprouts
Heat up pan with enough olive oil and fry up the tofus till they are brown. Set aside
With the remaining oil, press garlic and saute. Then add in the sliced onions along with Worcestershire sauce
Once the onions have turned translucent, add the bean sprouts and spring onions. Cover for a minute.
Uncover the pan and mix well.
Then add in the bakchoy, fried tofu and season with aromat. Stir well.
Cover for 3-5 minutes until you see some water at the bottom of your pan.
Turn off the fire and garnish with parsley
Serve hot as a side dish to be eaten with rice.
Notes
You can add some salt if you prefer it to be a bit salty. As I have used the Aromat seasoning here, I felt that using salt was not necessary.
Grubbs n Critters https://grubbsncritters.com/
You know what else? The use of bean sprouts are versatile too and here are my other recipes with the humble taugeh:
Beansprouts with Scallion & Chives
Stir Fry Chive and Mixed Vegetables
A Singaporean's Rendition of Mee Rebus
While this challenge seems restrictive with the "rules",as you can see it actually isn't. Plus, with Gen going for a healthier choice of food in the recent months AND being all snuggle-woggle (I just made that word up!) with her home-grown vegetables in her backyard, I am sure that this is one challenge she easily would ace!
In fact, I could see Gen beaming and head straight for the kitchen the moment I suggested the theme of this month's challenge.
So come! Let's go and get Gen to knock your socks off with her gorgeous, luscious interpretation of Only Veggies Will Do!
———————
Monthly Mystery Munchies features every first Friday of the month in collaboration with Gen, Author of Eat, Play, Clove. It'll be Gen's turn in December so stay tuned folks!