August 5, 2016
How would you like your Tortillas all stuffed up with turkey meat that's glazed in creamy curry sauce, layered with boiled eggs and then topped with green pesto cheese?
I'm telling you that I absolutely love it! Not just for the taste but for its simplicity in response to Gen's Monthly Mystery Munchies Challenge that has to be done under the following condition:
It has to be a wrap
Use only one kind of meat
Add one kind of sauce or dressing on it.
The wrap is a great idea! Not to mention very convenient since I just stocked up a bunch of wraps 2 weekends ago and I know that I have not used them all. Plus I love meat and dressing it up with some kind of sauce (or dressing) isn't too difficult to do.
More than anything, this is nothing too elaborate; it's simple, it's hearty and it's saucy. Have a look at this: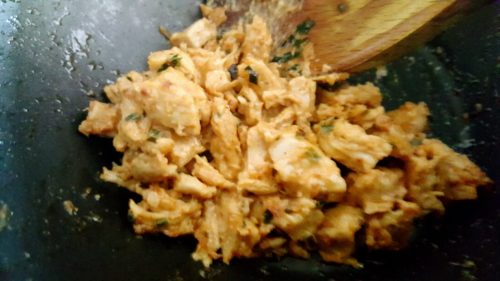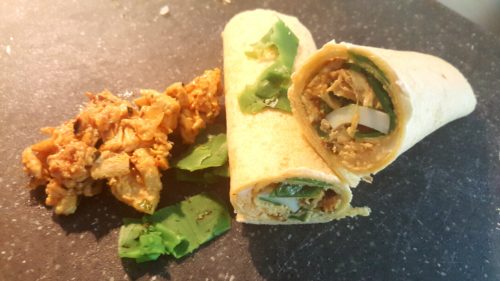 The best part about this is that the fillings were made using left-overs: I had left-over plain tortillas, a bowl of shredded turkey breast that was already boiled, a bunch of boiled eggs that was meant for something else and a block of green pesto cheese in the fridge waiting to be devoured.
With all the ingredients ready to be used, all I had to do was spice up the shredded turkey in a pan for a few minutes. I also made sure that the cream doesn't dry up so the turkey sorts of come together with a gravy-like sauce. The only thing I didn't have when I made these was regrettably some vegetables. I reckon adding fresh, crispy lettuce to it would taste awesome!
Voila! We have a meal fit for this month's Monthly Mystery Munchies Challenge #16: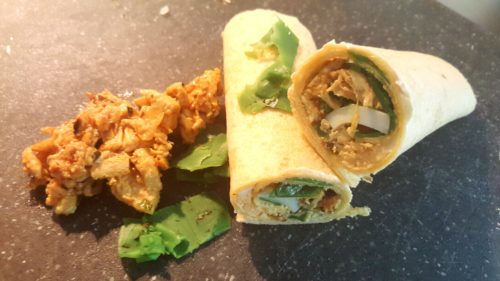 Tortilla Roll Stuffed with Creamy Curried Turkey
2016-07-15 16:59:52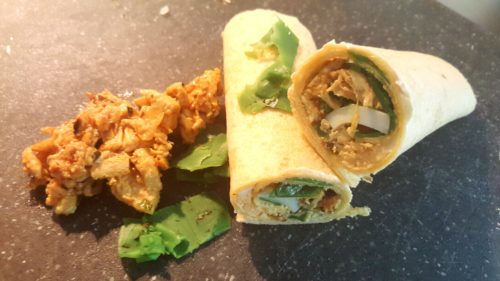 Serves 2
A wholesome meal of tortilla stuffed with curried turkey, boiled eggs and green pesto cheese fora quick meal!
Ingredients
2 turkey breast meat
1 bay leaf
1 tspn curry powder
1 tspn taco seasoning
A sprig of chive, chopped
Half a cup cooking cream
Pesto Cheese
Boiled Eggs
Corn Tortilla
Oil for frying
Instructions
Boil/steam turkey meat with bay leaf till cooked. Shred them up and set aside to cool.
Boil 2-3 eggs. Peel, sliced and set aside
Heat up some oil in a pan. Add in the shredded turkey along with the curry powder and taco seasoning. Mix well. Be careful not to burn
Add in the cooking cream. Mix well but refrain from getting the cream dry up such that you have a little bit of sauce-like gravy.
Sprinkle over chopped chives. Mix well. Turn off the fire
Lay down the tortilla flat. Spread some cooked turkey then top it with a layer of pesto cheese followed by 2-3 slices of eggs. Roll them up.
Repeat till all the ingredients are used up
Serve as is or if you prefer, bake them in the oven after rolling for about 5 minutes before serving for a crispier tortilla
Notes
The cooking time above assumes the meat has already been boiled and shredded which would take about 30 minutes. Frying up the boiled meat with curry, taco seasoning and cooking would only take about 10 minutes or less.
Feel free to use other cheeses as alternative.
Grubbs n Critters https://grubbsncritters.com/
This recipe should be good for breakfast, lunch or dinner.It makes for a wholesome meal. Else, this can be served as snacks, too and definitely suitable for party food. You can always fancy it up by giving it a pinwheel cut, much like the wrap I made for our Mystery Munchies #10.
The wrap is also pretty versatile and you can basically stuff anything you like in there. Let's hop over to Gen, our Resident Chef at Eat, Play, Clove to check out her wrap creation. I'm sure it is nothing short of delish!
———————————————
Monthly Mystery Munchies features every first Friday of the month in collaboration with Gen, Author of Eat, Play, Clove. I think I've got an idea for next month's challenge and it's going to be pretty interesting!