October 31, 2014
The kids came home with a letter from school the other day with a message to us parents to please allow our children to turn up in some costume for their Halloween celebration. Like the previous years, we were also informed to let the kids each bring a dish for communal sharing. Same request every year; it's like a standard automated letter, in the same template, with only a change of the day and date.
I acknowledged the content, but sighed my big sigh.
Another year. Another Halloween. Another costume to be bought and money wasted for an outfit that is being used only for a few hours, once a year. And, another night of effort to prepare a dish for the kids to bring along after my tiring long weeks, days and hours spent at work. It feels dreadfully spookier than Halloween itself. It's a day I have begun to dread.
I wanted to ignore all the hullabaloos surrounding Halloween. I could not be bothered to do anything about it, neither do I have time for it. Let the kids go to school costume-free; it's not a competition and it's a waste of money anyway. Let the kids eat whatever they are served in school; I'm way too tired to be cooking and making spooky-scary looking dishes and treats after a long day at work and then spend another hour trying to put the kids to bed so I can start all the cooking nonsense at 9pm. Who cares about Halloween! How dare they (the school) impose such a thing; this mommy is exhausted!
Despite those pent-up feeling, the truth is, I could not bring myself to turn my back away. The dish was a request, not a demand – and I can always choose to say NO. Yet, it didn't feel right to ignore it and act as if I didn't care. I certainly do. Plus, there's a huge part of me that really want to do all that for the kids – if only I hadn't been too exhausted.
Besides, I have a confession: Mommy-guilt sets in. Not only have I been neglecting the kids due to my crazy working hours, I have also been more than just a ditzy head when I have sent the kids off to school in wrong outfits – several times on an almost weekly basis.
Just this week, I got confused again as to who has P.E and who didn't, unwittingly swapping their outfit that did not match their activity for the day, simultaneously getting Spud telling me for the umpteenth time when I get home with ,"Mama! You didn't choose the right uniform again". And then, yesterday, we made the kids go to class all dressed-up (Squirt with jeans & tee, Spud with her (gasp!) Frozen costume) only to realise that the dress-up for Loy Krathong (another letter we received separately for that, in the same week) was supposed to be for next week. Duh!
So, as dog-tired as I was last evening, I still ended slaving away in the kitchen for a couple of hours to make fried rice for the kids to bring to school, and then decided to top that up with Halloween treats from whatever ingredients I could make do with.
With ready pepernoten, coco loops and coloured sugar gel, we painstakingly created incredulous-looking monster cookies; which, to the credit of my creatively loopy mind, turned out to be some pretty cool beings: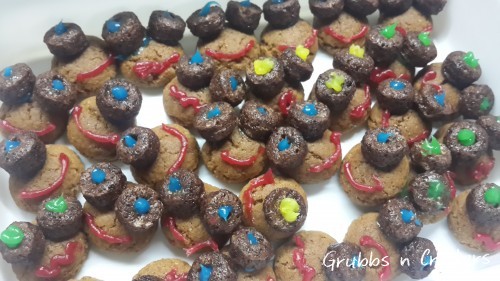 I realised one thing from the picture which bugged me till this morning: there was ONE coco loop not fully filled. It did my head in for a few hours. I was so compelled to go back down to the kitchen to fill that one loop several times after I noticed it (even when I was already in bed!), and had to try really hard to control my OCD tendencies that seemed to control my mind. I finally let it go and drifted to sleep. I was completely spent.
At Spud's adamant request and even refusing to put on her favourite Elsa dress "because it is not spooky", she went to her Halloween party in a witch's costume but refusing the hat. Squirt literally wanted nothing and was upset that he had to put on Spud's hand-me-down ghost costume from last year. Oh! The drama to get them both out of the house! They both are probably scary enough that they can just go as themselves, no need for Halloween costume nonsense.
All said and done, Halloween for me, was over the moment we dropped them off at school. With my days in modus operandi has already been earmarked as being scarily unpredictable, I really don't think I need all that Halloween jazz to punch it all up. 2 hours into the day, I am so Halloween-out by all the Halloween newsfeeds on FB that I stopped checking my FB for several hours.
So. Anyway. I'm a jaded, party-popper whom, by chance and completely out of guilt, managed to magically create crazy-looking monster cookies for her kids. I guess that's just crazy, unconditional and selfless motherly love at play.
Happy HElloween.
Related post(s):