November 25, 2013
Something caught my eye as we passed by one of our usual landmark buildings when I was walking Spud to school one morning. It was almost too easy to miss, but somehow, the unusual silhouette I caught from the corner of my eyes stopped me right in my tracks. I got curious and did a small detour to check it out.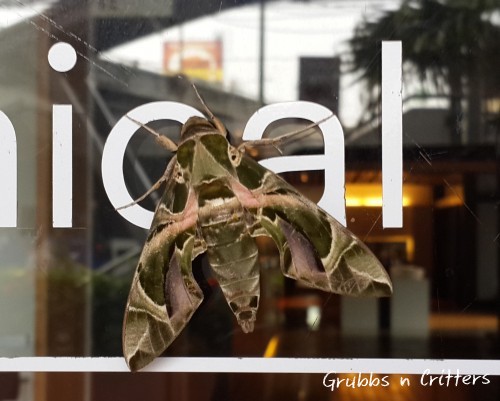 It was a lone moth…a beautiful, big moth the size of an adult palm. It had perched itself on the glass door, oblivious to its surrounding. It didn't fly away when we approached it. It just stood still. My sense was that it probably was reaching towards the end of its life and was just trying to find a place to rest…although a glass door by the side of a busy road might seem a little strange a place for that!
Spud was a little bit wary of its presence, but she was curious and thought that it was a pretty little "butterfly". We said hello, examined it real close with our bare eyes, admired its pretty wings, took a picture, said bye and then went on our merry way as we continued to speculate what would happen to the moth.
A day like this reminds me on how easy it is to miss all the little things around us; something which we tend to forget as we get caught up in the pursuit of bigger and larger things in life. Yet, it is exactly little things like this that make us remember how to smile.
Sometimes, it doesn't really take too much of an effort and we don't really have to try too hard to find something beautiful to smile about. I hope you can find little things to smile about today,