July 3, 2014
When I first came across an article on the slaughtering of dolphins en  masse in the name of tradition a few months ago, I shook my head in disbelieve as I find it hard to imagine that a community belonging to a first world society thought nothing of such incredulous deed. When I get to the pictures, my stomach churned further in disgust – utter disgust at the sight of cruelty to animals instigated by mankind.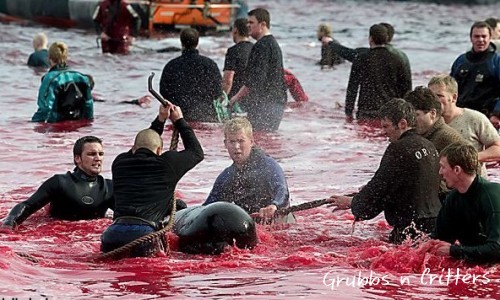 My not-so-substantial desk research on this matter cited various reasons for the killing:
Provide the residents of Faroe Island the basic necessities of food, materials, fuel and other purposes for centuries during the long winter days as they are  isolated from the nearest mainland (Source: Wikipedia)
Hunt is an integral part of Faroese social culture (Source: Wikipedia)
A big celebration by young teens as a rite of passage to being mature adults (Source: Here)
While I recognise that I am in no position at all to question the killing as part of an integral tradition of a different culture as I don't know any better (after all, do we not slaughter cows and chickens for food, too?), I do not think that hacking them to death em mass  as depicted in the pictures and then leaving their carcasses to rot or throw them half alive into the sea to die is right at all. Besides, aren't these animals supposed to be friendly, intelligent and altruistic. They looked so helpless after being herded to be stranded and eventually tortured to death and I feel such sadness for these unsuspecting species.
My intention for posting this up is nothing more than just to raise awareness that we as the outsiders and on-lookers of such practice can contribute to the cause of putting a stop to the killing in the name of tradition. Hence, if you are reading this, I would urge you to take action by going to this site to register yourselves and pass it on. It really is not much to ask, and every single bit counts Alternatively, if you wish, you can apparently also contact the Danish Foreign Ministry directly with your complaints.
Please do join me in this request to put an end to this bloody tradition today. It is all for a good cause and I could only wish that we all could live in a better world.
Related Articles:
Help Stop The Faroe Islands Annual Festival of Massive Whale and Dolphin Slaughter