June 9, 2016
The last 2 weeks prior to our departure was the busiest and toughest yet. There were numerous things to sort out while still working full-time; from the never-ending farewells and get-togethers (the fun part!) to the not-so-fun and stressful bits like:
Termination of phone lines, bank accounts, internet/cable connection, rental lease agreement, energy bills
Ensuring that the final payment for kids' schooling, swimming and Taekwondo's lessons were made in time
Assisting our Nanny with her new employment search for an expat family, arranging that her salary and visa as well as her flight ticket back home were in order
Selling away second-hand items to minimise our shipment costs (while having to deal with crazy, sometimes unreasonable buyers!)
Picking out items and clothings to be given away to charity
Evaluating moving companies and arranging for the movers to come in
Sorting out the mess of our flight tickets
Figuring out all the papers/vaccinations/permits needed for our 3 cats, their advance quarantined trip to the airport
Shopping for the right and airline-approved cats' carriers
Discovering that we did not have enough suitcases and had to do a last minute run for them
Having to do unprecedented runs to the hospital (thanks to my eye infection!)
Those were the major ones I could remember; enough to provide us with the adrenaline rush for this major move. Not something we have done before!
It was most stressful when the movers came in to pack our things. Once they got into our home, they were all over our place and packed so fast that we did not even have the luxury to finish sorting out the stuff we needed to separate out from what were required to be shipped.
It didn't help that:
We both got home a little later than expected on the day the movers came in as we both got held up at work
A buyer came to pick up the items we were selling right smack in the middle of when the movers were in and was then looking for more items to buy
The kids came home from school at about the same time
It was chaotic. I had not even taken my lunch or had anything to drink yet! These movers worked at lightning speed and I got all stressed out from it. After some time, I lost track of what they packed, left it at that, sat at the foot of the stairs, watched them do their job and decided to snap some pictures.
They were done packing things in bubble wraps and boxes complete with labeling in 3 hours flat!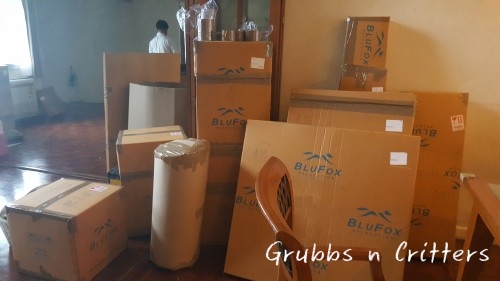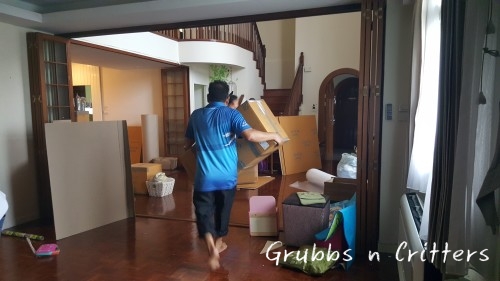 Then it felt real.
Our home of 6 years was bare of our personal effects. All that were left were furniture belonging to the apartment, items that we wanted to give away and our luggage that had yet to be packed.
We had lived in the apartment building for 9.5 years. From a 2-bedroom on the 4th floor, we shifted to a massive 260+ square meters apartment on the 8th floor in the same building before Squirt was born.
While it was temporary, old and not the prettiest, it served us well.
It was our home for many good years, each year filled with new memories. For the kids, they have had a deeper attachment to the place as it was the only home-home they ever knew since they were born. It was a home we all loved and had filled it with love. It was a home where real friendship were harnessed and bonds with other expat parents in Bangkok were strengthened. It was a home built on adoration, trust, honesty and communication.
Every corner had a story to tell and every single walls had bear witness to the tears of joy, laughter, frustrations and nightmares that had happened within them. Within those walls, we were meant to be insulated from harm and bubble-wrapped from the negative influences and harsh realities of the outside world. It was our safe haven.
With hands akimbo, both Silver Bullet and I stood next to each other in the hallway near the stairs after our final checks in every single room in silence before heading out to the lobby where our van to the airport was waiting.
For a few seconds, we both were lost in our own thoughts as we looked around the house. As our eyes met, we both felt overwhelmed with the unexplained emotions that surged within us.
The apartment was an empty shell.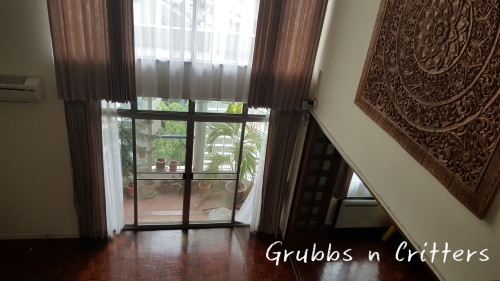 "This is it," he said.
"This is it," I echoed softly
There were no other words as he pulled me closer by the waist. I didn't think I would cry, but as I buried my head in his chest, we both broke down into tears. We had purged out all the emotions within with a good cry to step over that invisible line of releasing the past to embrace a new future. We had no words between us.
With tears still brimming in our eyes, we walked towards the door with the last of our luggage and closed the very door that has welcomed us home every single day and kept us safe as a family for so many years. As much as we loved the home and had grown very attached to it, it wasn't ours. It was time to close this chapter of our life.
We stood in front of the door that still bore both of our names, to take in the moment (actually, we were waiting for the elevator), and with a heart filled with many a mixed emotion of being sad to leave and glad to be going, we know that it was a sight we probably would never see again in person.
There was no turning back. It was our last goodbye.