December 28, 2015
School's out for the year but for us working adults, work continues for the next 2 days until New Year's Eve before the cycle begins again next year. My parents came over for a holiday visit; timely with Christmas last week where we had a short break over a longer weekend and had spent all of our waking hours with hyperactive kids.
We did not get to see the full moon in its grandeur on Christmas day, but managed a glimpse of a low, large, orangey-perfectly circular-looking moon on Boxing Day as we drove home after dropping off a guest at the airport that night. It was near impossible to take a picture from a moving car – a shame as it was a really beautiful sight.
When we got home that night, the moon had seemed to be higher up and was less fuller than what we had seen earlier. Usually, we could see a full moon from our balcony, but that night it kept itself hidden behind the many concrete walls. I had to stick my neck out quite a bit to get a glimpse of it while trying to still-frame it.
I gave it my best shot with my camera phone, but the moon has lost all the earlier grandeur that it had.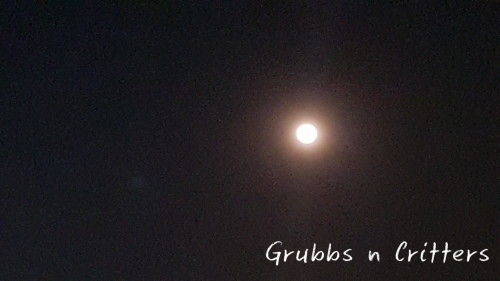 Even without the full moon, Bangkok's night-sky continues to glitter with lights; bright lights that have been set up for the annual Christmas lightings which will continue on till slightly after new year as the entire Sukhumvit Road transforms itself to a lighted fairy wonderland. Sights which never fail to get the kids excited as we walked half the stretch of Sukhumvit at dusk.
Central World has got one of the best lighting around and as we walked onward towards Central Chidlom, many more buildings, trees, bridges, pavements and lampposts are adorned with colourful glittering lights. The large new year countdown clock is up as the area gears up for the upcoming new year's countdown party. Even the Grand Hyatt Erawan Temple that was bombed back in August this year is adorned with lights in full glory! You can't even tell the devastation that once took place there.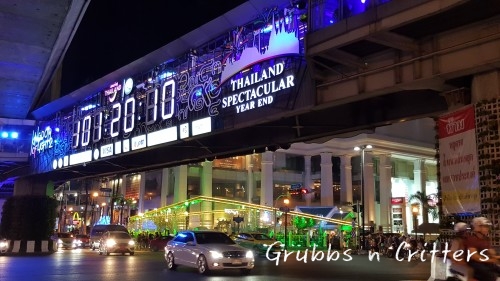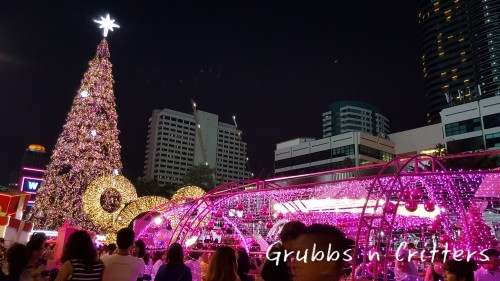 As with every other year, the lights in Sukhumvit have always been a sight to behold. It is not very often that we allowed Spud and Squirt to stay up past their bedtime. We made an exception last weekend to cut the kids some slack on bedtime, as a treat for them to take in all the sights and the scenes of the street at this time of the year.
My gripe about the entire camaraderie was that it was so damn bloody crowded. There are people on every square inch of the ground. And, if there is one thing I nag to the kids about, it is that they should always hold our hands and not wander off in the impossible crowd.
At this time of the year, traffic can be a nightmare, too. In the last week, it has been nearly impossible to get to anywhere if you don't take the train or walk it out on the uneven pavements with potholes that could potentially spell disaster.
Have I ever mentioned that most cars and taxis on the streets are assholes, with no regard for the traffic lights or pedestrians crossing? My blood boil just thinking about it.
Last evening, a taxi ran over the red light while we were halfway crossing the street when the green man came on (in any other country, usually a cue for us pedestrian to cross!) and barely missing Spud and Silver Bullet who were walking in front of us. I could feel the blood draining from my face as I saw what could have happened in front of me. Fortunately, Silver Bullet, likely out of reflex, was quick enough to yank Spud away. He swiftly gave the taxi a hard kick. It was hard enough that I could hear a loud thud from where I was about 2 meters away.
At that point, I got scared.
Scared that the taxi driver might come out of his taxi right there and then and pull a gun or a machete on us; because most drivers in this country would never admit that it is wrong of them to run the red light.
When it comes to traffic violation in this country, it is NEVER their fault, but it would be wrong of us to kick their vehicle or even honk at them for what we view as their wrong-doing. And because, drivers pulling a gun or machete on their passengers is not something we have not heard of. It happened to other people before.
Yes, they may look harmless, and yes, they may be armed, too, and yes! you never could tell from the onset. You kind of just throw caution into the wind and hope for the best as you have faith in humanity. One of the many reasons the local Thais would mostly refuse to take a taxi if they can help it, and instead depend on their friends to drop them off.
That asshole of a cab drove away, with no further drama. I'm gutted that I did not have the time to snap his license plate number, but even if I do, I doubt the authorities would do anything about it. Such is the country we live in. Life is cheap here.
So while it is a time to be merry and as we bask in all that glitters in the holiday spirit, let us not forget that whatever you do, keep your kids on the leash, and your eyes on the road and watch out for crazy, suicidal drivers who do not give a crap if they run you over. And oh! Just so you know, some of them may be drunk too. Because they can.
Stay safe my dear friends. You have been warned.
Oh wait! I WAS talking about the beautiful lights here in Bangkok. How did I get distracted with all that rant! Here's one more to feast your eyes with blue hues once dusk sets in: