December 29, 2015
Tim, author behind Slouching Towards Thatcham, recently wrote a post on losing his child in a crowd of London's Leicester Square on a busy Sunday. It's every parents' nightmare to lose a child in a crowd; it's the one thing that bugs me every now and then if and when that happens when we are out and about. I shudder just thinking about it.
Here's an excerpt of his post:
There are certain nightmare scenarios that you pray will never happen to you when you're out in public with your children.

Picture the scene. London's Leicester Square on a busy Sunday just before Christmas. Three energetic children being marshalled by five adults, so you think everyone has everyone covered. You walk into a shop, look around and suddenly realise that one of your kids is missing.

You think it's the sort of thing that only happens to other people. Stupid, careless people. And then it happens to you.

Here is a summary of the thoughts that passed through my mind in the seconds immediately following this realisation.

He must be here somewhere, right?

Where did we last see him? Who saw him last? How long ago was that?

Okay, so what was he wearing? The grey coat? Or the blue one?

[Look outside the shop] I can see literally hundreds of people in the square. None of them is a sub-four-foot tall boy wearing a navy blue duffel coat, who is probably even now being carried off to become part of a child slavery ring. Or worse.

I am the worst parent in the world.

Shit. Shit. SHIT.
Scary shit, right?! But I thought he taught his kid well on who they should look out for to approach. Read more about it here .
Tim also shared his top 5 (and very important!) tips to ensure that you and your children are reunited as quickly as possible in the event of becoming separated – all of which I subscribe to. All of these are very good tips:
1. Don't panic. It does no one any good. Stay calm, think clearly, retrace your steps and consider what you might do if you were lost.

2. Give your child your mobile number. Write it on their wrist or on a piece of paper so they can show it to someone who can then contact you.

3. As a backup, if your children are able to, ensure they can provide key personal details. For starters, their name and date of birth will help police confirm and log their identity. If they can remember your home address, so much the better.

4. Agree a plan for what they should do in certain situations. So, for instance, our kids have been repeatedly drilled in the following three basic actions:

If we get off a bus or train and they don't, they should get off at the next stop and wait for us to arrive.
If they get off a bus or train and we don't, they should wait where they are for us to return to them.
If they are separated from us in any other way, they should either wait where they are or, if they're not comfortable waiting, seek out a policeman or anyone wearing a uniform and provide contact details for us.

5. If you don't find them quickly, find the nearest police officer or police station. If someone has found your child and called it in, their details will be logged so that any officer can pass on their location to you once you have verified their identity.
The only misgiving I have is #5; only because we live in a country where people in (brown) uniform have a notorious reputation. It's a scary thought and a disturbing one having to tell our kids NOT to go to those in brown uniform for help if they ever get lost. Not in this country. We can't trust them and it is sad that we cannot teach our children to trust them.
Maybe we are generalising, maybe not all are rotten apples; but let's just say that is it hard to dismiss anything when you know that those in authority cannot be trusted.
We've got Spud memorising both our phone numbers, but she does get confused sometimes – so if that ever happens, god knows who she'll be calling instead. So, I do think it is a good idea to let them keep the piece of paper with our numbers written on it as per Tim's tip. We have also been drilling the same plans on what to do in certain situations like what Tim described above and my hope is that they would remember what they have been told. If and when.
For now, our only preventive measure is to tell them that whenever we are in crowded place, they would always, always, always have to hold our hands. Tight. Never let go. (Are we paranoid or what!).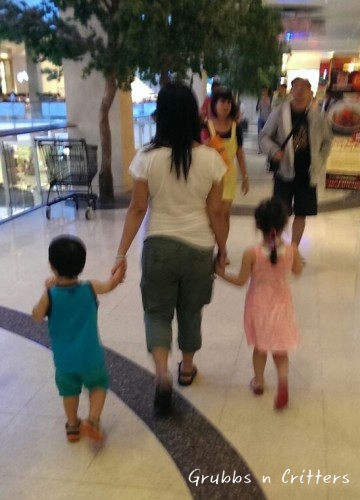 Even so, there had been one incident where a middle-age lady had taken my daughter's hand away from me in a very crowded place. She had almost whisked her away right in front of my nose. She didn't apologise but smiled when I yanked my daughter away from her, who at the time when it happened, Spud was standing in front of me and I was holding her hand. The worse thing about that was I wasn't sure if it was a genuine accident because she had thought that it was her kid's hand or if there was an ulterior motive.
Even scarier when my daughter was not even aware that in the midst of the crowd, limited by her height, a stranger had taken her hand instead because she was not looking up.
THAT happened quite a long while back, but it did scare the crap out of me. I cannot imagine what could have happened if I did not have a firm grip on her little hand. Child trafficking is rampant in this country, and I shudder just thinking about it.
If you have any advice, ANY advice at all, I'd really love to hear from you – especially if you live in a country where you know you can never trust your life with those in authority.
Sometimes, I really do wish for a pair of extra eyes at the back of my head.