October 19, 2014
The frozen fever has long hit our household and several months later, this crazy viral fever has not shown any signs of slowing down. The kids are obsessed with "Let it Go" and Spud has yet to get out of her, "I am Princess Elsa" mode.
We have probably re-played the movie a hundred times over with certain scenes being replayed repeatedly, yet, to-date, I cannot single out a specific time when I have managed to watch the entire movie in a single seating.  Having 2 young kids with ants in their pants do that to you, I guess.
Nevertheless, I have come to a conclusion that I like Anna and Olaf the best. Anna for her feistiness and rebellious streak; Olaf for his hair-brained ways that never fail to put a silly grin on y face. I bet that the script writers must have had a blast working on Olaf!
Spud without a doubt, like every other kid I know, loves Elsa. She has since developed an obsession with wearing only long, flowy dresses and tries really hard to re-enact Elsa's singing scenes by walking really, really slow and running around the house while trying to freeze everything in her way as she sings her heart out.
As much as I rolled my eyeballs (this time to the back of my throat!) at the thought of her being too girly as she mimics a princessy demeanour, and what I thought to be a senseless desire to dress up like a princess, specifically, trying to be Elsa, I cannot help but smile at her antics. In fact, I find comfort and joy that little things like that makes her so happy as she gets lost in her own little world. It has been an eye-opener to watch her exercise her creative mind built on fantasy.
The last time we had her first ever costume party was during her birthday celebration. I saw her face lighted up like a Christmas tree as she donned on the costumes temporarily provided by one of my mommy friend and the delight plastered all over her face was priceless. She was really, really happy to play dress-up with her friends, immersing herself in the camaraderie and conquering her world of imagination.
I felt like I was being drawn into her world and I think I surprised myself most when I succumbed to the unimaginable temptation of buying Spud an Elsa dress that she can call her own. I started with something mild and nothing too elaborate; a very simplified version of an Elsa dress that could be passed off as a dress for every other day. It turned out to be something she would want to wear every day.
As days go by and as more variation of Elsa dresses emerged in a make-shift market of my office building, I found myself magnetized by the sheer elegance of these hand-made, pretty little dresses. Dresses that would give lots of joy to a 4-year-old, and suddenly, I felt that instead of resisting every single girly stuff there is, I want (and I should!) be the enabler of the little joys in Spud's four year old heart. Besides, at 350 baht, the dresses were far from expensive!
I ended up buying her first full-blown Elsa dress which she absolutely loves, with the condition that she can only wear the dress when she is at home or when she has a play date. At the suggestion of one mom who suggested a dress-up play date, I then ended up buying one dress a week over several weeks (they never have the same sizes of the same design, and every design has some variation of difference) so they can all play dress-up together.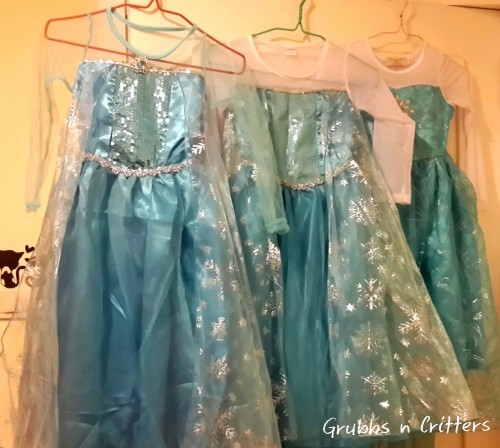 One mom came equipped with marshmallows, chewy jellies as well as chocolate chips to make Olaf for the kids at the play date. All 3 girls were dressed up to the nine with their blue Frozen dresses, and taking turns to try on each other's costumes. The kids baked, ate a lot of sugary stuff and went a little crazy singing "Let it Go" as they watched the movie. It was such a delight watching the kids play and it also became a very nice catch-up session with the Moms.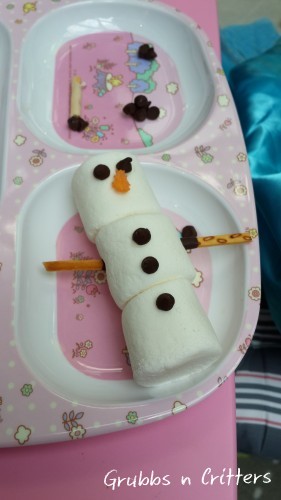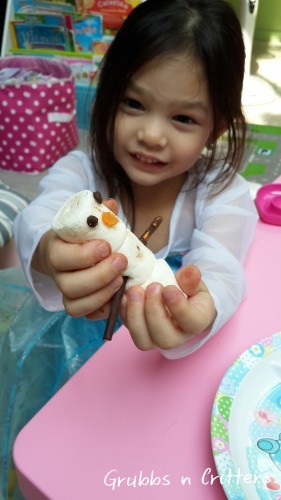 I still think it is ridiculous for her to be wearing the dress out in public, but I have surprised myself for even allowing myself to indulge her in something I once have a huge resistance for.
That being said, if there is one thing I have learnt from that entire episode of my transitioning mindset, it was learning to "let it go". To let things be, to let the joys of innocence take over and me being present to be the enabler of a little child's creative process rather than resisting the inevitable.
I am a parent and I am still learning. This has been a revelation.