March 31, 2017
The word "hagelslag" should by now not be a stranger to you anymore, and just in case you are still wondering what it is, let me re-introduce you to some of the variations of these darlings: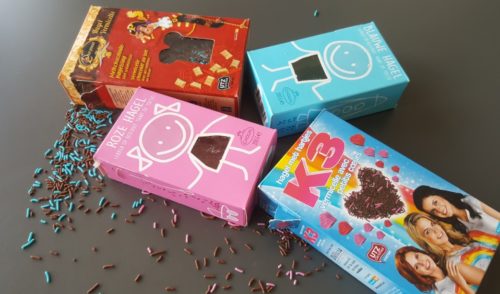 I said some earlier on because there are more variation in various other forms.
A staple in the Dutch diet, Hagelslag is a magical word for both kids and adults alike in the form of chocolate sprinkles in many different colours. It is one of those stuff Dutch people like and I happen to be one of the non-Dutch (I bet there are plenty more) who has been converted to (sometimes) consume hagelslag on my bread for breakfast and/or lunch.
They come in handy when I haven't got a clue as to what I want to eat. Plus, living in a Dutch household also means that since the kids arrived, we would (and have) never run out of hagelslag (or cheeses) because it's almost a crime not to have them at home.
The kids should not be eating them too often as I (often) say. The kids know so.
But sometimes, we indulge. And we do this by scooping spoonfuls of them directly into our mouths or roll dough in 'em sprinklers to create our new favourite soft cookies.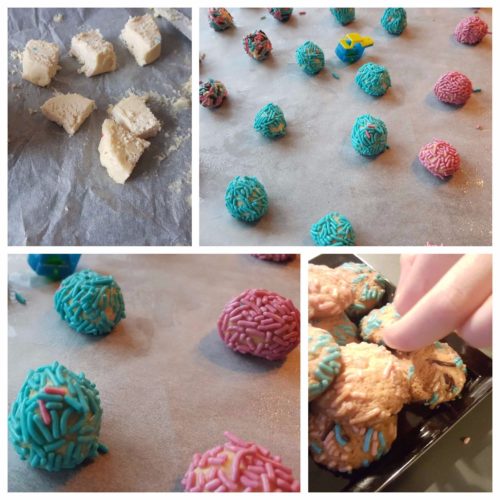 These sprinkler bombs are made out of butter and cream cheese base. The cream cheese flavours it so well. Baked for just a short 7 minutes to retain their softness, the resulting taste of vanilla and almond extract enhanced by the hagelslag all around made these bombs a little too addictive for my liking!
It doesn't help that these cookies are really easy to make, too! So if you intend to try this out, be warned. This is not just for kids as adults are too, susceptible victims.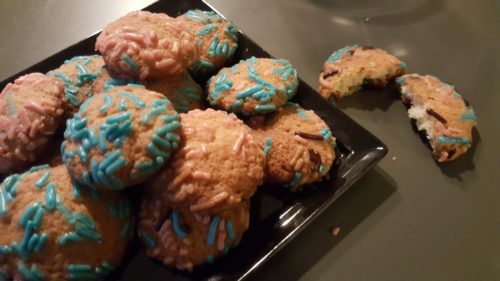 Friday Flavours: Soft Almond Sprinkle Cookies
2017-03-17 23:28:55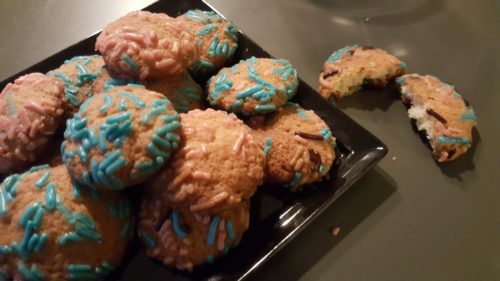 Addictive soft-baked, chewy butter-cream-cheese-almond cookies rolled in chocolate sprinklers and will make you weak in the knees!
Ingredients
250g butter, softened (or 1 stick)
1 quarter cup cream cheese, softened
1 cup castor sugar
2 eggs, large
1 tspn vanilla extract
1 tspn almond exttract
2.5 cups self raising flour
2 tpsn corn flour (or starch)
1 tspn baking soda
1/4 tspn sal
Hagelslag or Coloured chocolate sprinklers
Instructions
In a mixer, cream softened butter, cream cheese, sugar, eggs, vanilla and almond extract together till they are light and fluffy (About 4-6 minutes)
With a spatula, add flour, corn flour, baking soda and salt. Mix well until combined for about 1 minute. The dough will be slightly sticky
Remove bowl from the machine, shape the dough into a log with a wax paper and refrigerate for about 2 hours before baking.
Pre-heat oven at 180 degree celsius after chilling and remove the dough from the fridge. Line baking tray with wax paper and use baking spray to grease it
In separate bowls, pour over the sprinkles to roll the dough in.
Pinch about 1 heaped teaspoon from the dough, roll it like a ball and roll it all over the sprinklers till it is covered well.
Place each ball on the baking tray and repeat till the dough is used up. Make sure you place each ball about 2-3 cm apart as the dough would spread once cooked.
Bake for about 7-9 minutes. They should not turn golden brown and would still look a little wet when they come out of the oven
Cool for about 5 minutes before transferring to an air-tight container
Notes
The dough would be wet and sticky even after chilling and that is OK. I find that freezing them then chilled to be cut up in small pieces first before rolling them into a ball is the most convenient.
Watch the amount of oven time if you roll your cookies small as they tend to get over-cooked quite quickly!
Grubbs n Critters https://grubbsncritters.com/