March 30, 2017
Do you remember that movie with Colin Farrell In Bruges? Hilarious! That movie was set in the city of Belgium called Bruges (or Brugge as the Ducth would call it). I remember watching it and thinking that I have fond memories of the place when I visited it back in 2004.
It may have been so long ago, but there was something about Brugge that I like. Perhaps it was the medieval buildings and cobbled streets. Or perhaps it was the chocolates…regardless, it is still as beautiful as I remember it. Zeebrugge, its port is inherently the most important center for fishing and European trade.
What I did not remember was how busy Brugge was! Back in the winter of 2004, it was quiet and laid back. It was still touristy but not as touristy as it was last weekend! Perhaps the good and sunny weather plus the fact that it is spring has got a lot to do with crowd attraction.
On the subject of being a tourist, we joined in the touristy vibe and did a little of the touristy thing (and somehow this word touristy when said out loud enough, suddenly don't mean a thing).
We took the boat ride, we scoured for the best Belgian chocolates, we visited the traditional brewery, we ate Belgian beef stew, we drank hot chocolate Belgian-style and we awed ourselves with the historical medieval architecture all around us.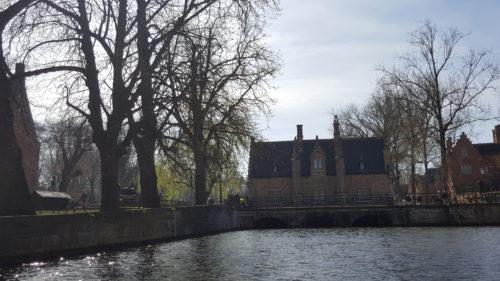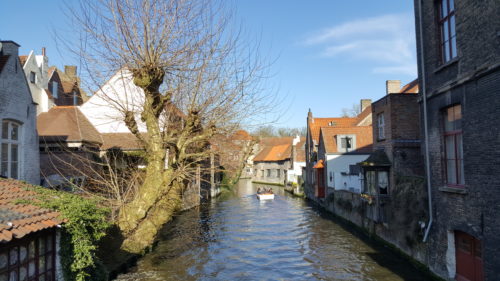 Brugge is really beautiful. The city is small and very pleasant to walk around.We got lucky with the weather.
If you are into museums and are willing to fork out quite a bit of Euros per entry. there are several to go into. Make sure you have spare change for using the public toilets too.
Getting to Brugge from Antwerpen was easy. A mere train ride an hour away from Antwerpen Zuid Train station, kids below 12 years old accompanied by adults can travel by train for free (although this does not apply to the buses).
Once in Brugge, you can opt to walk to Centrum (about 20 minutes) or take the bus (about 5 minutes, 3 stops away). Either way, trip to the center of Brugge is very accessible and straight-forward.
A place not to be missed if you ever visit Belgium!
And the hot chocolate. Don't miss the hot chocolate.
Make sure you order yourself a cup or two, Or three! Get a kick from stirring real bar of chocolate that just melts into the hot frothy milk. I assure you that you'll swoon and your knees would go weak.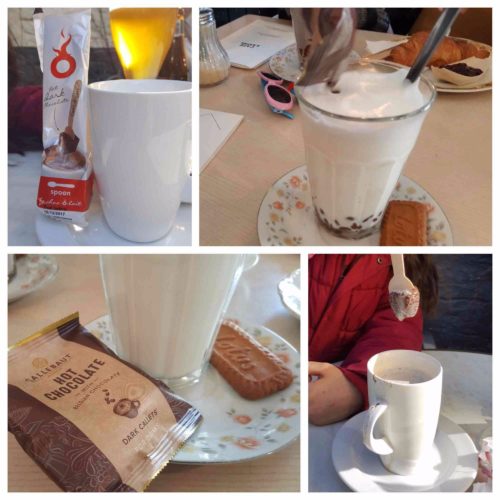 Next up: Last day in Antwerp & Black Smoke